Hi Everyone,
The term hodl is by far the most overused slang in the crypto world. I mean, what good does it do to hoard a currency?
In any case, if you really want to make an impact and grow the ecosystem you need to spend crypto.
That's why eToro has chosen to break ground with one of our largest ever marketing partnership deals and pay for it with Bitcoin.
In other news, a new partnership has also formed elsewhere in the world that is certain to boost crypto adoption there.

Let's have an awesome day.
@MatiGreenspan – eToro, Senior Market Analyst
Today's Highlights
Trump Tripped
Carried Away Commodities
Dash to Venezuela
Please note: All data, figures and graphs are valid as of August 22nd. All trading carries risk. Only risk capital you can afford to lose.
Traditional Markets
They're calling it the darkest day for a US President since Watergate and boy is Donald Trump in some hot water right now.

It seems that both his former lawyer and his former campaign manager are in the prosecutor's line of sight.
Shocking as these events may seem, the markets haven't been affected much. It seems that investors have grown callous to all the White House drama and anything short of an indictment of the President will probably be seen as business as usual.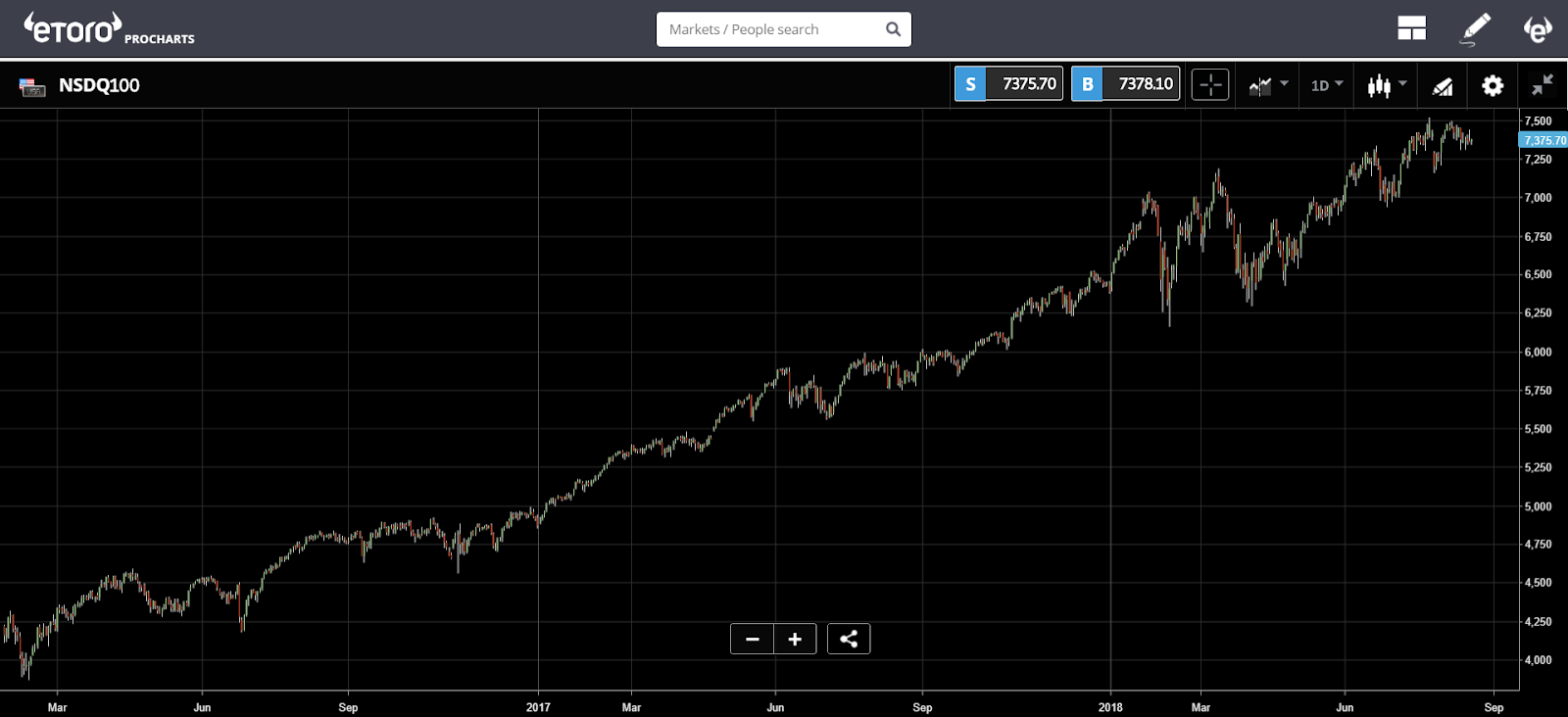 Commodities Carried Away
You may have heard of strategies like "dollar cost averaging" and "buy the dip."
I don't usually like talking about my own portfolio in these daily market updates but I'm wondering if I may have gone a bit overboard.
The precious metals gold, platinum, silver, and copper keep sliding and every time they do, I add just a bit to my portfolio. Seeing that they're now all at rather extreme lows, I've just checked my overall portfolio and, well… oh boy.
50% of my exposure on commodities might be a bit much. In the drill-down, you can see that most of that is gold.
This is the chart I've been watching for gold…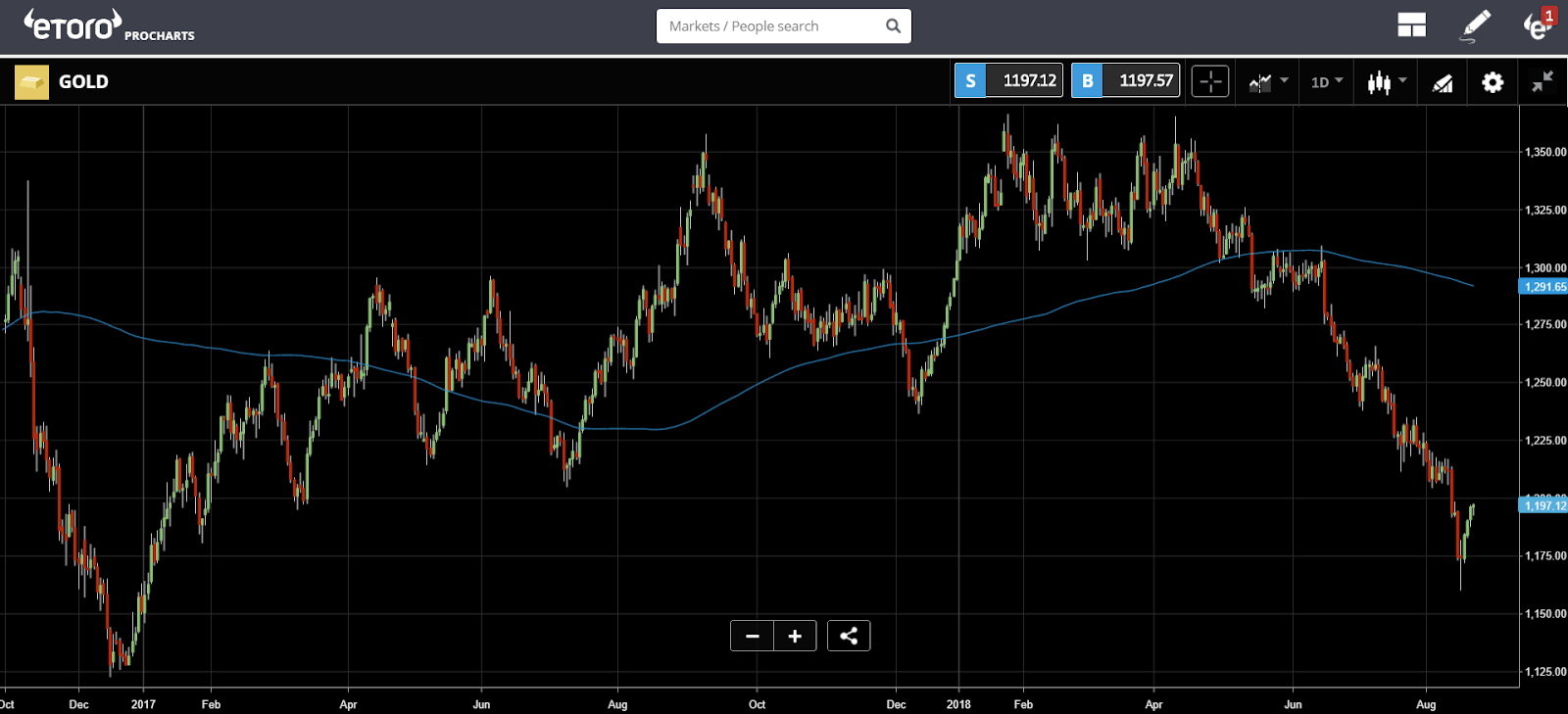 As you can see, we're way below the 200-day moving average (blue line) at this point so it should be considered cheap according to recent prices.
In addition, if inflation does continue to grow in the United States and the Fed isn't able to respond in time, as several analysts believe might be the case, then gold could end up as an obvious choice for investors to hedge with.
Sure it's a risk, but in some strange way, it's not the biggest risk I'm taking in my portfolio at the moment.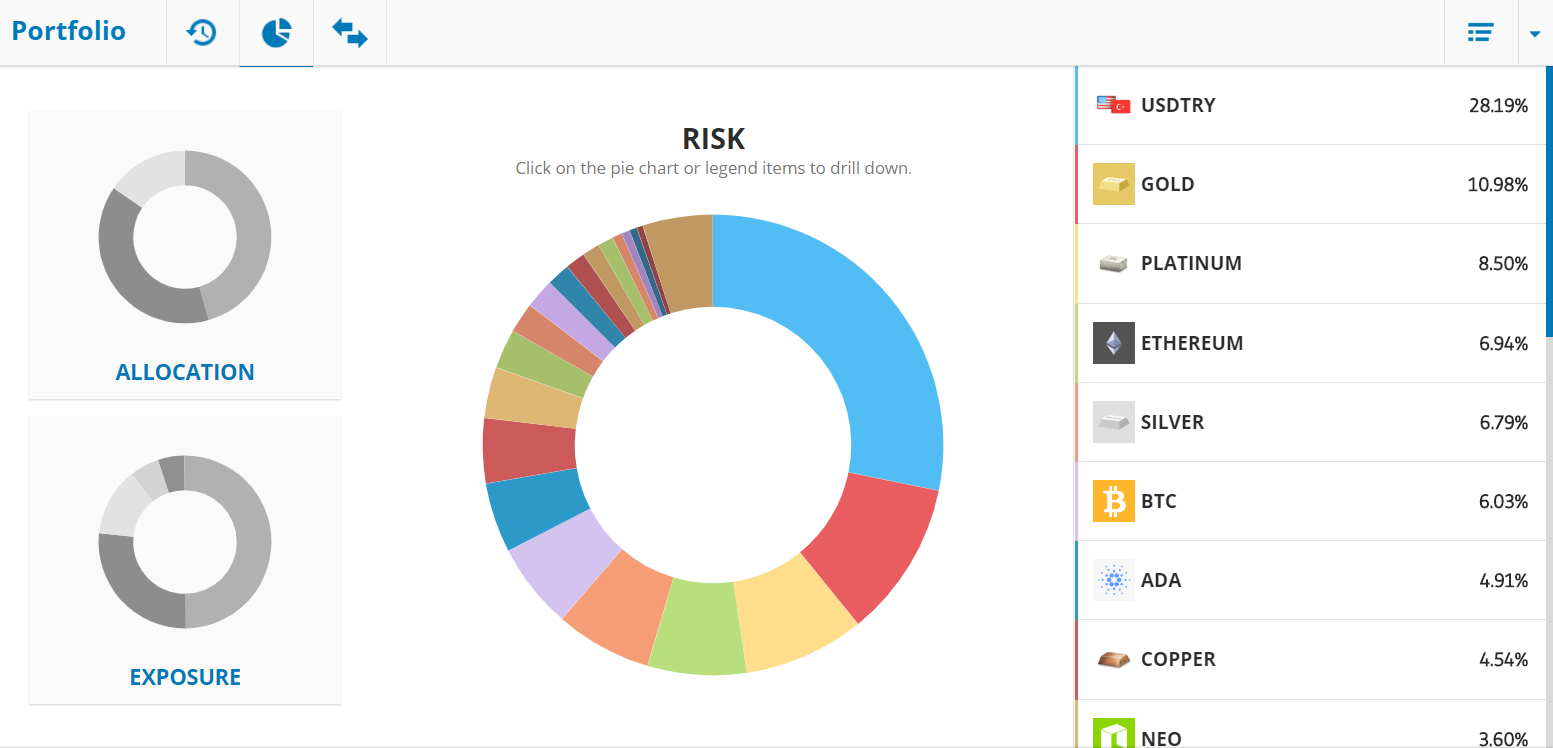 All this and my risk score is still peaking at 4.
Of course, I'm not trying to brag here. Just trying to drive the point home that you can take risks as long as the rest of your portfolio is well diversified.
**None of the above should be considered in any way shape or form as investment advice.**
Dash to Venezuela
At this point, I feel like I could probably write a book about everything that's happening in Venezuela at the moment. Things are extremely hectic there and the latest economic reforms seem to have caused a lot of uncertainty among residents.
While it's fascinating that Nicolas Maduro is trying his best to stabilize the economy using a cryptocurrency, it seems that the President will have stiff competition from other more established cryptos.
Firstly, it's worth noting that P2P volumes on Bitcoin are very near their all-time highs in the crisis-stricken country. Looking at the following chart, one can't help but notice how Venezuelans managed to avoid the FOMO hype of November/December and participated mainly at the lows before and since.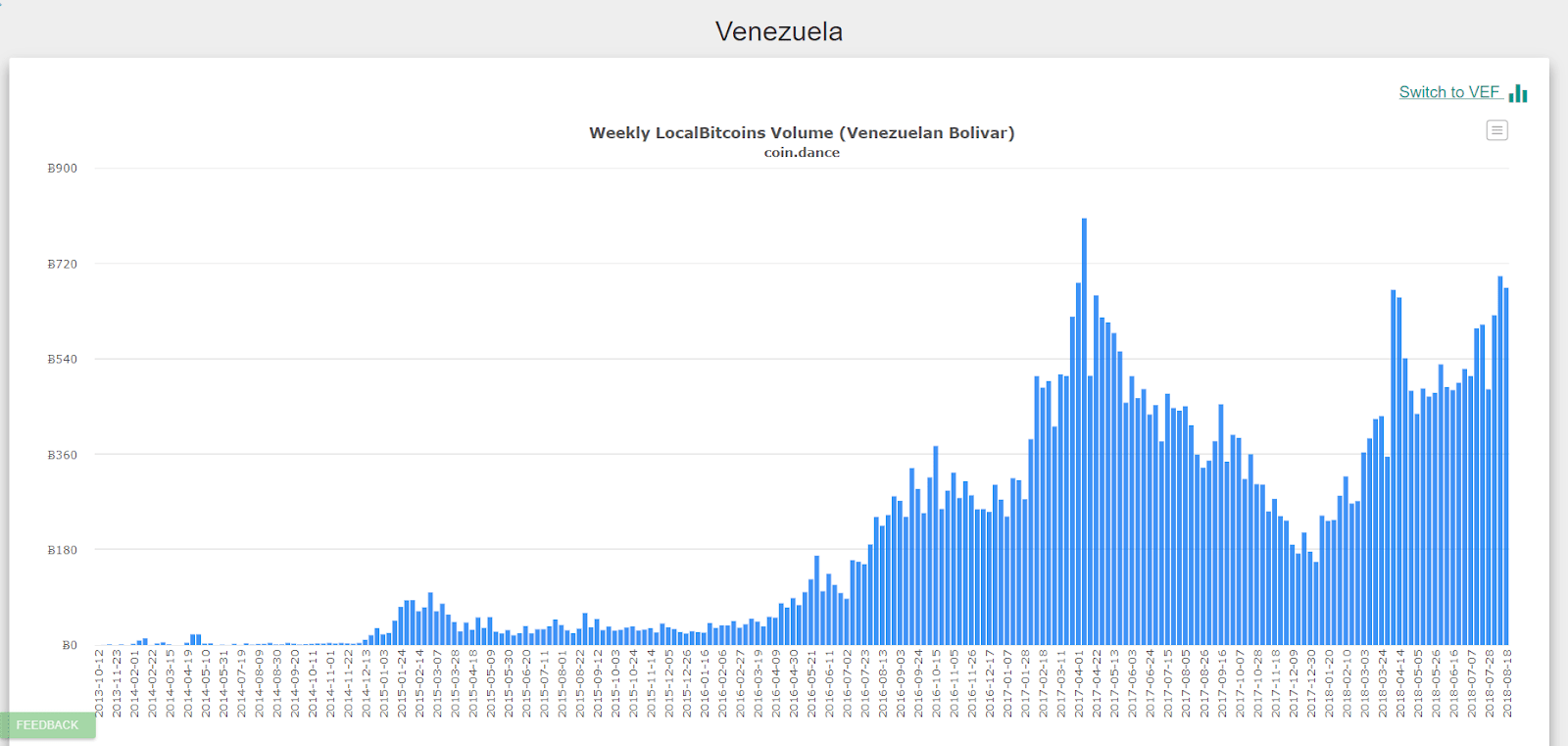 However, what might be more suitable is another crypto that's been making some big wins on the ground lately.

In this article from Business Insider UK, we can see that Dash has made some serious headway in the past few months.
But still, with all this positive news of adoption… the very best part is actually the chart.
Here we can see that Dash is actually trading at less than one-tenth of what it was worth at its all-time high.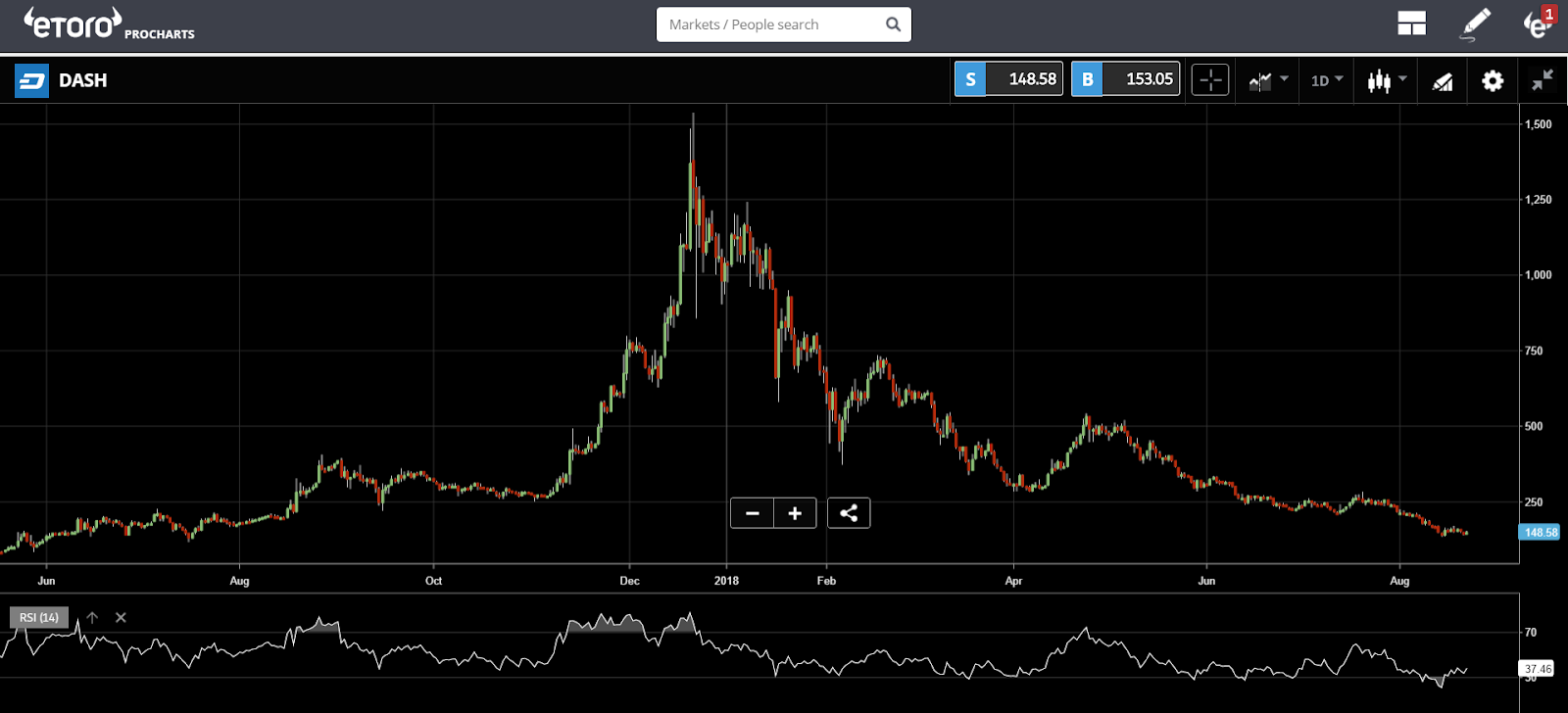 Many thanks again to everyone reading regularly and sending in your insights and feedback. Keep em coming!
This content is provided for information and educational purposes only and should not be considered to be investment advice or recommendation.
The outlook presented is a personal opinion of the analyst and does not represent an official position of eToro.
Past performance is not an indication of future results. All trading involves risk; only risk capital you are prepared to lose.
Cryptocurrencies can widely fluctuate in prices and are not appropriate for all investors. Trading cryptocurrencies is not supervised by any EU regulatory framework.
About the Author: Mati Greenspan is a Senior Market Analyst at eToro
Connect with Mati on….
eToro: http://etoro.tw/Mati | Twitter: https://twitter.com/matigreenspan | LinkedIn: https://www.linkedin.com/in/matisyahu/ | Telegram: https://t.me/MatiGreenspan | Office Phone: +44-203-1500308 (ext:311)
Disclaimer: The opinions expressed in this article do not represent the views of NewsBTC 
or any of its team members. NewsBTC is neither responsible nor liable for the accuracy of 
any of the information supplied in Sponsored Stories/Press Releases such as this one.