Hi Everyone,
Felix Arvid Ulf Kjellberg, better known as Pewdiepie, as about 94 million subscribers on YouTube and has just announced an exclusive deal with blockchain streaming platform D-live.
Personally, I've never heard of dlive.tv before, but taking a look after this publicity stunt, it seems pretty cool. The project claims to be a decentralized network for live streaming videos where the content providers and consumers are rewarded with a crypto called Lino.
Though I personally don't have much taste for this content, it seems that a lot of young people do. When we talk about mainstream adoption of cryptocurrencies, this sort of splash can go a very long way.
@MatiGreenspan – eToro, Senior Market Analyst
Today's Highlights
New Brexit Deadline
False Breakout
Did the Fed Move Bitcoin?
Please note: All data, figures & graphs are valid as of April 11th. All trading carries risk. Only risk capital you can afford to lose.
Traditional Markets
Brexit has a new deadline and the UK will be leaving the EU by October 31st at the latest. What's most notable about this update is that it now seems the United Kingdom will be participating in the European Parliament Elections on May 23rd.
The implications of this are probably more intricate than the workings of a black hole and negotiating this exit seems more complicated than photographing one. The markets seem to be taking this news in their stride.
Looking at the Pound Sterling over the last few weeks, it actually seems surprisingly stable. Watch out for that descending triangle with psychological support at 1.30.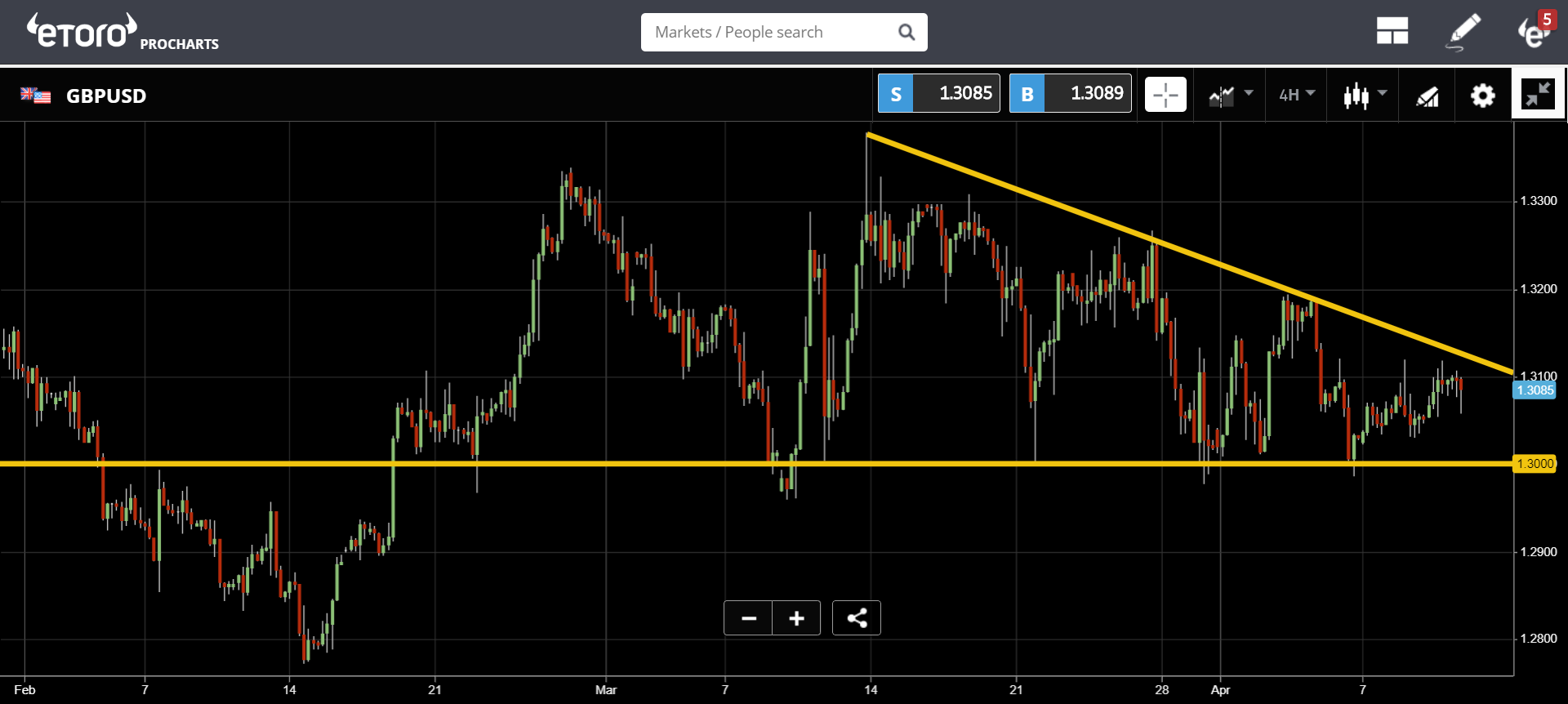 Bitcoin Chart
As you know, we've been tracking a new resistance level on Bitcoin at $5,350 (dotted white line). Last night, it managed to break this level, but not in a good way. As you can see, the move higher was quickly followed by a move lower, making this a false breakout.
At the moment, it's testing the historically important figure of $5,000 per coin, but if it falls below that it will be interesting to see where it finds support.
Did the Fed move Bitcoin?
The question here is what drove it over that line and back again?
Some have suggested that it was a result of the Federal Reserve announcement, which seems pretty intriguing given that Wall Street is now making up a more significant portion of this market.
At a glance, it seems that this theory may even hold water. The time of the announcement can be seen in purple here.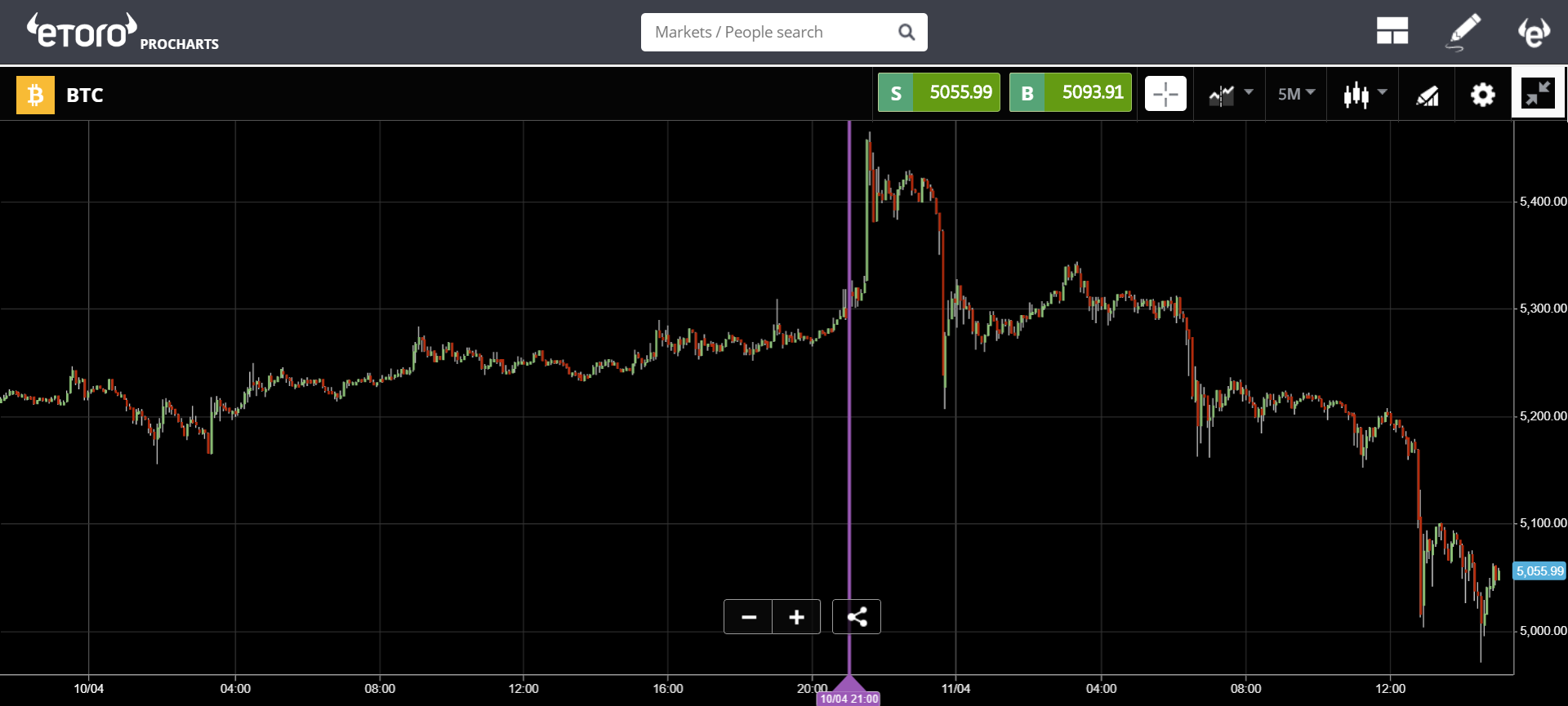 As we know, correlation does not necessarily mean causation, but what we can say is that in the 30 minutes following the announcement Bitcoin experienced more volatility than gold, the Dow Jones, and the US Dollar combined.
Of course, traditional markets weren't at all surprised by the fact that the Fed is being cautious, nor that their caution, if left unchecked, could lead to risks down the road. It's just that the narrative that Bitcoin is rising on insecurity surrounding the Fed could be particularly compelling to some.
Updates: Still looking to pass the torch off soon enough. Very sorry for the delay. We're still waiting for the baby and praying. Exhausted!
Wishing you an amazing day.
About the Author: Mati Greenspan is a Senior Market Analyst at eToro

Connect with Mati on….

eToro: http://etoro.tw/Mati
Twitter: https://twitter.com/matigreenspan
LinkedIn: https://www.linkedin.com/in/matisyahu/
Telegram: https://t.me/MatiGreenspan
Office Phone: +44-203-1500308 (ext:311)


Disclaimer: The opinions expressed in this article do not represent the views of NewsBTC 
or any of its team members. NewsBTC is neither responsible nor liable for the accuracy of 
any of the information supplied in Sponsored Stories/Press Releases such as this one.