Hi Everyone,
Hope you're having an amazing day so far.
It is with great pride and pleasure that I present to you our brand new research paper on Litecoin.
Unlike many cryptos Litecoin isn't aiming to unseat bitcoin, it actually plays more of a supportive role, like silver does with gold. The faster and easier transactions make it a bit more usable in everyday commerce and it also functions as a store of value.
As the world's second major cryptocurrency, Litecoin is one of the most established and trusted names in crypto and it has an extremely vibrant community.
To read the full in-depth analysis, please click this link.
@MatiGreenspan – eToro, Senior Market Analyst
Traditional Markets
Apple Beats Tesla & Fed on Deck
Try the Chart
More Big Money into Crypto
Please note: All data, figures & graphs are valid as of August 1st. All trading carries risk. Only risk capital you can afford to lose.
Traditional Markets
Apple managed to give investors exactly what they were looking for in yesterday's earnings report, breathing some much-needed optimism into a beaten market.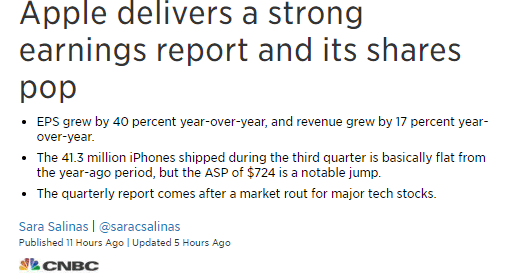 Many analysts are now forecasting that AAPL could be the very first $1 trillion company ever, possibly by the end of the week.
Tesla will report their Q3 earnings after the closing bell today. The word that I keep seeing from analysts on this report is "hopeful."
Looking at the chart, the price does seem to be near the bottom of the range and firmly below the 200-day average (blue line).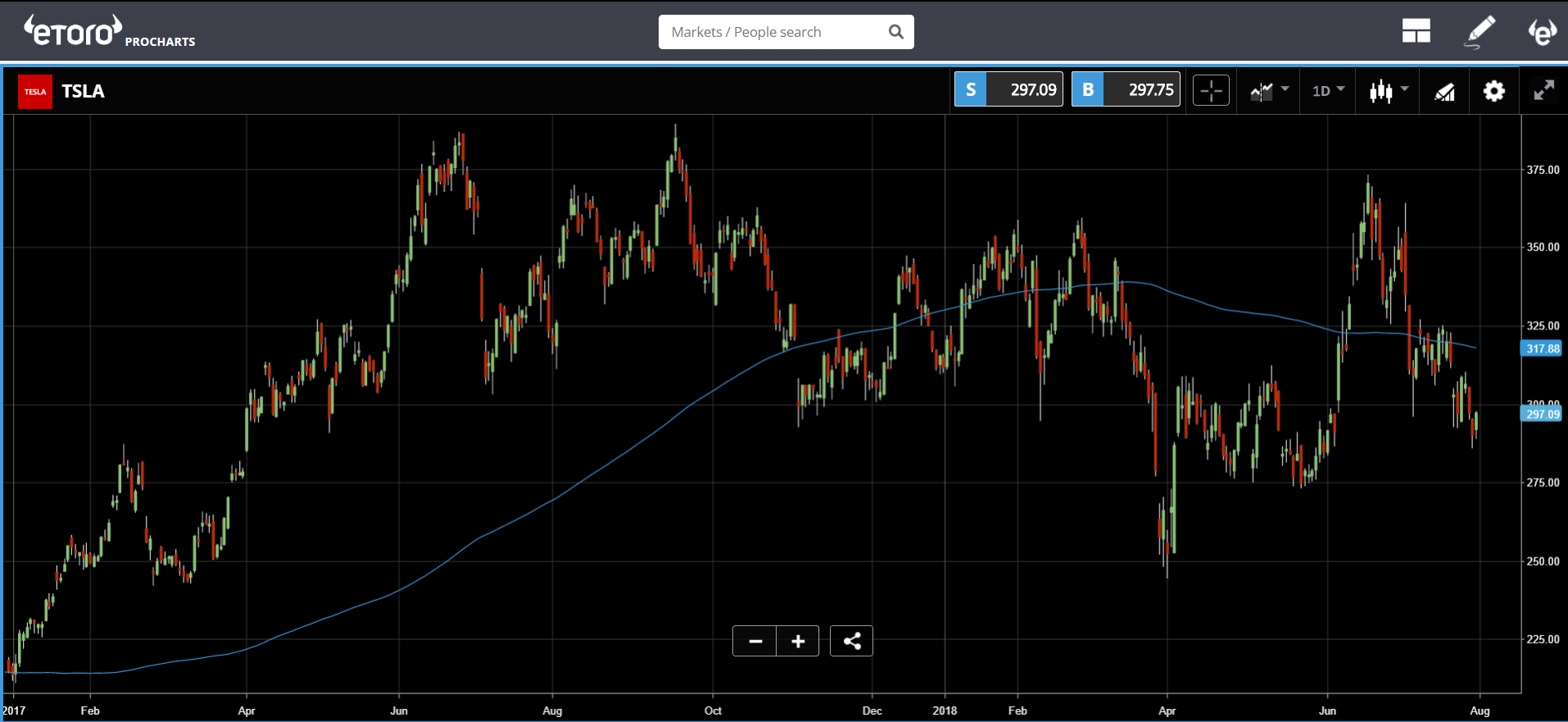 Mind the Fed
The Federal Reserve is also set to make their interest rate announcement at 14:00 New York time. There will be no press conference and no policy change is expected. Quite frankly, earnings seem to be the more pressing matter on pundits plates at present and things like trade talks and Fed action are kind of on the backburner.
It is still hot though, so don't forget about it on the fire.
The Dollar has been stewing as well these past few weeks, consolidating with no clear direction.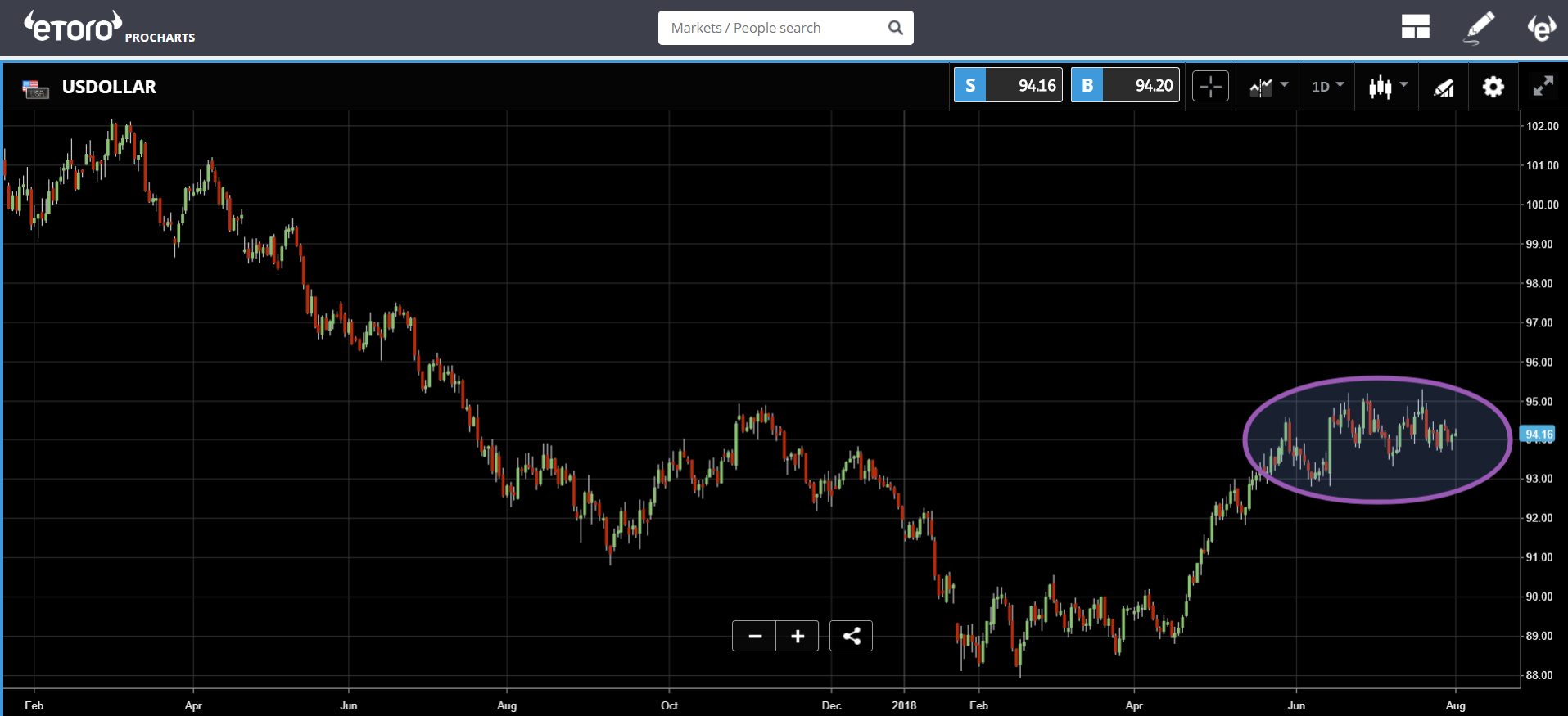 Try the Chart
As politics heat up in Turkey, we've been tracking an interesting pattern on the chart that seems to be coming to a head.
Here we can the rising trendline which is meeting a flat resistance at 4.95 Liras to the Dollar. Remember, the graph is inverted so a move up means that the Lira is getting weaker, as it has been doing steadily since Erdogan came to power.
This ascending triangle pattern is known by many technical analysts to be a breakout pattern as the flat line represents a psychological resistance, which in many cases will eventually give way to the market fundamentals.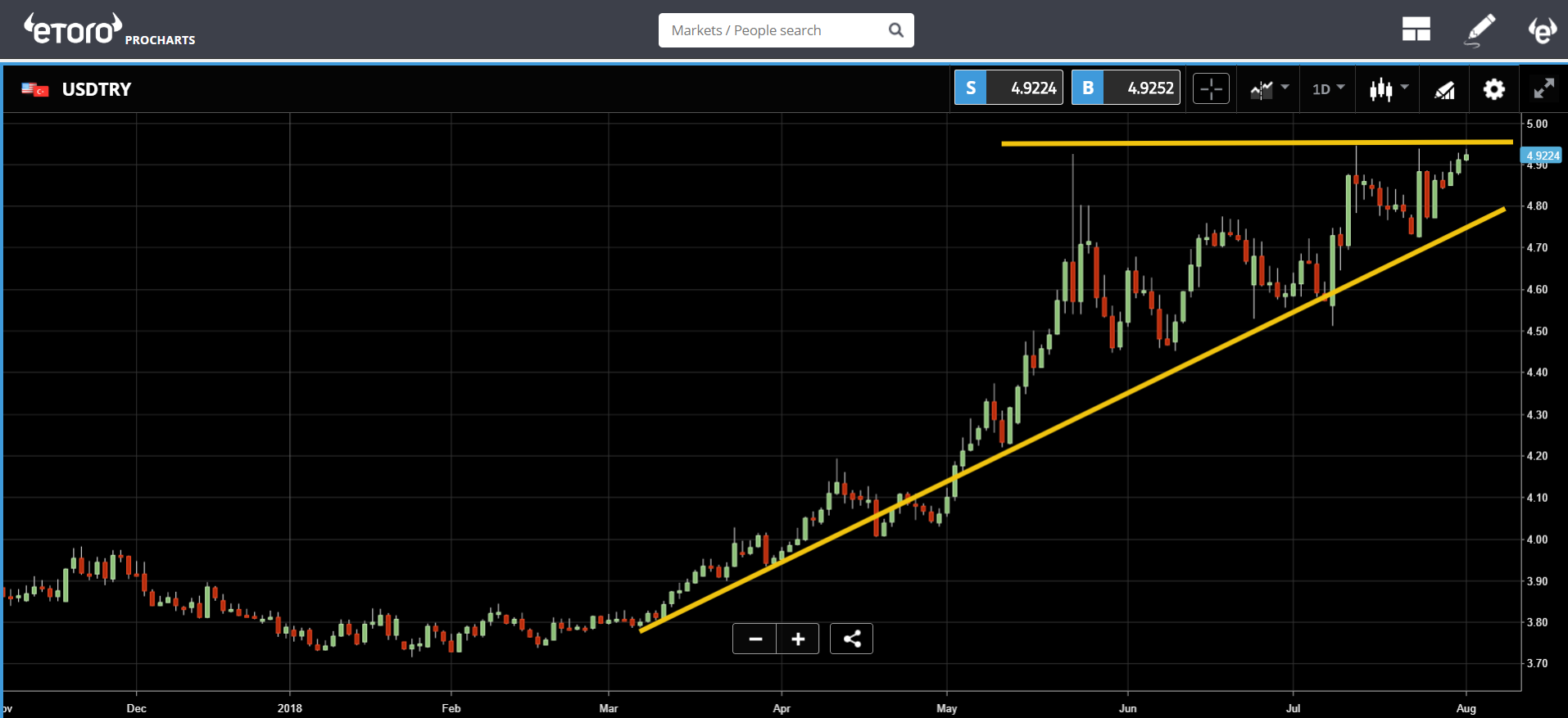 New Crypto Money
The big headline that is circulating right now…

Northern Trust currently has approximately $1.2 trillion under management, so this is kind of a big deal. As we know, some large financial institutions are doing everything in their power to stymie the growth of cryptoassets. So to see a big financial firm open it's doors to crypto hedge funds is big news.
The price of bitcoin is down this morning. As we've stated before, the news doesn't move markets, volumes do. So the fact that Northern Trust is building a bridge won't necessarily have any impact on the price at the moment. However, once the bridge is built and seeing some traffic, it could potentially start to move the needle.
As far as bitcoin's chart is concerned, we're now looking at a steady price range between $6,000 and $8,500. There's a growing feeling in the community that the longer we stay in this range the better.
Let's have an amazing day ahead!
This content is provided for information and educational purposes only and should not be considered to be investment advice or recommendation.
The outlook presented is a personal opinion of the analyst and does not represent an official position of eToro.
Past performance is not an indication of future results. All trading involves risk; only risk capital you are prepared to lose.
Cryptocurrencies can widely fluctuate in prices and are not appropriate for all investors. Trading cryptocurrencies is not supervised by any EU regulatory framework.
About the Author: Mati Greenspan is a Senior Market Analyst at eToro
Connect with Mati on….
eToro: http://etoro.tw/Mati | Twitter: https://twitter.com/matigreenspan | LinkedIn: https://www.linkedin.com/in/matisyahu/ | Telegram: https://t.me/MatiGreenspan | Office Phone: +44-203-1500308 (ext:311)
Disclaimer: The opinions expressed in this article do not represent the views of NewsBTC 
or any of its team members. NewsBTC is neither responsible nor liable for the accuracy of 
any of the information supplied in Sponsored Stories/Press Releases such as this one.