Hi Everyone,
Good morning! No doubt you're interested in the massive bitcoin pump today. We'll definitely get into that below. But first, I wanted to highlight a cool article that came out earlier this week in the Wall Street Journal.

It seems that in Canada at the moment there is such a large surplus of natural gas, that it no longer has any value. In fact, in some cases, a surplus of gas is now a liability and it needs to be burned.
So one industry insider decided that instead of letting the gas go to waste, he's using it to power a bitcoin mining operation.
This story goes right at the heart of one of the key issues that has clouded bitcoin since inception. Many crypto critics like to point out the amount of energy used to mine bitcoin and claim it is harmful to the environment.
However, if we look at it a bit deeper, we can understand that a lot of bitcoin mining is done where electricity is extremely cheap and in some cases using energy that would have otherwise gone to waste. This latest report is a prime example of that.
@MatiGreenspan – eToro, Senior Market Analyst
Today's Highlights
Lyft is Falling
Webcast Today
Early Morning Crypto Rally
Please note: All data, figures & graphs are valid as of April 2nd. All trading carries risk. Only risk capital you can afford to lose.
Traditional Markets
Stocks are mixed today with some indices red and some green. Many analysts are looking at Lyft, which is having a very shaky IPO. Many IPOs come online at a value which is higher than the current value of the company and so it seems was the case here.
Not sure if this is telling us much about the broader market but it has captured the focus of traditional investors. Will be interesting to see when and where it will find the floor.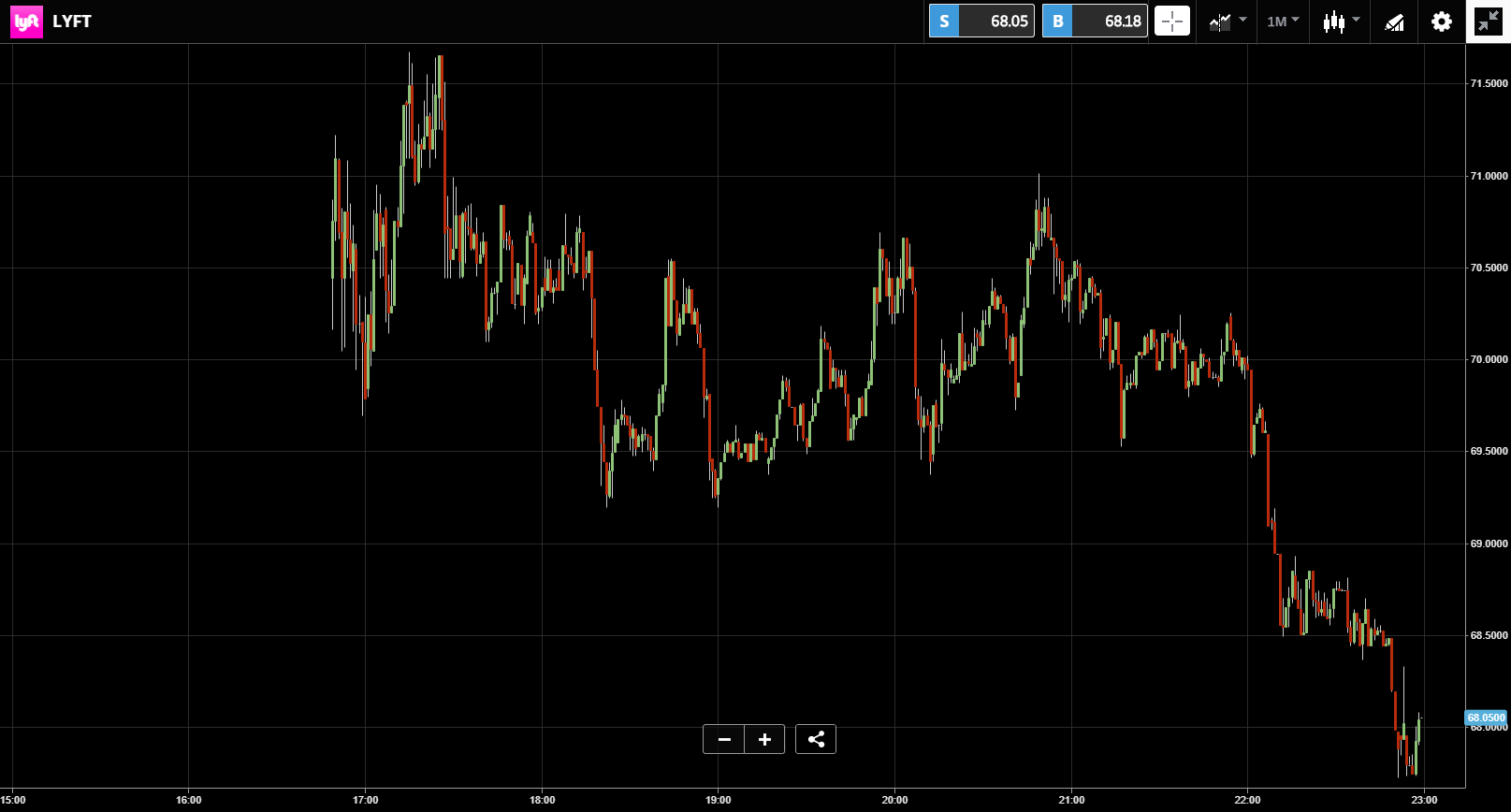 Reminder Webcast
We're going to be live today at 15:00 London time in a unique webcast to discuss the recent market trends and trading opportunities.
Will be honored if you can join us: CLICK HERE NOW!
If you can't make the live session, feel free to register anyway and you'll automatically get the recording.
Crypto Rally
There's a lot of excitement in the crypto market this morning as bitcoin jumped nearly 23% in less than an hour, its largest move in a very long time.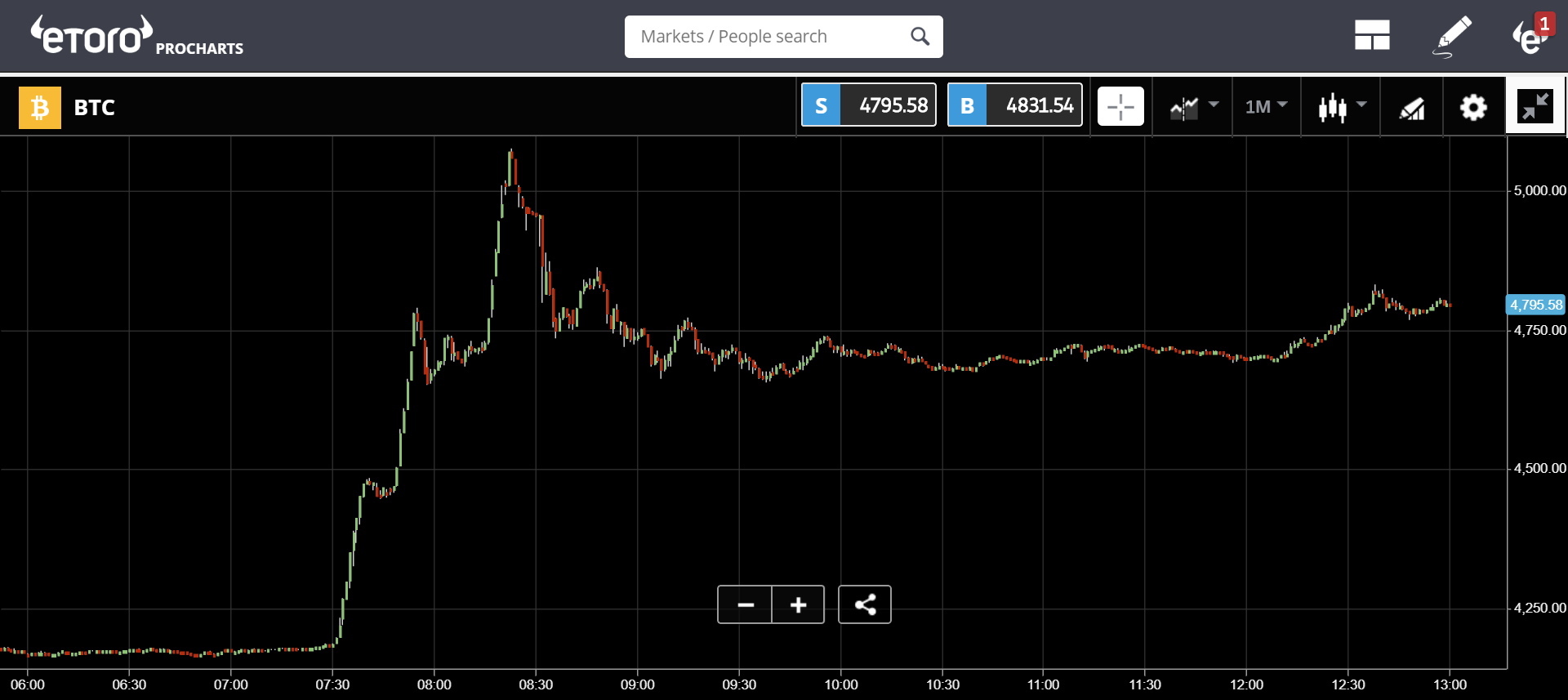 The move happened during the Asian session when the United States was fast asleep and Europe was just waking up. So based on the timing we can say that it was probably driven by China, Japan, and/or South Korea.
The rally seems to be purely technical in nature as there wasn't any notable news that came out during this time. As we discussed in an interview with CoinTelegraph yesterday traders were eyeing the key level of $4,200.
Indeed, momentum has been building in the crypto market for a while now. We've been discussing altseason since early February and many value investors have been pouring into their favorite projects, some of which have been looking quite cheap.
Today, Bitcoin is back in the driver's seat and has demonstrated quite clearly that it is the backbone of the crypto industry.
Let's have a fantastic day ahead!!
About the Author: Mati Greenspan is a Senior Market Analyst at eToro

Connect with Mati on….

eToro: http://etoro.tw/Mati
Twitter: https://twitter.com/matigreenspan
LinkedIn: https://www.linkedin.com/in/matisyahu/
Telegram: https://t.me/MatiGreenspan
Office Phone: +44-203-1500308 (ext:311)


Disclaimer: The opinions expressed in this article do not represent the views of NewsBTC 
or any of its team members. NewsBTC is neither responsible nor liable for the accuracy of 
any of the information supplied in Sponsored Stories/Press Releases such as this one.