Hi Everyone,
Yet again an article about the alleged plans of Facebook to implement their own cryptocurrency is shaking things up. This one comes from the New York Times, who claims to have 5 anonymous insiders who confirmed the story.
Truth is, this isn't that much of a revelation as some are making of it. The Times tells us that existing messaging platforms with a large user base have a much easier way of implementing new payment systems than those that need to start from scratch.
The story is about a WhatsApp stable coin, but they also mention Telegram's upcoming crypto Gram and Signal but we also know that Kik is due to launch their own Kin token pretty soon, which I have personally invested in for the very reason the Times has highlighted.
Furthermore, the Times alleges that Facebook has already approached several crypto exchanges to get their new coin listed and that the coin would be backed by a basket of global currencies, not just the US Dollar. Now, this is intriguing.
The implication being that David Markus, the head of blockchain dev at FB, is actually considering a more open environment than previous products from the social networking giant. We can only hope that on a scale of zero to fully decentralized, these coins will be closer to the latter.
@MatiGreenspan – eToro, Senior Market Analyst
Today's Highlights
Farewell to the King
Crude Oil Popping
BNB Outpacing
Please note: All data, figures & graphs are valid as of March 1st. All trading carries risk. Only risk capital you can afford to lose.
Traditional Markets
After a 48 year career, the king of bonds Bill Gross is finally getting out of the fund management game. This particular billionaire has a very unique perspective of the global economy, which he spilled on a 90-minute interview with Bloomberg's Eric Schatzeker.
One of the most remarkable things he noted is that "technology is deflationary."
Whereas in the past, people would buy a home and a car and then be content, these days there's a lot more consumerism and people spend a lot of money on things that never existed before. He then went on to say that the central banks are fighting this deflation by keeping rates low and providing injections (QE).
However, unlike the Fed, Gross feels that the US deficit could be significantly increased with MMT. You'll recall that we discussed the theory about Modern Monetary Theory, the idea that the US government can rack up an endless amount of debt because it is borrowing in its own currency.
Oh how quickly we forget the lessons of history and the anthem of those doomed to repeat it will be "this time it's different."
In my mind, if a government keeps printing more and more money it will eventually lead to hyperinflation, but I have been wrong before.
BNB for the Win
The Ethereum upgrade seems to have gone smoothly. Total downtime on eToro was only about two hours, which is good to see. We'll need to monitor it over the next few days to see how prices may be influenced. I've personally added some in my portfolio this morning, so will be keeping an eye out.
As we've stated before, the bear market has not been defeated just yet and there are several technical levels to break through before we can make such a claim. It's good to see volumes across global exchanges sustaining their elevated levels and we even saw an uptick this morning. However, initial results of a quick poll on Twitter show that sentiment has not quit shifted yet, at least among my followers.
Still, some coins have shown extraordinary resistance to the bear forces. Even though the rest of the crypto market was flat over the last two weeks, Binance coin has been flying.
Here's a graph that shows $BNB (in green) against $BTC (white) over the last four months. Notice how it got punched by the November plunge but has since diverged from the general sentiment.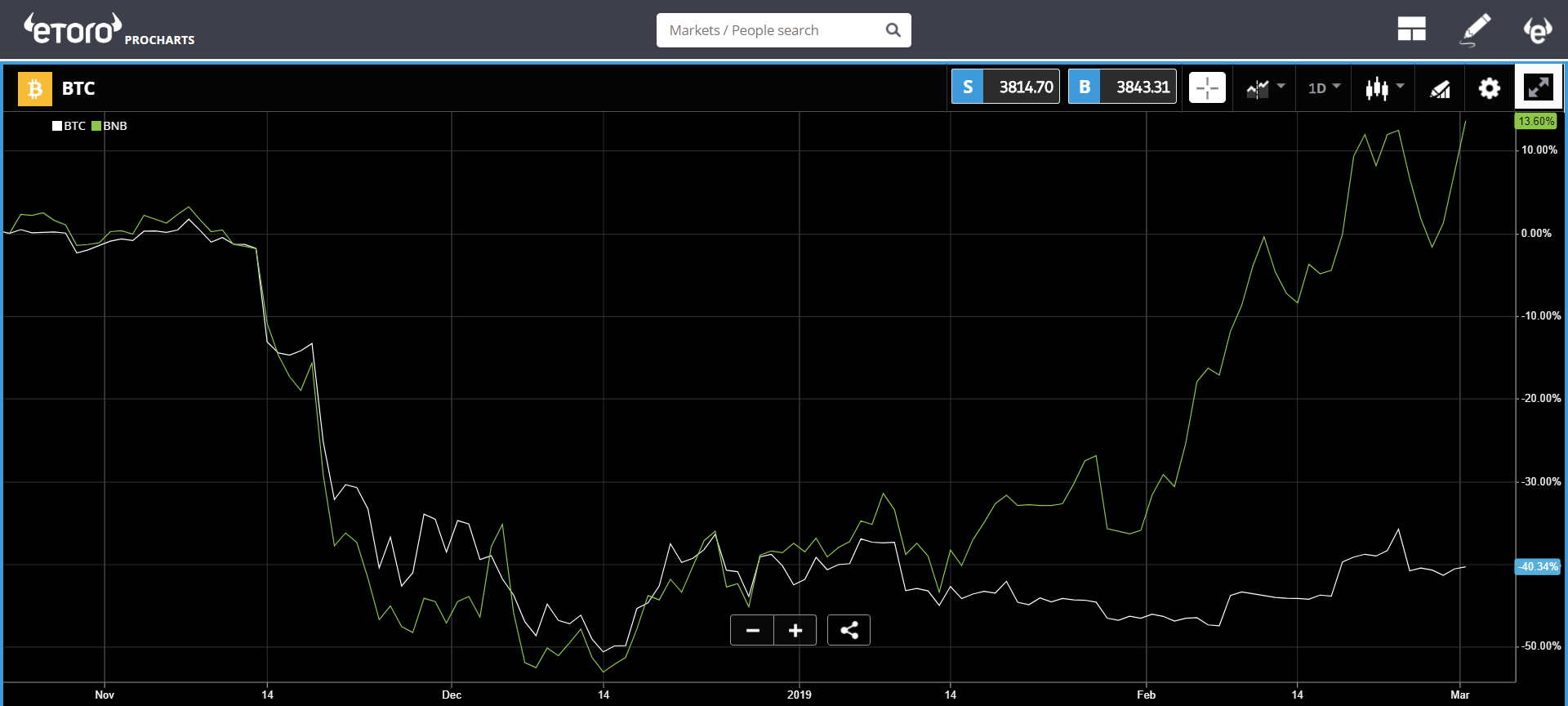 It seems that this unique token can sometimes be more correlated with exchange volumes than it is with the prices of other cryptos. The reason for this is pretty simple, many people who buy it are actually speculating on the notion that the crypto industry will continue to grow and that Binance will maintain a significant share of that.
In addition, it is considered a deflationary asset. Supply does not grow over time but rather decreases due to their periodic token burns. You can read more about this in the research paper we did a few months ago: http://etoro.tw/Research-BNB
As always, I want to thank you all for reading and special thanks to everyone of you who are regularly sharing your insights, questions, and amazing feedback. This is my main source of information and inspiration. Have a wonderful weekend!
About the Author: Mati Greenspan is a Senior Market Analyst at eToro

Connect with Mati on….

eToro: http://etoro.tw/Mati
Twitter: https://twitter.com/matigreenspan
LinkedIn: https://www.linkedin.com/in/matisyahu/
Telegram: https://t.me/MatiGreenspan
Office Phone: +44-203-1500308 (ext:311)


Disclaimer: The opinions expressed in this article do not represent the views of NewsBTC 
or any of its team members. NewsBTC is neither responsible nor liable for the accuracy of 
any of the information supplied in Sponsored Stories/Press Releases such as this one.

Image: Pixabay