Hi Everyone,
It's well known that when providing aid for disaster relief, it's always better to give cash rather than goods. But recently, charities have been experimenting with crypto instead.

According to the reports, the global anti-poverty organization known as Oxfam is deploying a new pilot to give the citizens of Vanuatu Dai, a stablecoin that resides on the Ethereum blockchain to support disaster preparedness and increase the speed, transparency and cost efficiency of delivering aid in the country.
So far it seems that it's going well. Using the old system, it took about an hour to register a disaster victim in their system and grant them the aid. Using blockchain it can be done in just six minutes.
Organizers also found this method far more secure. They used to use a centralized database to keep track of their system but found this method to be quite vulnerable to hacking attempts. Using a blockchain allows them to scale quickly in a cheap and transparent environment, which is exactly what they need.
@MatiGreenspan – eToro, Senior Market Analyst
Today's Highlights
Hong Kong 25%
New Bitcoin Premium
Bitcoin Over 9k
Please note: All data, figures & graphs are valid as of June 17th. All trading carries risk. Only risk capital you can afford to lose.
Traditional Markets
The media continues to monitor updates from Hong Kong as they come through. Images from the weekend showed that around 2 million people flooded the streets, which is more than 25% of the small country's population.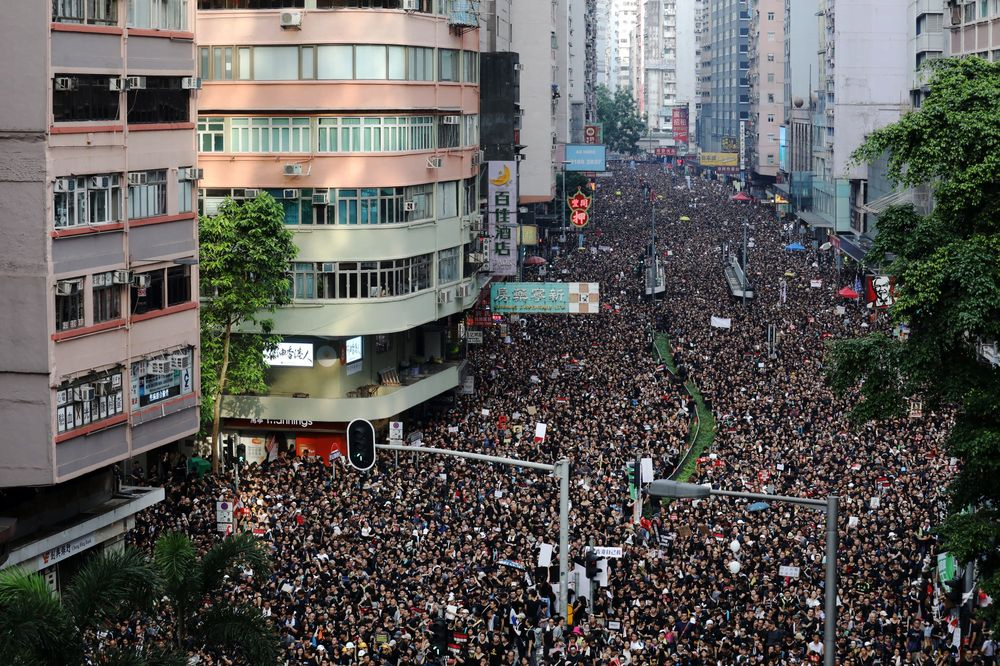 The protests remained largely peaceful and it does seem like they have had an impact on policy. Not only has the controversial extradition bill been delayed, the Hong Kong's CEO (yes that's right, they call their head of state a CEO) Carrie Lam is now fighting for her political future.
Possibly due to the calm nature of the demonstrations, the Hong Kong Stock market is holding up quite well today.
Other stock markets are flat to mixed today as we await some speeches from the world's central bankers. Mario Draghi will be speaking at a central bank forum later today and tomorrow morning. On Wednesday, the US Federal Reserve will deliver their much-anticipated interest rate announcement.
HK BTC
Also worth noting is that bitcoin is now trading at a premium in Hong Kong. The HK exchange site Tidebit is reporting a price per BTC that is about $160 above the rest of the crypto market.
Here I've taken a screenshot of the current rate on Tidebit compared to Coindesk. As you can see, at the time of this picture, the HK exchange was selling BTC for 73,120 HKD (approximately $9,337).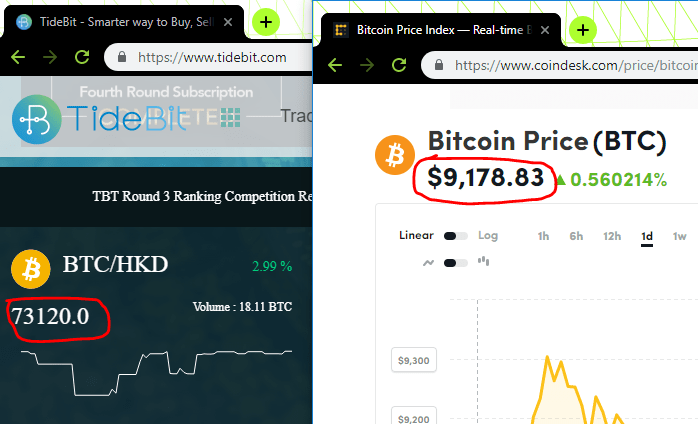 The premium is not astronomical, just 1.74% higher. Back in 2017, we used to see Japan and South Korea trading at premiums of 20% and more. However, the market is much more mature than it was then and the spreads across exchanges tend to stay pretty tight these days. So even this small premium certainly stands out.
Bitcoin Over $9,000
Crypto markets are making huge moves again today as prices flash bright green. There's plenty to be bullish about too as the technicals and fundamentals remain strong.
The mini-resistance at $9,000 per bitcoin has been knocked out over the weekend and many pundits are now calling for $10,000 (dotted white line).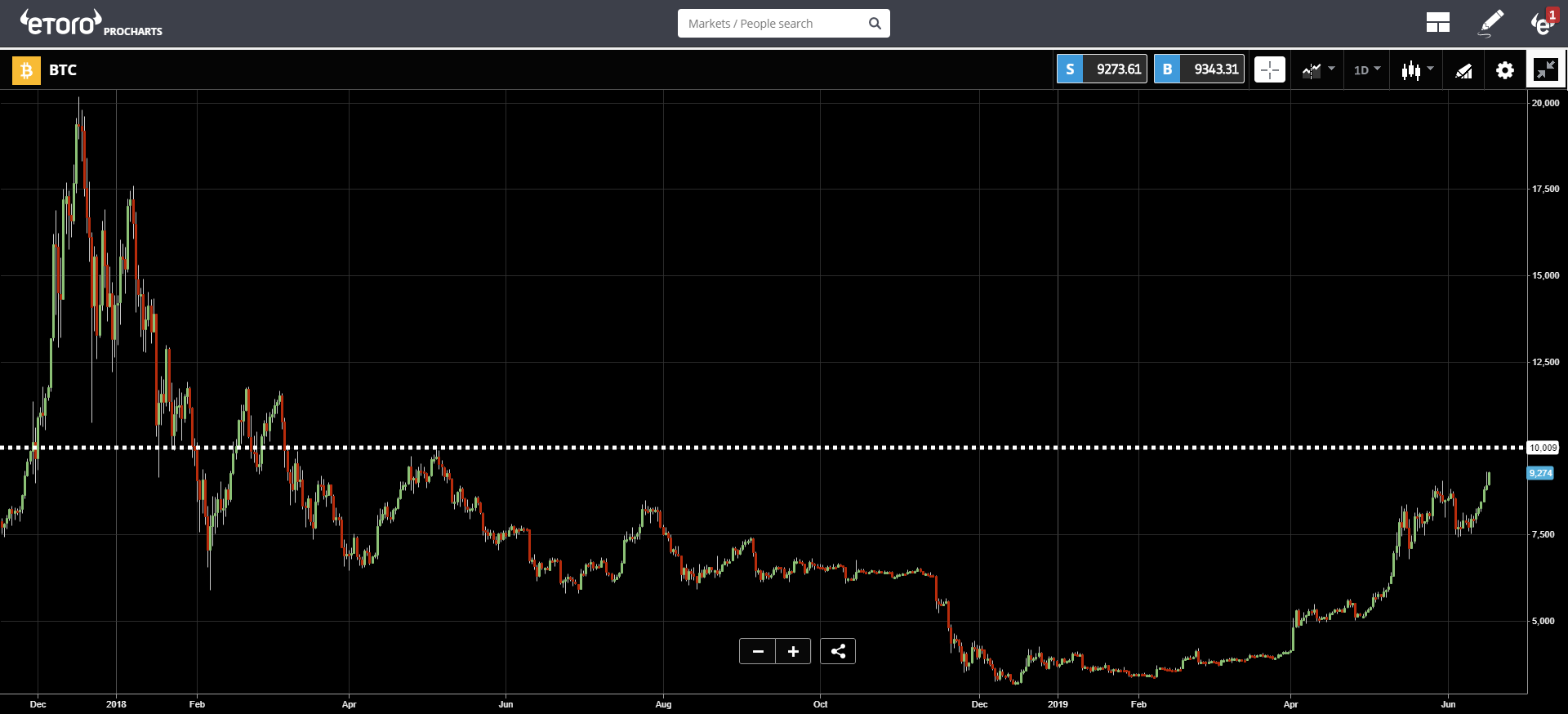 It's clear that bitcoin miners are getting bullish again as well since the hashrate of the BTC network is now once again at it's all time highest level.
It has also been reported that the number of daily active bitcoin addresses has topped 1 million for the first time since 2017. The data being cited comes from CoinMetrics, who are displaying this graph on their site.

However, the data is a bit inconsistent with other sites like bitinfocharts and blockchain.info, both of which show different numbers for active addresses.
I guess they have different ways of calculating these figures. If any of my readers has more info on this I'd be glad to hear it. Still, all three sites do show a steady rise in blockchain activity this year.
Overall, it's great to see that this breakout has not gotten out of control. We've seen the deterioration of a psychological resistance level that's been holding for three weeks, but the breakout did not come with a drastic surge. This shows that the market is in a healthy incline, which is really the best possible scenario.
Wishing you a wonderful week ahead.
About the Author: Mati Greenspan is a Senior Market Analyst at eToro

Connect with Mati on….

eToro: http://etoro.tw/Mati
Twitter: https://twitter.com/matigreenspan
LinkedIn: https://www.linkedin.com/in/matisyahu/
Telegram: https://t.me/MatiGreenspan
Office Phone: +44-203-1500308 (ext:311)


Disclaimer: The opinions expressed in this article do not represent the views of NewsBTC 
or any of its team members. NewsBTC is neither responsible nor liable for the accuracy of 
any of the information supplied in Sponsored Stories/Press Releases such as this one.

Image by Welcome to all and thank you for your visit ! ツ from Pixabay