Hi Everyone,
Independence Day is over, but for the financial markets, the fireworks haven't even started yet. Many American traders will likely extend their vacation all the way until next week and so will be away from their desks at a critical time.
This creates a potentially dangerous situation in the markets. Reduced volumes usually mean less liquidity. And as we know from the crypto markets, when liquidity is low, there is a potential for prices to move more erratically.
Tomorrow is the deadline for the Chinese trade tariff decision as well as the monthly jobs report from the United States and for that to happen on a day with less volume could be interesting, to say the least.
This will be the main focus of our webcast this afternoon. If you haven't signed up yet, there are still a few spots available, so reserve your place now at: etoro.tw/WebcastJuly2018
@MatiGreenspan – eToro, Senior Market Analyst
Today's Highlights
Trade War Warnings
Plenty of Data
Complete Bitcoin Trendline
Please note: All data, figures & graphs are valid as of July 5th. All trading carries risk. Only risk capital you can afford to lose.
Traditional Markets
Fresh warnings from China and Europe regarding Donald Trump's trade war have been hitting the news.
This headline was particularly shocking, as it implies that global supply chains will be disrupted and the new tariffs will likely have some unintended consequences.
In addition, this statement from Germany shows the broad implications of America's new protectionist policy.
Interestingly enough, markets in Asia and Europe are doing well today and managing to recoup some of the losses seen over the last week. This might be due to the fact that the Dollar itself is not having a great day.
Plenty of Data
There's plenty of data coming out of the United States today. The Crude Oil inventories announcements and the ADP announcement usually happen on Wednesday but were postponed to today due to the holiday.
We also have the ISM Services Index that'll be released 30 minutes after New York's opening bell and the minutes from the FOMC's last meeting later in the day.
Crypto Rally Continues
Volumes are up and prices are up this week as the industry manages some slow but steady gains.
At this point, even if the movement is sideways, it's still a great sign for bitcoin. The more stable the price, the brighter the prospects for it to be used as a store of value.
Yesterday, CNBC posted this graph on their Fast Money twitter account.
Though it's not clear what they meant with the caption "Happy?" many users were quick to point out that their trendline is a bit outdated.
The implication here seems to be that the trend is down and therefore the price is likely to fall. They even inserted a green arrow where the price failed to climb above the $10,000 psychological level in early May.
As we showed in Monday's market update (Titled: Honne and Tatamae), that trendline has already been broken.
Now, every analyst draws their trendlines a bit differently. Therefore, for your pleasure, in this graph, I've drawn the most conservative possible trendline that can possibly be drawn from the peak. As you can clearly see, the last few days have sustained above the line.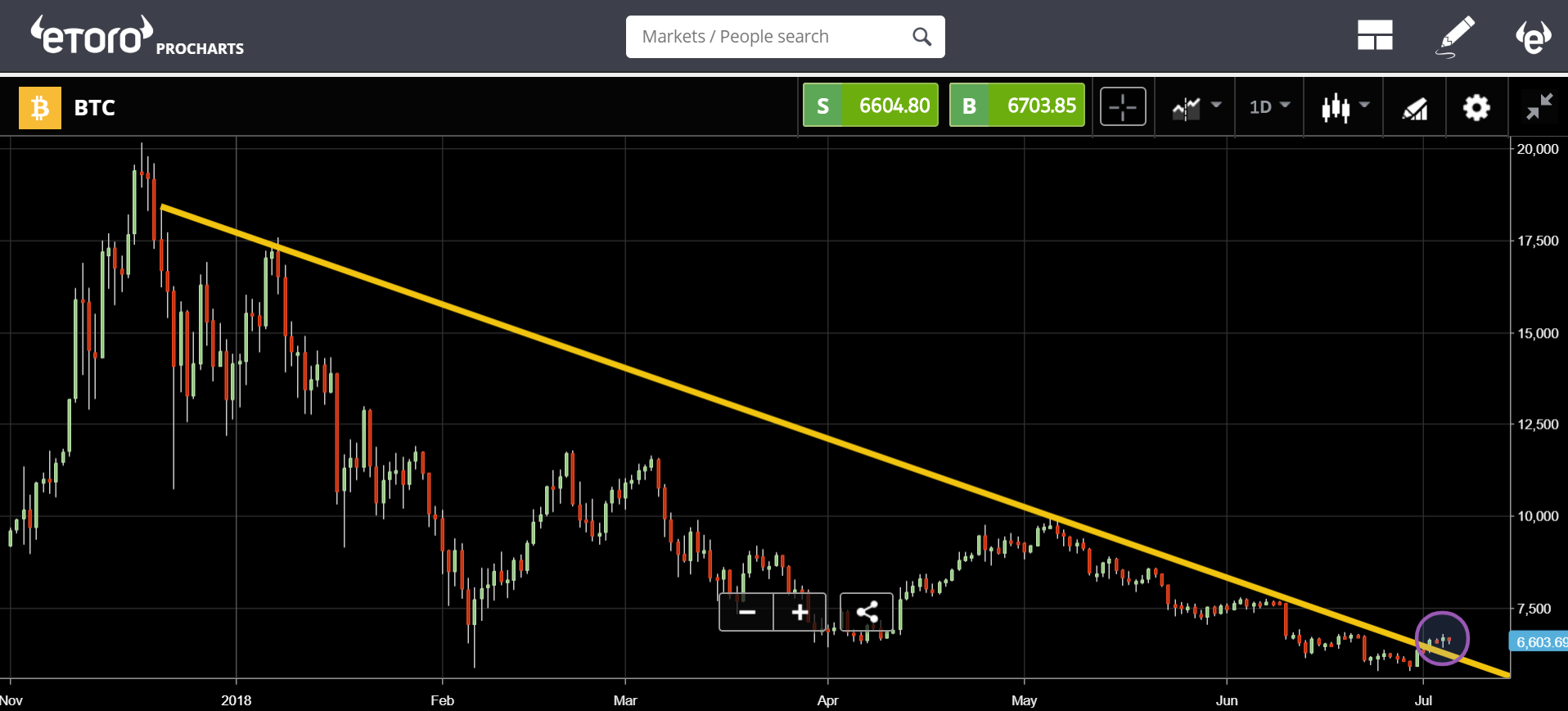 Of course, past performance is no guarantee of future results but if you'll take a look back to CNBC's chart above, you'll notice that they didn't even draw the line to the end of the chart.
Let's hope this crypto rally continues but be sure to keep a diversified portfolio in case it doesn't. As always, please feel free to tag me with any questions, comments, feedback, and insight.
This content is provided for information and educational purposes only and should not be considered to be investment advice or recommendation.
The outlook presented is a personal opinion of the analyst and does not represent an official position of eToro.
Past performance is not an indication of future results. All trading involves risk; only risk capital you are prepared to lose.
Cryptocurrencies can widely fluctuate in prices and are not appropriate for all investors. Trading cryptocurrencies is not supervised by any EU regulatory framework.
About the Author: Mati Greenspan is a Senior Market Analyst at eToro
Connect with Mati on….
eToro: http://etoro.tw/Mati | Twitter: https://twitter.com/matigreenspan | LinkedIn: https://www.linkedin.com/in/matisyahu/ | Telegram: https://t.me/MatiGreenspan | Office Phone: +44-203-1500308 (ext:311)
Disclaimer: The opinions expressed in this article do not represent the views of NewsBTC 
or any of its team members. NewsBTC is neither responsible nor liable for the accuracy of 
any of the information supplied in Sponsored Stories/Press Releases such as this one.