Hi Everyone,
For all our clients, colleagues and partners in China and the entire region, we would like to wish you a very happy new year!!
This is a very special year in the Chinese Calendar, the year of the Golden Pig. Unlike Islam and Judaism, in Chinese culture, the pig is a very prominent and dignified animal associated with financial success, fortune, wealth, and good luck.
Perhaps unsurprisingly then, we can spot a unique trend of investors moving funds into actively managed portfolios going into this unique year especially in the bonds market and in pension funds.
So for all of our clients, popular investors, and everyone out there hope the market conditions are favorable to you.
Gong Xi Fa Cai! – May you enlarge your wealth!!
@MatiGreenspan – eToro, Senior Market Analyst
Today's Highlights
Days to next Shutdown: 11 | Days to Brexit: 53
Golden Support Level
Bitcoin Search of Luck
Please note: All data, figures & graphs are valid as of February 4th. All trading carries risk. Only risk capital you can afford to lose.
Traditional Markets
Chinese markets will be closed this week for the festivities, yet there isn't much indication of how this may affect the ongoing trade negotiations with the United States. Perhaps it can bring some luck to both sides who seem to be eager for a deal.
Today the Pope is on a unique trip to Abu Dhabi and German Chancellor Angela Merkel is in Tokyo. Wishing them both the best of luck as well.
Markets are noticeably flat today. Japan and Australia managed some gains, while the opening in Europe was slightly negative.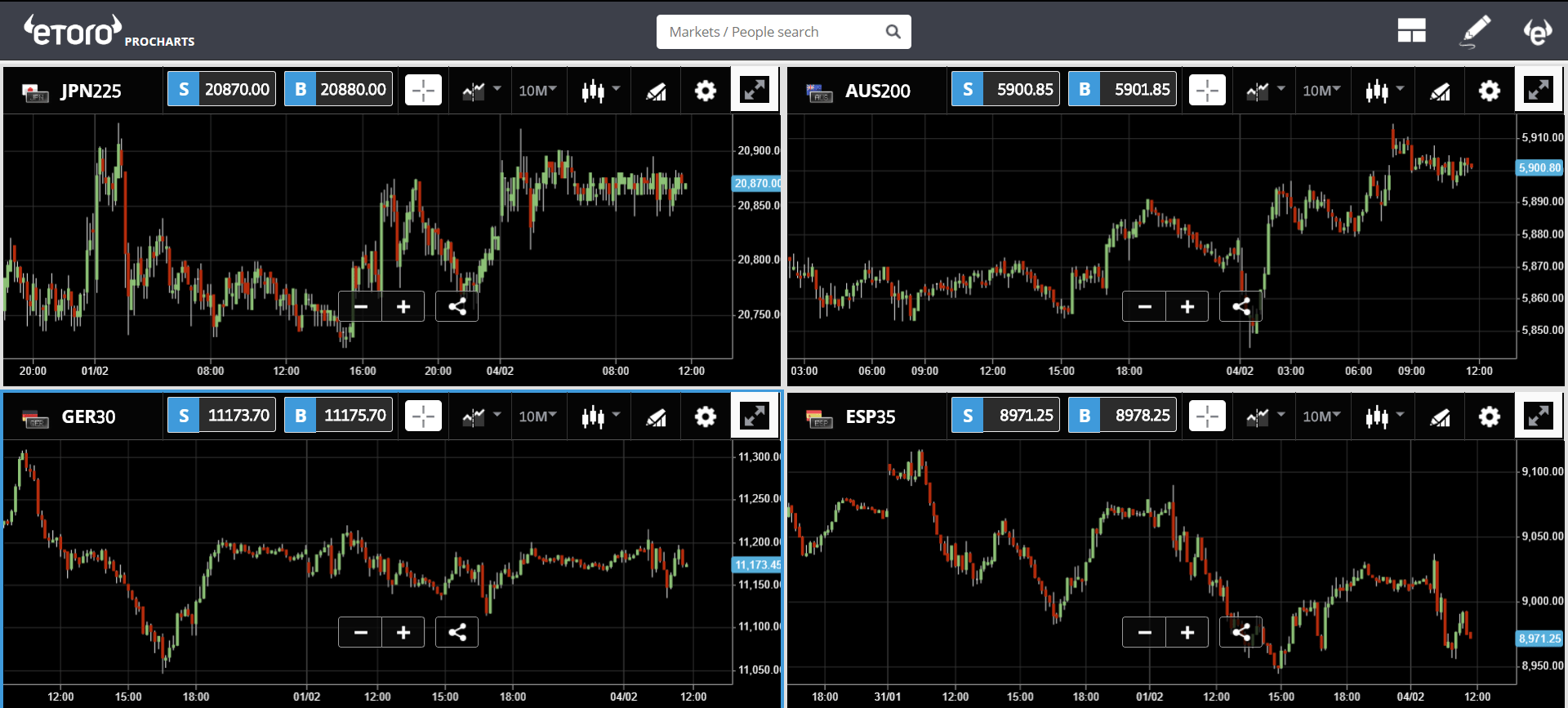 Golden Support
Many traders have already noticed that gold has been on a lucky run lately. Most recently it has broken through the psychological barrier of $1,300 per ounce.
This is not very surprising given the level of geopolitical uncertainty at this time as well as global monetary policy that seems to be increasingly accommodative, which very well could end up stirring inflationary concerns.
For traditional asset managers with a long term outlook, many professionals recommend holding between 5% and 20% in gold. Of course, that doesn't mean we need to fomo in at these levels.
Those looking to place a buy order might very well get a more preferable price closer to the rising line of support (yellow line), which oddly enough converges with the psychological level of $1,300 mentioned above (blue line).

Bitcoin Could use some of that Golden Pig luck too
When thinking about cryptoassets at the moment it seems a different animal comes to mind as bitcoin has now officially logged its longest bear market in the asset's relatively short history.
From December 2017 until today bitcoin has dropped a total of 82% from peak to trough, making a total stretch of 413 days without any indication of a turnaround. It should be noted though that even though this is the longest stretch, it's not the deepest. The five-month bear of 2011 saw a drawdown of 93% and the crypto winter from the end of 2013 to the beginning of 2015 saw a total drawdown of 86%.
As we reflect on this past year and a half we can notice a very specific formation that has repeated itself incessantly… the descending triangle.
With $5,500 (blue line) as the base, we've seen six different wedges, four of which have broken to the downside. Now that the blue line is broken, we've moved the support level to $3,000 and we can see that we're now coming to the seventh wedge.
Though some analysts have indicated that we may have further to go on the downside, others are pointing out that we may have entered the apathy phase for bitcoin trading, an annoying yet necessary stage in the investment cycle.
About the Author: Mati Greenspan is a Senior Market Analyst at eToro

Connect with Mati on….

eToro: http://etoro.tw/Mati
Twitter: https://twitter.com/matigreenspan
LinkedIn: https://www.linkedin.com/in/matisyahu/
Telegram: https://t.me/MatiGreenspan
Office Phone: +44-203-1500308 (ext:311)


Disclaimer: The opinions expressed in this article do not represent the views of NewsBTC 
or any of its team members. NewsBTC is neither responsible nor liable for the accuracy of 
any of the information supplied in Sponsored Stories/Press Releases such as this one.