Hi Everyone,
The drive for crypto regulation continues across the globe with successes and setbacks for crypto-enthusiasts ongoing in different key markets.
In the USA, President Trump has appointed a new chairman to the SEC who is reportedly much more crypto friendly than his predecessor. Elad Roisman could very well tip the scale in favor of a bitcoin backed ETF and other crypto financial products.
In California, where I grew up and have just returned from, the law has been amended to include new definitions for crypto assets.
In the European Union, the EcoFin meetings have also proven fruitful…

One setback that we've seen though, came from the International Monetary Fund, which has come out against the Marshall Islands' plans to create their own cryptocurrency, known as the Sovereign.
However, the biggest debate continues. India's hearing on the RBI's infamous crypto ban has rolled over into today and we hope to get some good news there.
@MatiGreenspan – eToro, Senior Market Analyst
Today's Highlights
Asian Stocks Down
EM Currencies Rebound
Ethereum Sell-off
Please note: All data, figures & graphs are valid as of September 12th. All trading carries risk. Only risk capital you can afford to lose.
Traditional Markets
The mood among investors in Asian stocks is arguably grimmer than the crypto market at this point, as Asian stocks are currently in the longest sell-off of the last 16 years.
This rather clever headline compares the market cap of the Chinese stock market to that of the world's largest corporation.
Here we can see the China 50 index, which is down 28% from its peak at the start of the year.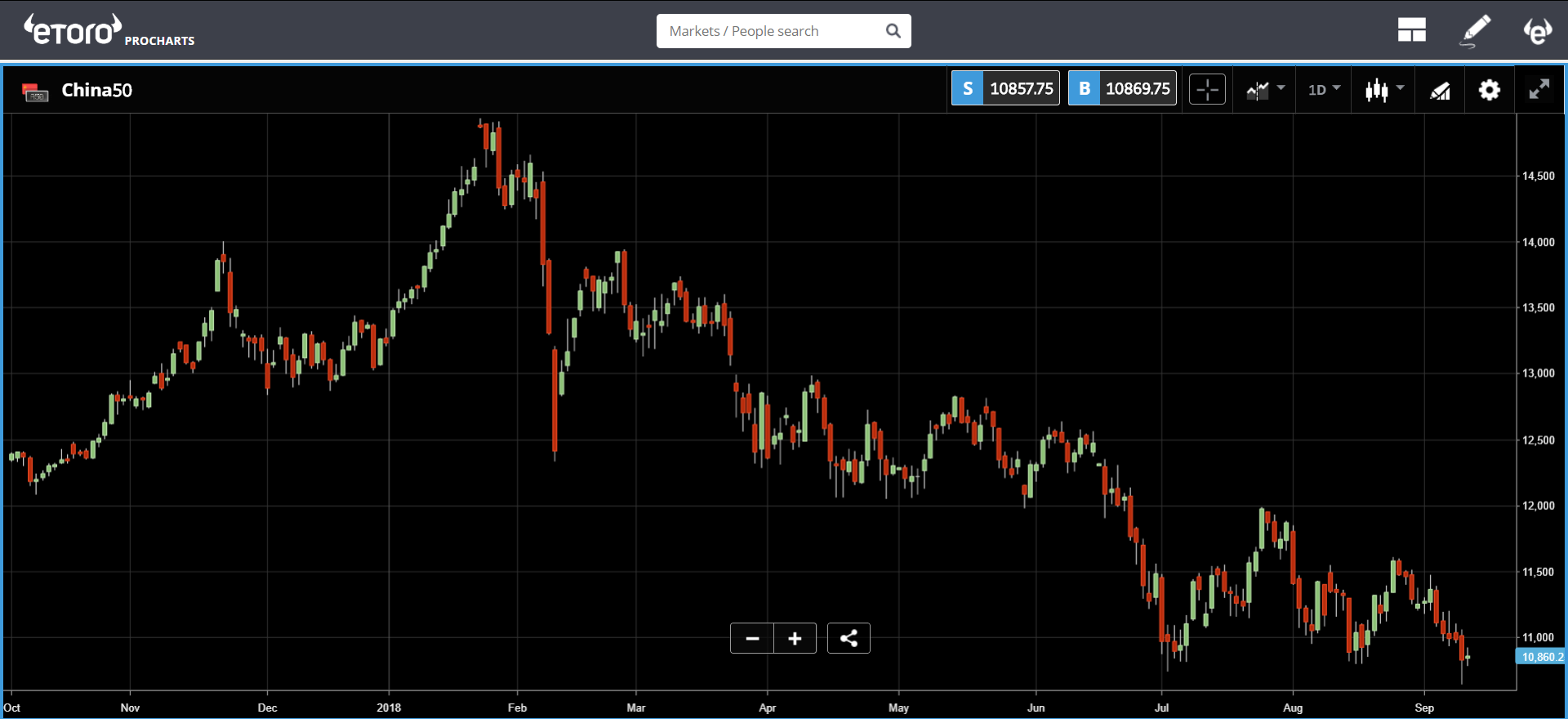 EM Currency Rebound
The Dollar seems to have leveled off recently. Over the next few days, we'll get key updates from several central banks but the US Fed's next big meeting is still two weeks away.
Still, today we'll hear remarks from two Fed reps, Brainard and Bullard, as well as receiving insight from the Fed's beige book, a bond auction, and even some PPI data for gauging inflation. However, all of the above events could easily be overshadowed by Apple's big conference in Cupertino California tonight.
The company has become so big that its stocks are being seen by some as the go-to store of value investment, and as we've noted above a global benchmark. So these type of product launches may end up influencing other markets.
Related or not, we can also notice a bit of a bounce in the emerging markets currencies this morning.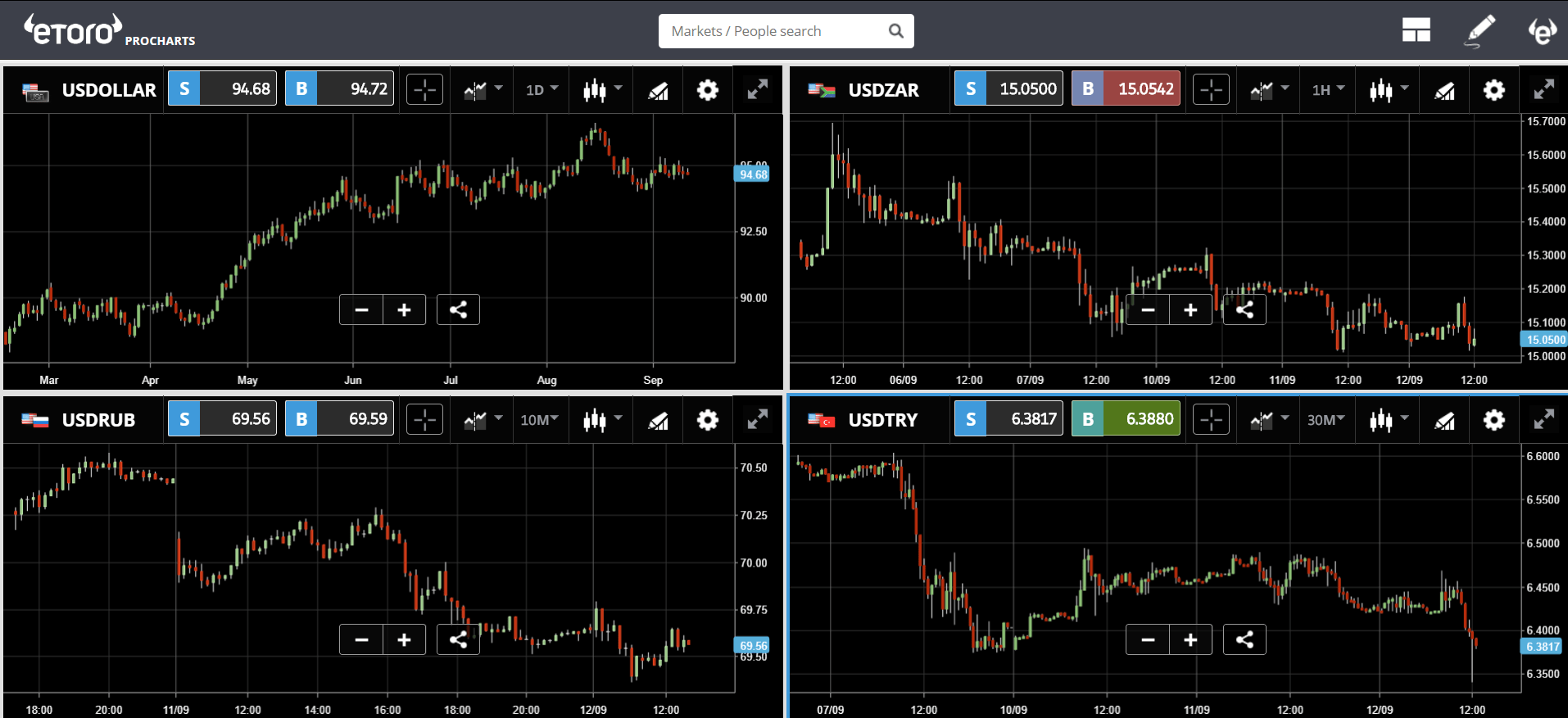 Crude oil is also gaining against the Dollar today on news of two massive storms that are about to hit land, one in the United States and one in East Asia.
Ethereum Based Sell-off
Much to the chagrin of many crypto-enthusiasts, the bear market has continued over the last few days, with Ethereum seemingly leading the charge.
The general direction of the market is pretty clear, but it remains a mystery is why Ethereum is losing ground faster than most other major crypto assets.
Perhaps it could have something to do with statements from Vitalik Buterin…

The fact that Vitalik is less bullish could be causing some to sell and it stands to reason that most of his most devout followers will be holding Ether.
Either way, Vitalik's statement that "there's a ceiling in sight" doesn't necessarily imply where that ceiling might be. At this point, even if we simply return to all-time highs, it would represent a massive growth in price from where we currently are. My question isn't about the ceiling, it's about the floor.
Here we can see Ethereum's massive 88% decline since the high on January 13th.
The fact remains that Ethereum is the most widely used blockchain with the most projects built on top of it and consistently sees the highest number of transactions per day. So despite the lower price, we have reason to believe that the Ethereum network and token are here to stay.
Let's have an awesome day ahead!
This content is provided for information and educational purposes only and should not be considered to be investment advice or recommendation.
The outlook presented is a personal opinion of the analyst and does not represent an official position of eToro.
Past performance is not an indication of future results. All trading involves risk; only risk capital you are prepared to lose.
Cryptocurrencies can widely fluctuate in prices and are not appropriate for all investors. Trading cryptocurrencies is not supervised by any EU regulatory framework.
About the Author: Mati Greenspan is a Senior Market Analyst at eToro
Connect with Mati on….
eToro: http://etoro.tw/Mati | Twitter: https://twitter.com/matigreenspan | LinkedIn: https://www.linkedin.com/in/matisyahu/ | Telegram: https://t.me/MatiGreenspan | Office Phone: +44-203-1500308 (ext:311)
Disclaimer: The opinions expressed in this article do not represent the views of NewsBTC 
or any of its team members. NewsBTC is neither responsible nor liable for the accuracy of 
any of the information supplied in Sponsored Stories/Press Releases such as this one.