Hi Everyone,
Perhaps the biggest unsolved mystery of our generation is that of the identity of Bitcoin's creator.
Over the weekend, a new website emerged at http://nakamotofamilyfoundation.org/
The site includes a 21-page paper called "Duality" that is supposedly an excerpt from an upcoming book from Bitcoin's elusive creator and a simple crypto puzzle that reveals the name of the said book.
Even though most of the information in the excerpt is public knowledge and there is no irrefutable proof that the author is indeed Satoshi himself, it's still an excellent read and I couldn't help but let my mind wonder.
Of course, if Satoshi Nakamoto is still alive and did decide to prove his identity to the world, it would be pretty easy for him to do so. Recent estimates show that there are almost 1 million BTC under Satoshi's control. If the coins moved, they would easily serve as proof of ownership. #ThankCrypto
Those of you who take the time to solve the puzzle or read the pages will understand that Satoshi Nakamoto has no desire to be "discovered" and would rather remain anonymous.
@MatiGreenspan — eToro, Senior Market Analyst
Today's Highlights
Volatility up on Trade
New Mexican President
Crypto Volumes Up
Please note: All data, figures & graphs are valid as of July 2nd. All trading carries risk. Only risk capital you can afford to lose.
Traditional Markets
Stocks continue to decline as headlines of the trade war dominate the news.
Over the last few weeks, the dispute has been escalating and it could come to a head by Friday when Trump's new tariffs on China are set to kick in.
Looking at the VIX volatility index we can see that the market activity has been escalating over the last two weeks, although it's still not even close to the spike we saw on February 2nd.
On top of that, we're getting some news out of the German Bundestag that is playing out negatively on the DAX.
Mexico's New President
The vote was a landslide. Even though the official results aren't due until tonight, both of the contenders have already conceded to Andres Manuel Lopez Obrador (AMLO).
Results of the congressional election are a bit more difficult to forecast and if AMLO's party does manage to attain a majority there, it will certainly be a lot easier for him to implement his economic agenda.
In the meantime, the Peso is looking a bit weak this morning. This graph shows the Peso getting progressively stronger since mid-June and the spike down this morning.
(Remember: The graph is inverted so a move down means the Peso is getting stronger.)
Also, the Mexican central bank is currently offering a high interest rate. Something that can certainly give an advantage to anyone shorting the USDMXN pair.
Crypto Volumes Up
Bitcoin and the crypto market swung higher over the weekend with volumes notably stronger than we've grown accustomed to, especially across the exchanges.
The rise in pricing and volumes came on Friday evening…
An optimistic look at bitcoin's chart shows several positive progressions as well. The most obvious is the break above the downward channel that we've been tracking.
The price has managed to sustain above $6,250 all weekend but is yet to show if the breakout is real or false.
The second is a double bottom that can be seen as the price reached the lowest price of the year ($5,780) on two separate occasions (purple circles) but didn't go any lower.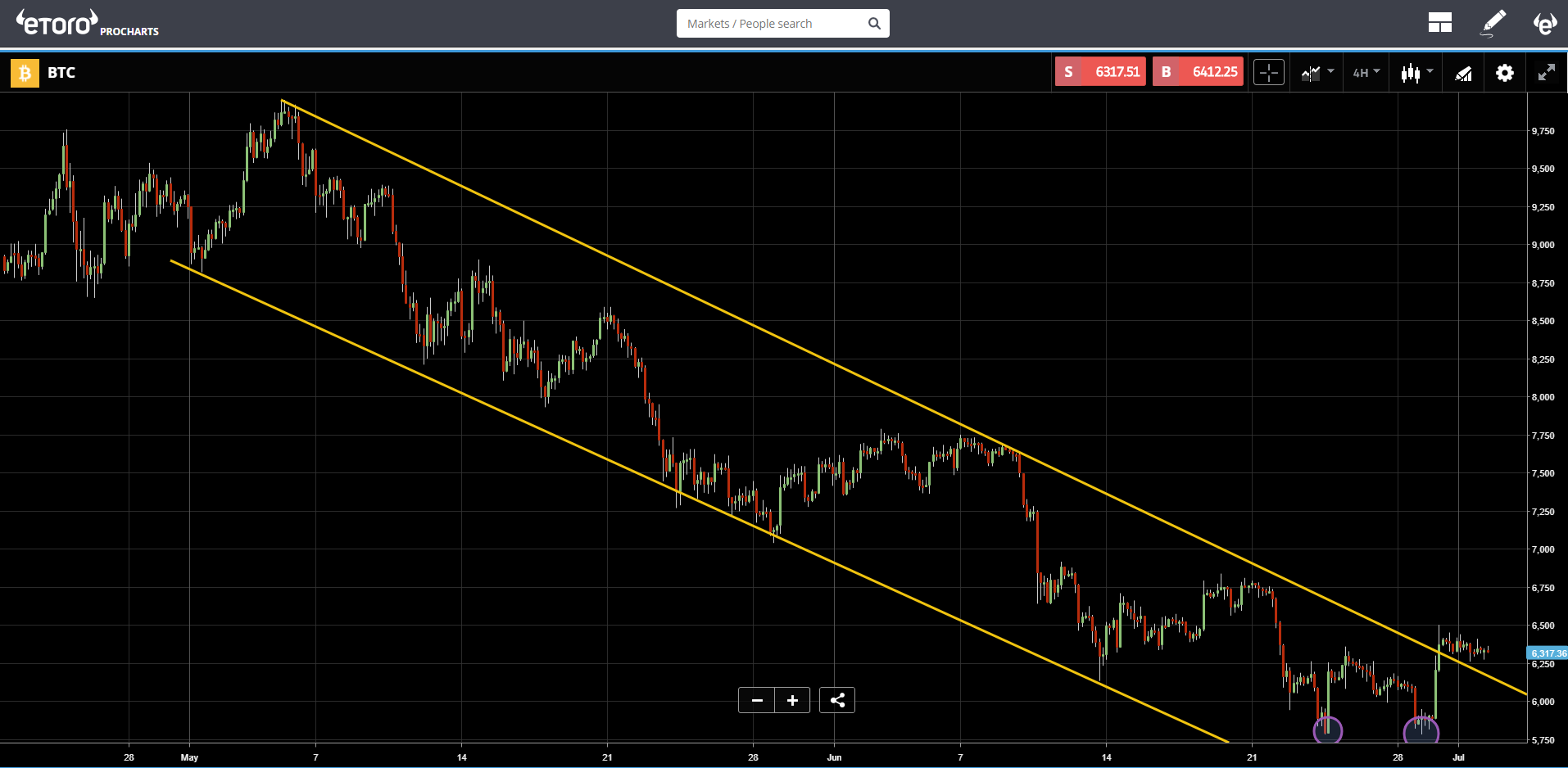 Let's have an amazing week ahead!
This content is provided for information and educational purposes only and should not be considered to be investment advice or recommendation.
The outlook presented is a personal opinion of the analyst and does not represent an official position of eToro.
Past performance is not an indication of future results. All trading involves risk; only risk capital you are prepared to lose.
Cryptocurrencies can widely fluctuate in prices and are not appropriate for all investors. Trading cryptocurrencies is not supervised by any EU regulatory framework.
About the Author: Mati Greenspan is a Senior Market Analyst at eToro
Connect with Mati on….
eToro: http://etoro.tw/Mati | Twitter: https://twitter.com/matigreenspan | LinkedIn: https://www.linkedin.com/in/matisyahu/ | Telegram: https://t.me/MatiGreenspan | Office Phone: +44-203-1500308 (ext:311)
Disclaimer: The opinions expressed in this article do not represent the views of NewsBTC 
or any of its team members. NewsBTC is neither responsible nor liable for the accuracy of 
any of the information supplied in Sponsored Stories/Press Releases such as this one.