Hi Everyone,
Last week, visionary entrepreneur Elon Musk made headlines by smoking cannabis during a livestream.
The following conversation between the visionary and his host focused on innovation, the future, and the potential of what might be. Many investors, however, are still hung up on the first minute.
Shares in Tesla dropped drastically when the stock market opened the next day but shares in the Canadian medicinal marijuana company Cronos actually spiked.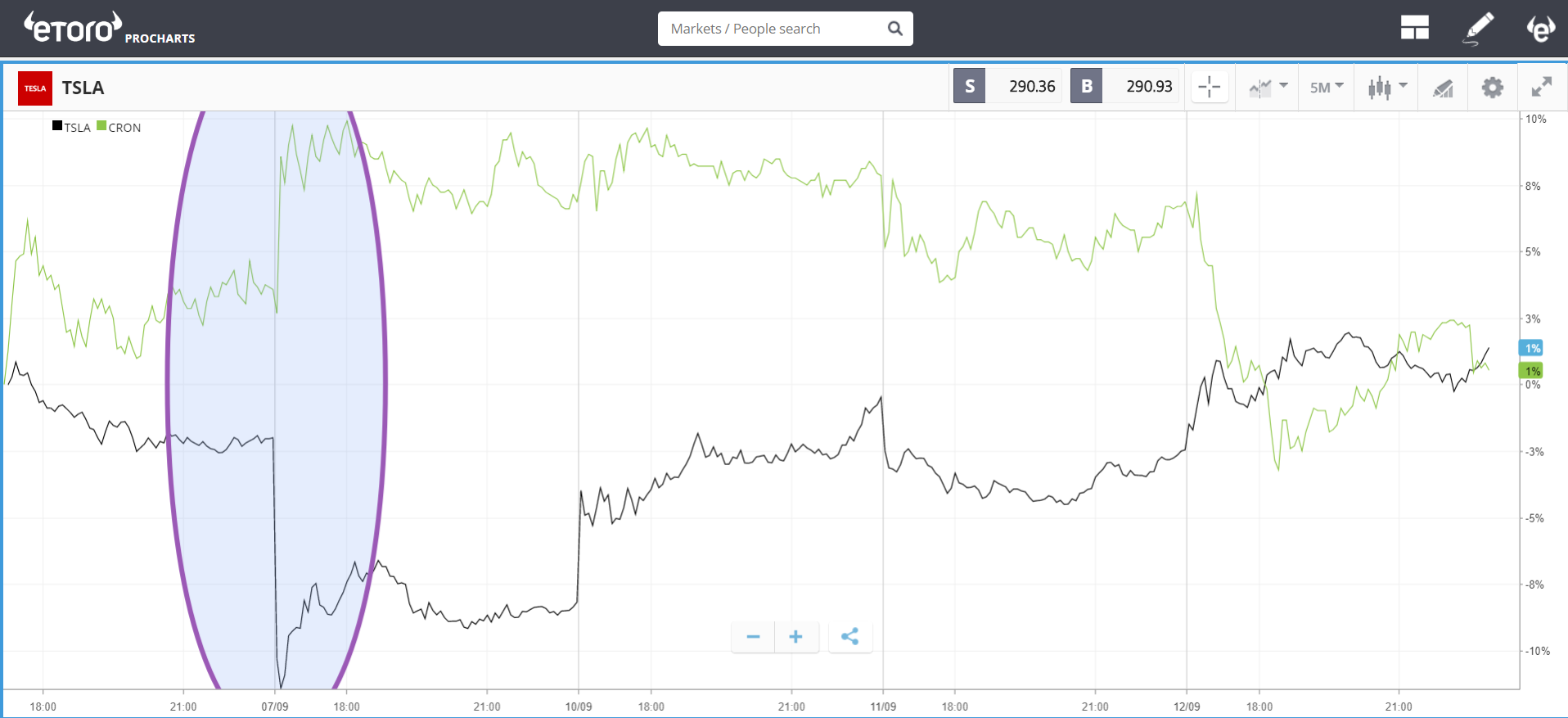 The high growth in this budding industry can be difficult to navigate at times, which is why we at eToro have just announced our latest investment vehicle focuses on medicinal marijuana stocks.
The new Cannabis Care Copy Portfolio brings together some of the best stocks in the sector and will be open for ~1000 initial investors on Monday. (Full details here)
We will discuss some of the pros and cons of this new product in our upcoming webcast today, which will be open for our platinum and professional clients this afternoon.
@MatiGreenspan — eToro, Senior Market Analyst
Today's Highlights
Trade War: Off
ECB & BoE Day
Minor Crypto Bounce
Please note: All data, figures & graphs are valid as of September 13th. All trading carries risk. Only risk capital you can afford to lose.
Traditional Markets
Stocks are up today on the news that…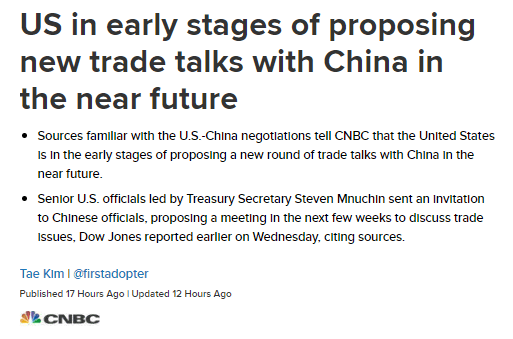 The China 50 index is finally up off the lows and the general atmosphere in Asia and Europe seems positive.
The US Dollar remains stable, as it has been since the beginning of September as Crude Oil, precious metals, and even emerging markets currencies are regaining some of their lost ground.
Boring Central Bank Stuff
By the time you get this the Bank of England should have already concluded their monetary policy meeting and the European Central Bank is likely just getting started.
No real change is expected from either institution but analysts and investors will be watching out for any surprises.
Current expectations are for the next ECB rate hike to come at the end of next year. Any change to that outlook or to the timeline for reducing QE could have an impact across the markets.
Minor Crypto Bounce
In line with what we're seeing in the stocks and commodities markets, cryptos are fighting back against the buck today.
After reaching ultra lows this week, it's about time for a minor bounce. Ethereum has managed to recoup its losses from yesterday and for the first time in a while, the air seems clear again.
What was interesting to see during the selling was that Bitcoin managed to hold support above $6,000. It seems that even those who are less bullish on some of the altcoins are still reluctant to pull their money out and still more than willing to buy bitcoin at these levels.
In this case, bitcoin has been acting like a safe haven of the crypto markets as the industry consolidates gains. Even though I'm not a great fan of the BTC dominance indicator, it does allow us to visualize what's just happened pretty well.
As always, please continue tagging me on social media and sending in your interesting questions, comments, and feedback. It's always highly appreciated.
Have an excellent day!
This content is provided for information and educational purposes only and should not be considered to be investment advice or recommendation.
The outlook presented is a personal opinion of the analyst and does not represent an official position of eToro.
Past performance is not an indication of future results. All trading involves risk; only risk capital you are prepared to lose.
Cryptocurrencies can widely fluctuate in prices and are not appropriate for all investors. Trading cryptocurrencies is not supervised by any EU regulatory framework.
About the Author: Mati Greenspan is a Senior Market Analyst at eToro
Connect with Mati on….
eToro: http://etoro.tw/Mati | Twitter: https://twitter.com/matigreenspan | LinkedIn: https://www.linkedin.com/in/matisyahu/ | Telegram: https://t.me/MatiGreenspan | Office Phone: +44-203-1500308 (ext:311)
Disclaimer: The opinions expressed in this article do not represent the views of NewsBTC 
or any of its team members. NewsBTC is neither responsible nor liable for the accuracy of 
any of the information supplied in Sponsored Stories/Press Releases such as this one.