Hi Everyone,
What amazes me is that despite seeing record levels of trading volumes across crypto exchanges, on the bitcoin futures market, and even on the bitcoin blockchain itself, public interest hasn't really picked up just yet.
Looking at google trends for the search term "bitcoin", we can see that there has been an uptick recently but we're nowhere near the levels seen in December 2017.

Indeed, despite the massive price movements, a recent survey shows that only 23% of respondents feel that what we're currently seeing can be classified as FOMO.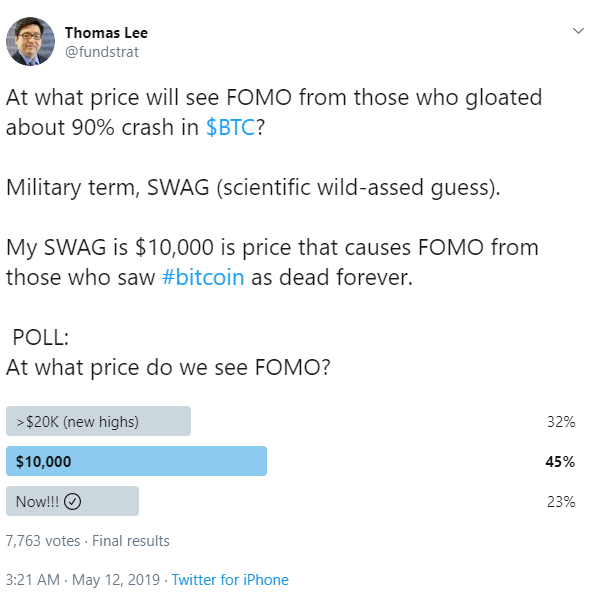 Yes, we've come a long way already and I would be very surprised if we don't see some sort of pullback, or at least a consolidation.
Given the overwhelming headlines we've seen indicating that mass crypto adoption may be around the corner and given the historic parabolic bull and bear cycles that Bitcoin is used to, in my mind we might be just getting started.
Disclaimer: Crypto is a risky asset class and some coins may eventually reach zero, so please trade with caution and consider diversifying your portfolio.
@MatiGreenspan – eToro, Senior Market Analyst
Today's Highlights
Weak Chinese Data; Strong Stocks
Tokenizing Metals
Mati Unplugged
Please note: All data, figures & graphs are valid as of May 15th. All trading carries risk. Only risk capital you can afford to lose.
Traditional Markets
The stock markets are doing just fine this morning despite the current trade war between the US and China, possibly due to the recent weak economic data from China.
Wait what?!
Yeah, data from China out this morning showed that retail sales, industrial production, capital investments, and even unemployment were all much worse than economists were forecasting. Important to note that this data reflects the period before the recent tariff hikes.
Bad news for the economy is good for the markets though. The expectation is that the People's Bank of China will likely come to the aid of the market with additional stimulus measures.
Here we can see the reaction in the China50 index. The purple circle is the precise time of this morning's data dump.
This is a strong confirmation bias for me. Trade doesn't matter, politics don't matter, the economy doesn't matter. Keep your eyes on the central banks. They're the ones who control the money and the markets.
XRP Outperforming
By popular demand, let's take a look at the most popular crypto asset on the eToro platform, which has been outperforming over the last week.
Here we can see the top seven cryptos by market cap. XRP is the white line.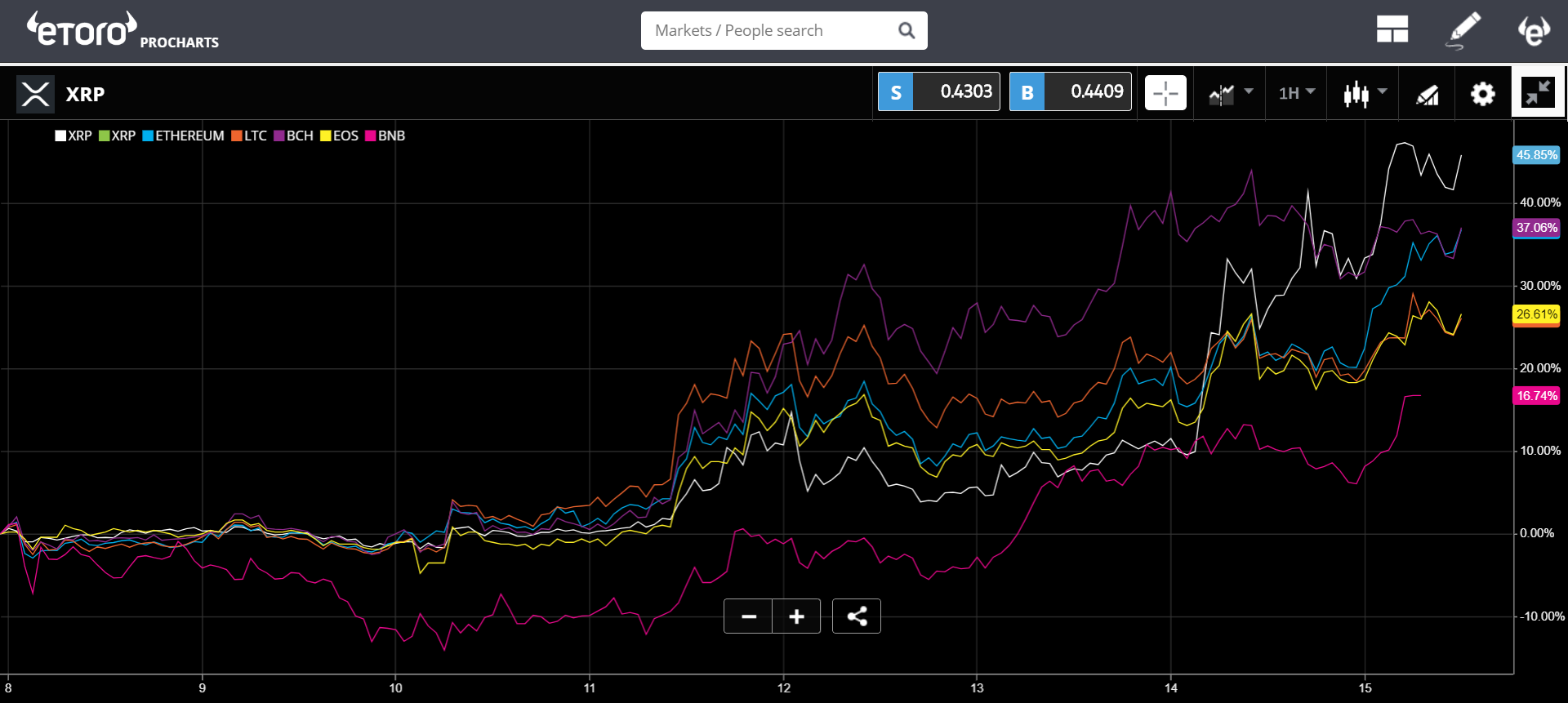 It did take a while for XRP to join the party this time. Unlike some of the other large-cap altcoins, it did not get a chance to surge during the recent altseason.
On the other hand, it also didn't see much of a plunge while the rest of the crypto market was going through capitulation back in November. Though it did fall during that timeframe, it did manage to hold firmly to its previous level of support at $0.25 per coin, thanks to a massive surge when the xRapid platform was released in September.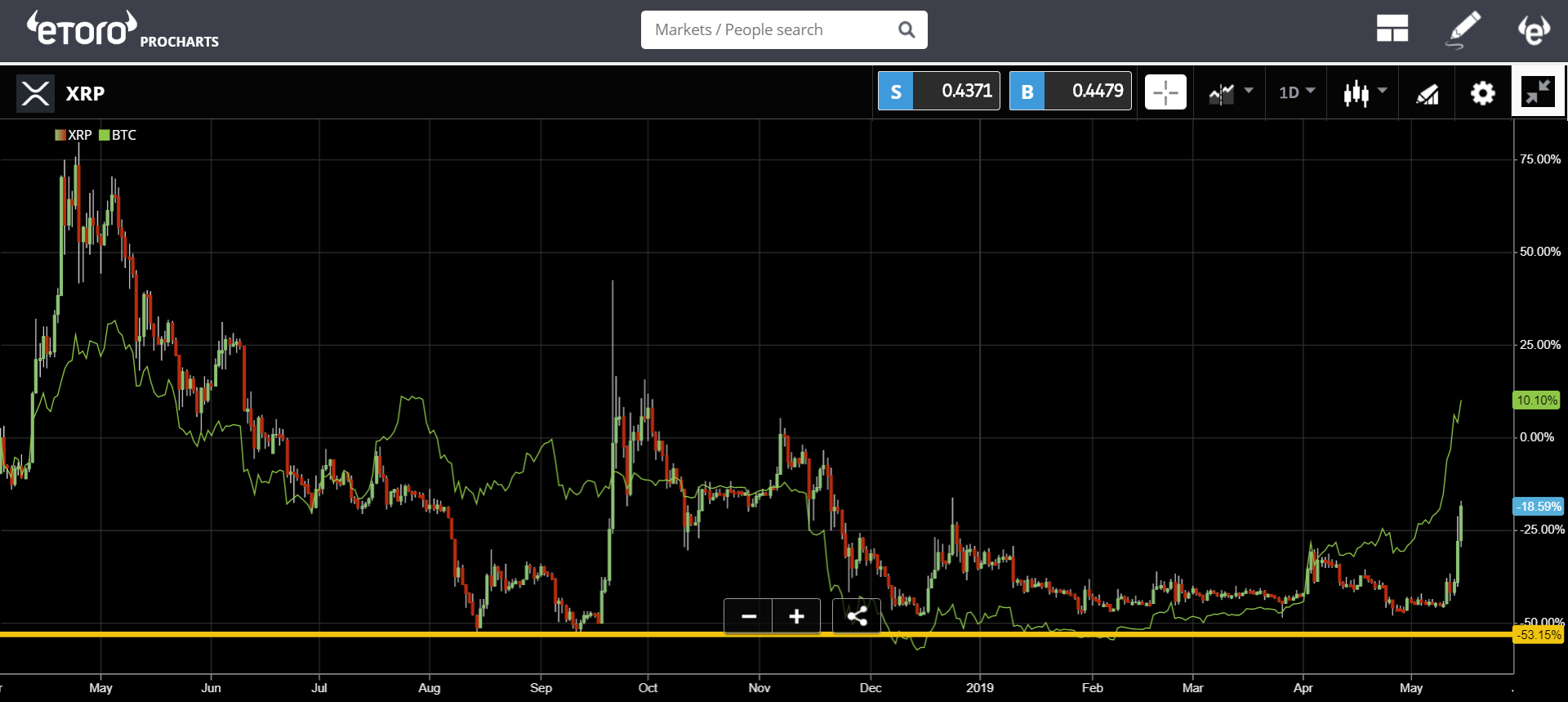 Over the last year, Ripple labs and the XRP community have been doing their best to distance themselves from the rest of the crypto community. CEO Brad Garlinghouse famously bashed bitcoin claiming that XRP is a valid replacement.
XRP chartists have also stated that in order for the platform to see great success, it needs to break the price correlation. So in that sense, it seems to be making good progress but isn't quite there just yet.
Mati Unplugged
Out of all the media interviews, webinars, podcasts and such, I most enjoy the long form ones where we can go in-depth on some of the market drivers.
On my recent trip to London, I had the chance to catch up with the CEO of ByWire, a decentralized news platform that runs on EOS, who as it turns out, is a fan of my analysis, a regular reader of these market updates and follower on Twitter. Needless to say, we were able to go quite far down the rabbit hole.
Michael has promised that he will cut the interview into more digestible chunks but for now, feel free to enjoy the full uncut version at this link.
Wishing you an amazing day ahead!
About the Author: Mati Greenspan is a Senior Market Analyst at eToro

Connect with Mati on….

eToro: http://etoro.tw/Mati
Twitter: https://twitter.com/matigreenspan
LinkedIn: https://www.linkedin.com/in/matisyahu/
Telegram: https://t.me/MatiGreenspan
Office Phone: +44-203-1500308 (ext:311)


Disclaimer: The opinions expressed in this article do not represent the views of NewsBTC 
or any of its team members. NewsBTC is neither responsible nor liable for the accuracy of 
any of the information supplied in Sponsored Stories/Press Releases such as this one.