Hi Everyone,
Roses are red violets are blue,
Bitcoin's not dead, altcoins are new.
Transference of value from one to another,
no bank taking fees, no government can smother.
Crypto volumes reached $36 billion today,
This market has come a long long way.
Happy Valentine's Day!
@MatiGreenspan – eToro, Senior Market Analyst
Today's Highlights
Days to next Shutdown: 1 | Days to Brexit: 43
Understanding USD Strength
Crypto Volumes Spike
Please note: All data, figures & graphs are valid as of February 14th. All trading carries risk. Only risk capital you can afford to lose.
Traditional Markets
Optimism abounds despite the presence of the three main geopolitical risks. We highlighted some of the reasons for this in yesterday's webcast for platinum and professional clients as well as some of the other market drivers and opportunities. Feel free to catch the recording at this link.
This, along with the softening stance from the world's central banks has volatility at it's lowest levels since October.
Let's hope that another US government shutdown is avoided before the deadline tomorrow. The retail sales data coming from the US an hour before the opening bell could also kick up some volatility.
US Dollar Moving on Up
It's the darndest thing. The Fed's apparent shift in policy at the start of the year should have sent the Dollar down. Lowering expectations of interest rate rises usually has a negative effect on a currency. Yet, the Dollar seems to be tearing it up lately.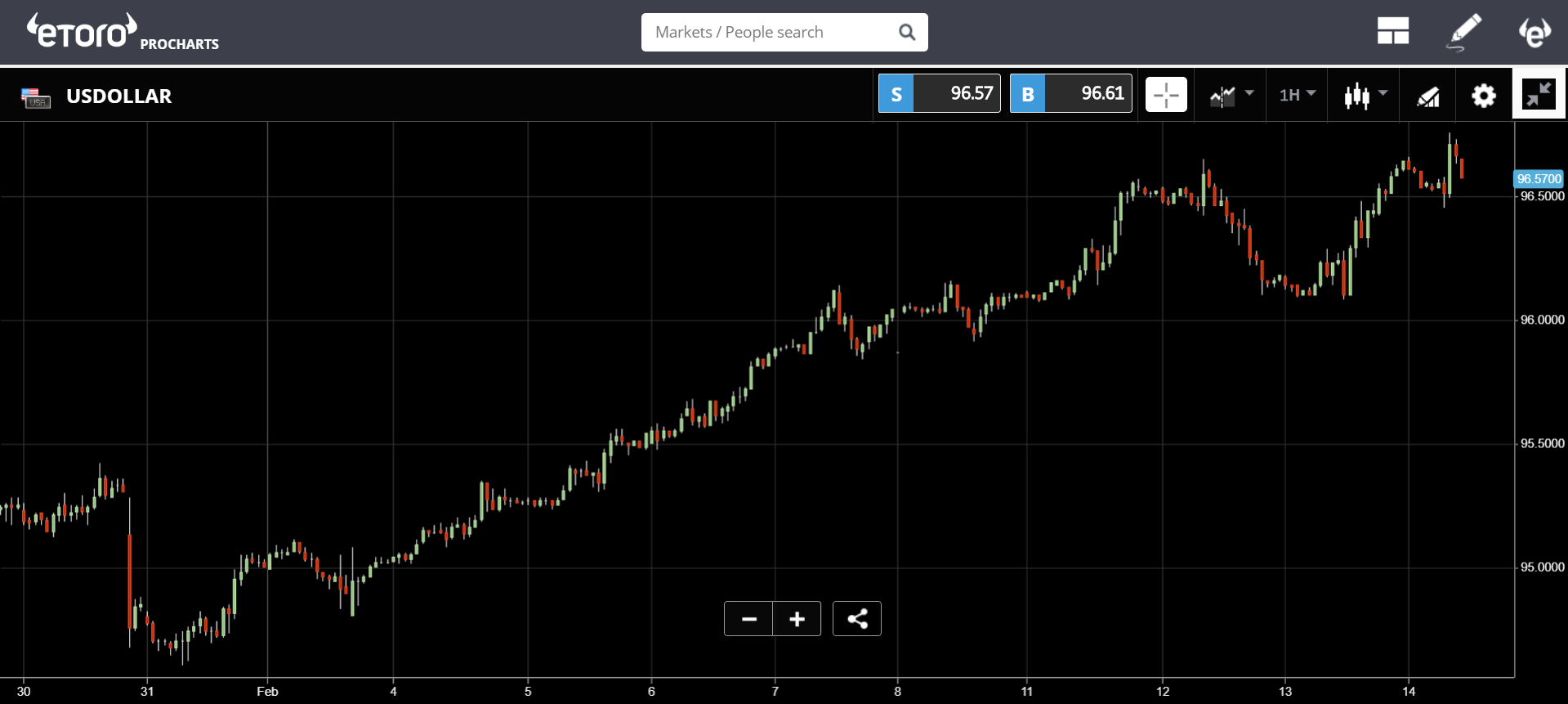 What's even stranger is that the normal correlations of the market seem to be breaking down. Crude oil, which normally bears a reverse correlation with the Dollar, is rising steadily over the last three days. Gold has come down from its highs, but not by much.
As the stock markets are also rising alongside the Dollar, it's really difficult to interpret this move, except possibly to say that most of the geopolitical risk is coming from outside the United States. With Brexit, the Chinese slowdown, and weakening numbers out of the Eurozone, at least as far as the currency markets are concerned, the Dollar is king.
Look at Crypto Volumes
The new ETF proposal in Tuesday's market update has now been quashed.

There did seem to be mixed emotions about this from the community. Many feel that more products built on bitcoin without backing are actually bad for the industry and they much prefer services like Bakkt or the proposed VanECK ETF that are actually backed up one for one with real bitcoin.
Lately, we've been speaking a lot about a disconnect in the crypto market between technical analysis (what's on the charts) and fundamental analysis (what's in the news). We've been getting some excellent news lately about the growth of the crypto industry yet the patterns that are forming on the charts are decidedly bearish.
However, today I noticed something on the charts that actually seems really positive. Trading volumes have spiked across crypto exchanges.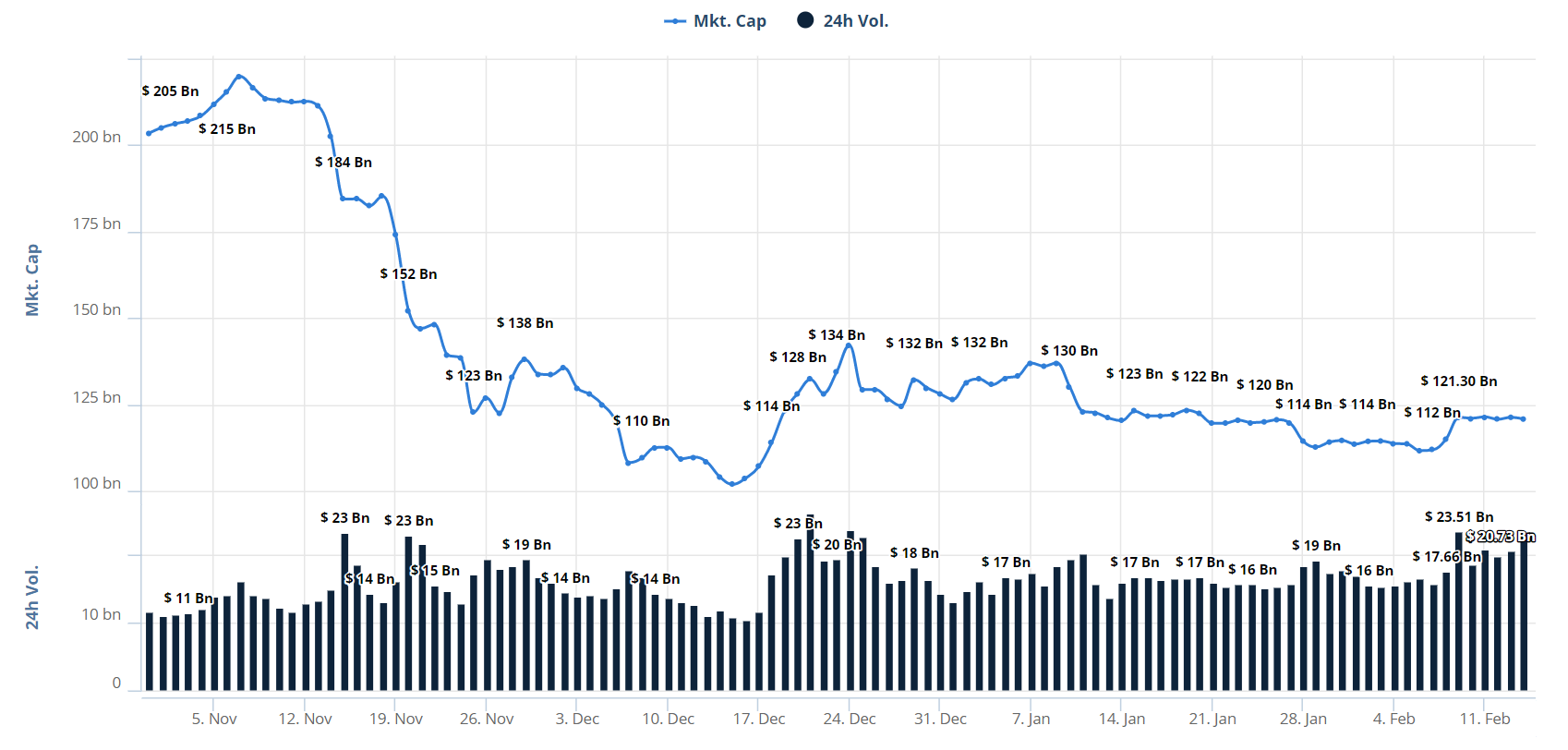 As we can see above, during the complacency in early December we were tracking about $10 billion per day. The surge mid-December and the more recent surge on Friday however were both accompanied by higher volumes.
In technical analysis, when a strong move is accompanied by strong volumes it usually means that there's more strength to the movement. Such was the case as well during the declines in November.
Seeing the 24-hour volumes reach $36 billion this morning, on a day with very little price movement is indeed intriguing. Remember, this is an entirely new market that has only surpassed the $1 billion mark for the very first time in March 2017. This industry has basically grown from nothing into a global market place in just a few short years.
Also noteworthy is that on-chain bitcoin transactions continue to climb. Volumes. However, volumes on the Wall Street futures contracts seem to be going the other way.
Wishing you an amazing day!!
About the Author: Mati Greenspan is a Senior Market Analyst at eToro

Connect with Mati on….

eToro: http://etoro.tw/Mati
Twitter: https://twitter.com/matigreenspan
LinkedIn: https://www.linkedin.com/in/matisyahu/
Telegram: https://t.me/MatiGreenspan
Office Phone: +44-203-1500308 (ext:311)


Disclaimer: The opinions expressed in this article do not represent the views of NewsBTC 
or any of its team members. NewsBTC is neither responsible nor liable for the accuracy of 
any of the information supplied in Sponsored Stories/Press Releases such as this one.