Hi Everyone,
One of the fascinating things about bitcoin is that even though the network is largely open source, data analytics are not always consistent. This makes for some interesting metrics and anomalies for crypto-analysts like myself to ponder on.
For example, data on the blockchain is objective and fairly consistent but things like volumes on exchanges and trading data will probably be different depending on where you look.
At the moment, several sites have published headlines that…

In fact, I find these headlines misleading because they are all referring to data from a single exchange and certainly not from the entire market.
Our data, here at eToro shows an entirely different story. In this graph, provided by one of our top data scientists, we can see an index that displays the level of trader shorts on the platform since the beginning of 2017.
As you can clearly see, shorts are up from last month but are still not even close to the highest levels.
@MatiGreenspan – eToro, Senior Market Analyst
Today's Highlights
Buy Italian Debt??
Euro Head & Shoulders
Bitcoin's Bullish Indicator
Please note: All data, figures & graphs are valid as of August 24th. All trading carries risk. Only risk capital you can afford to lose.
Traditional Markets
So this is a peculiar one…
Donald Trump has managed to make things even more interesting by offering to help Italy by buying their bonds. Apparently, the above offer came at his meeting with Italian prime minister Giuseppe Conte last month but I'm having trouble finding any details further to this recent article and a brief mention on Bloomberg television this morning.
With the overwhelming protectionist stance from the US President, it's certainly surprising to hear him offering to lend an American hand to a European debt issue. However, as with many things Donald Trump does, we can only ponder what the motivations might be.
Here's a graph of the Euro/Dollar to see where we're holding. The Euro has been falling since late April. Some technical chartists might see the entire month of August as a gigantic reverse head and shoulders.
Remember, watch out for updates from the Jackson Hole Symposium that we discussed yesterday.
Bitcoin's Bullish Indicator
Though the trends of bitcoin and other digital assets always seem to me to be somewhat fundamental, there have been very specific cases lately that show that short-term movements and price points can be derived directly from the charts.
One that I've personally been toting lately is the 200-day moving average. A favourite of technical chartists in the finance world that has recently proven significant for bitcoin.
Today, I'd like to get a bit more technical. Now, those of you who are familiar with my analysis know that I usually stick to the simple support and resistance lines, and sometimes spice things up with a moving average or an RSI.
However, we are now seeing signs that the MACD indicator may, in fact, hold some clues as to what might happen next.
In this graph, we can see the MACD line in white and the 'signal line' in red. The theory goes when the MACD breaks above the signal line, it could be considered a bullish signal.
For your convenience, I've highlighted 5 specific times that this happened recently and was indeed followed by a significant upward movement. Of course, it has given a few false signals as well as you can probably spot.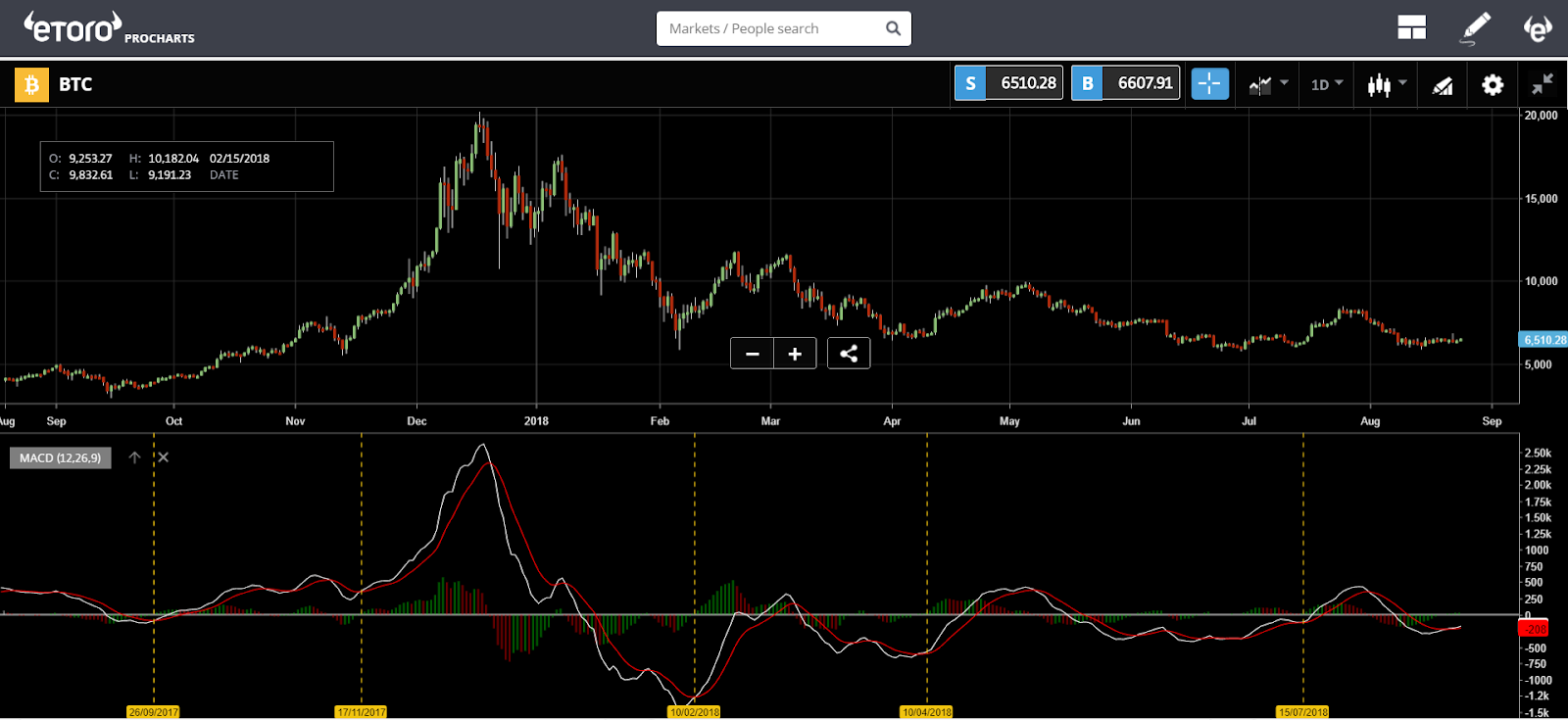 Take a look at the last few days. It seems like the white line is indeed rising above the red.
Many thanks to Paddy Baker from Crypto Briefing for bringing this to my attention on the chat. Here's a link to his post about it as well. And of course, many thanks to you for reading and for everyone sending me your amazing feedbacks and insights.
Have an amazing weekend ahead!
This content is provided for information and educational purposes only and should not be considered to be investment advice or recommendation.
The outlook presented is a personal opinion of the analyst and does not represent an official position of eToro.
Past performance is not an indication of future results. All trading involves risk; only risk capital you are prepared to lose.
Cryptocurrencies can widely fluctuate in prices and are not appropriate for all investors. Trading cryptocurrencies is not supervised by any EU regulatory framework.
About the Author: Mati Greenspan is a Senior Market Analyst at eToro
Connect with Mati on….
eToro: http://etoro.tw/Mati | Twitter: https://twitter.com/matigreenspan | LinkedIn: https://www.linkedin.com/in/matisyahu/ | Telegram: https://t.me/MatiGreenspan | Office Phone: +44-203-1500308 (ext:311)
Disclaimer: The opinions expressed in this article do not represent the views of NewsBTC 
or any of its team members. NewsBTC is neither responsible nor liable for the accuracy of 
any of the information supplied in Sponsored Stories/Press Releases such as this one.