Hi Everyone,
Traditional markets have continued to seek shelter as stocks plunge and bond yields reach ever lower. Gold has broken a fresh high and the currency markets are clearly flowing towards safe-haven trading.
Bitcoin however, which seemed to be participating wholeheartedly as a safe haven earlier this month is now seeing a clear divergence.
Here we can see bitcoin (in blue) since the crypto market sprang back to life on April 2nd, with gold overlayed (in orange). Notice the parting of ways over the last few days.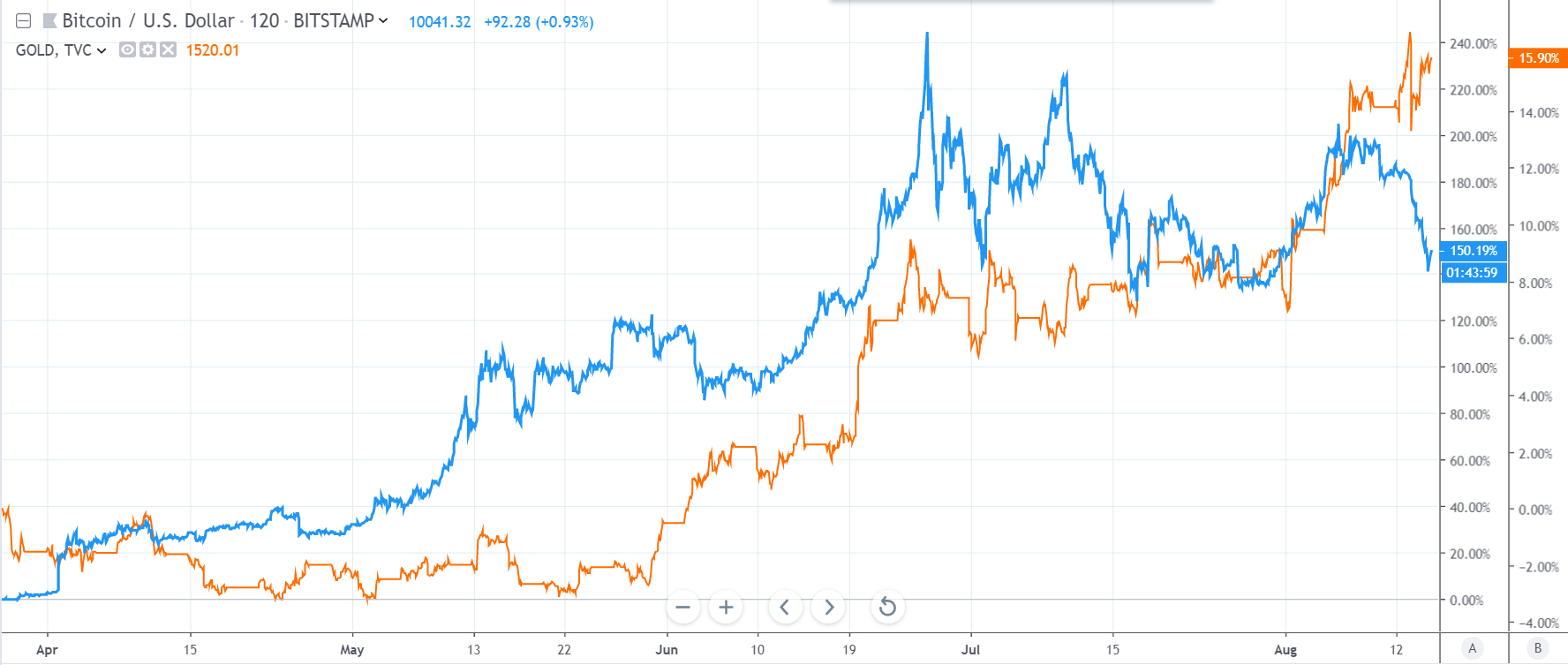 As we've said many times before, as far as portfolio management is concerned bitcoin is clearly classified as a risk asset. This is both due to its extremely volatile nature and because it is an emerging market with very few guarantees of what it will look like in the future.
With that said, it's important to note that even though bitcoin is falling in most of the world, there are some places where it is actually rising.

Checking on the bitcoin peer-to-peer market at localbitcoins.com, we can see that offers in Argentina range from $10,790 to $12,764 per bitcoin as of this writing, while bitcoin is trading below $10,000 in most popular exchanges.
Some offers in Hong Kong are going as high as $15,500 at the moment.
Bitcoin may be considered a risky asset for most investors but for some people it is clearly a safe haven.
Notice: Shortly after sending this message, I'll be traveling to a remote area in Palomar Mountain and will have limited internet access. The daily market updates will be covered by a promising young analyst in our UK team named Adam Vettese. Would like to wish him the best of luck. I will be back in action as of September 5th and will miss writing to you dearly until then.
@MatiGreenspan – eToro, Senior Market Analyst
Today's Highlights
2 minus 10 = negative
Volatility Peaking
Was it a scam?
Please note: All data, figures & graphs are valid as of August 15th. All trading carries risk. Only risk capital you can afford to lose.
Traditional Markets
Yet another indication of an impending recession has emerged recently. This particular metric is watched closely by most economists and has been scarily accurate as a predictive method for markets.
Here we can see that the difference between the US 2 year and 10 year bonds has flipped into negative territory for the first time since 2007.
Volatility on the Rise
Stocks remain volatile today. Analysts were quite optimistic yesterday on the fact that Trump had delayed some of the tariffs on China, but today several have already pointed out that this doesn't mean the trade war is over. Trump was simply trying to ease conditions on US consumers, not on China.
Here we can see that the VIX volatility index is on the rise once again.

We're definitely still in safe haven mode, but as we saw earlier this week that doesn't always mean that things will only go down. As the market is off its peak, and central banks are very supportive, there's always a chance for a face-melting rally.
Bitcoin Scammed?
After two days of searching for some sort of story explain the current leg down in the crypto market, it seems that one person has the answer.
The Founder of Primitive Crypto, Dovey Wan, usually has some pretty good insight into the Chinese market but this story seems a bit difficult to swallow.

The first question that comes to mind is how did these apparent scammers manage to gather a stash of $3.5 billion worth of bitcoin in the first place?
As far as I know, most crypto holders are pretty good at spotting an obvious scam these days, so how could a group on a single website, virtually unknown outside of China, claiming to offer unrealistic interest and unparalleled security, manage to trick people out of this unbelievable amount of money?
Assuming the addresses posted do in fact belong to the scammers, it's entirely possible that they filled them with BTC that came from elsewhere to give the appearance of legitimacy.
The second question that comes to mind is why in the world they would want to sell such a stash shortly after being arrested and for what? What could have possibly motivated a group of scammers who recently had a run-in with the law to trade Bitcoin for fiat? Legal fees!?
In any case, true or not, bitcoin has come from the top of its range to the bottom in quite a short time. We've now seen a nice bounce above the $9,000 support level but fear is high right now, so please stay alert and take the necessary precautions.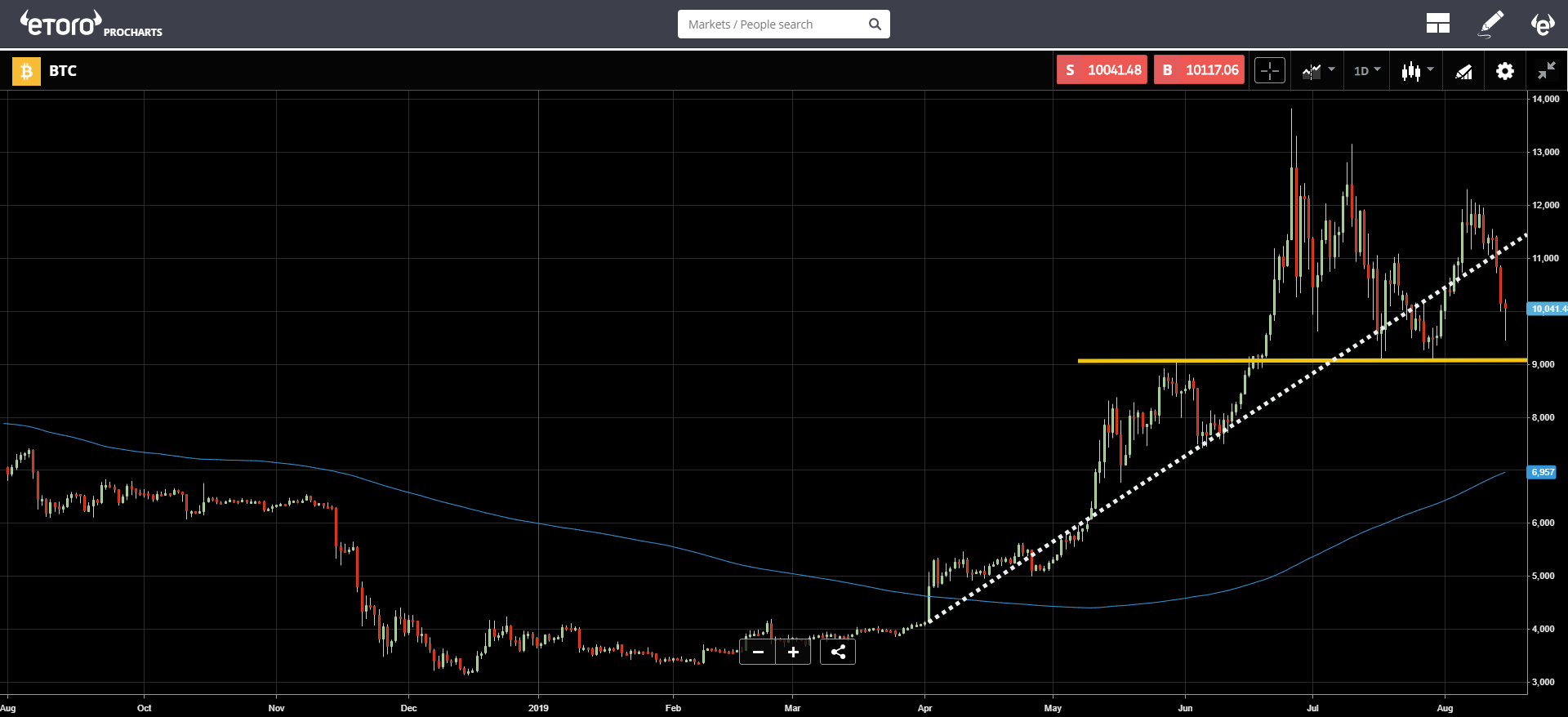 I'd like to take this opportunity to thank you for reading. It's always a pleasure to hear from you all on social media. Many thanks for all of your insightful comments and questions and for all the amazing feedback.
About the Author: Mati Greenspan is a Senior Market Analyst at eToro

Connect with Mati on….

eToro: http://etoro.tw/Mati
Twitter: https://twitter.com/matigreenspan
LinkedIn: https://www.linkedin.com/in/matisyahu/
Telegram: https://t.me/MatiGreenspan
Office Phone: +44-203-1500308 (ext:311)


Disclaimer: The opinions expressed in this article do not represent the views of NewsBTC 
or any of its team members. NewsBTC is neither responsible nor liable for the accuracy of 
any of the information supplied in Sponsored Stories/Press Releases such as this one.
Image by keywest3 from Pixabay