Hi Everyone,
An 86-year-old lady returns to work today after fracturing three ribs and removing several cancerous nodules from her left lung.
She isn't a victim of social or economic injustice though. Ruth Ginsburg is a Justice on the United States Supreme Court and she is arguably holding the balance in a fragile legal system. So there's a lot riding on her ability to perform. In fact, this was her first notably absence in 25 years.
President Trump has already managed to appoint two conservative Justices to America's highest court. So there are now 5 conservative and 4 liberal judges serving. Should Ginsburg retire now or otherwise be unable to continue her work, it would give Trump the opportunity to sway the Supreme court to a 6 – 3 majority. Something that could very well shape US laws and policy for decades to come.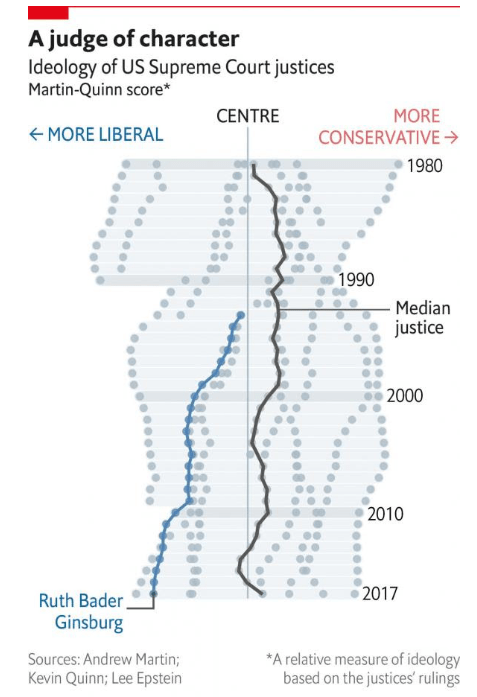 In this graph from The Economist, we can see conservatives enjoying a slight judicial bias since 1980. We would like to wish Ruth the best of success, may she live a very long and healthy life!
@MatiGreenspan – eToro, Senior Market Analyst
Today's Highlights
US-China trade deadline: 10 days | Days to Brexit: 38
Please note: All data, figures & graphs are valid as of February 19th. All trading carries risk. Only risk capital you can afford to lose.
Traditional Markets
Now that a shutdown has been successfully averted…
Sixteen states have already formed a coalition to ask the courts to block the President from proceeding and this battle could play out for some time to come. However, as the amount of money they're squabbling over is relatively small, this partisan bickering probably won't have much impact on the markets, short of any major breakthroughs or escalation.
Markets were up earlier during the Asian session but by now they are decidedly down. Brexit concerns, US-China Trade, and an apparent European slowdown are taking their toll, despite pledges from the central banks to prop them up.
The United States will come back from their long weekend today so the first few minutes after Wall Street rings the opening bell will be fairly significant.
Gold Surges
The shiny yellow metal has reached fresh highs this morning and is now at levels not seen since last April.
Precious metals such as Gold, Silver, Copper, and Platinum are increasingly being seen as a viable hedge against all the geopolitical tension mentioned above.
Crypto Optimism Continues
The crypto market is once again capturing the imagination of traders across the globe as volumes have now reached levels not seen since last April.
I had the chance to discuss some of the market drivers in an interview with CoinTelegraph yesterday. You can check the recording here.
One of the cool things is that the number one gainer over the last 24 hours is EOS. As I mentioned in a YouTube session with Thinking Crypto last week, EOS is the number one coin in my portfolio, simply based on the token economics.
Though it's easy to get excited. Please remember that we're still very much in a bear market. So please trade with caution. Always remember to diversify your portfolio with other assets in order to keep your risk to a minimum.
Special thanks to Three Dog Night for the title of today's market update.
Have an amazing day ahead!!
About the Author: Mati Greenspan is a Senior Market Analyst at eToro

Connect with Mati on….

eToro: http://etoro.tw/Mati
Twitter: https://twitter.com/matigreenspan
LinkedIn: https://www.linkedin.com/in/matisyahu/
Telegram: https://t.me/MatiGreenspan
Office Phone: +44-203-1500308 (ext:311)


Disclaimer: The opinions expressed in this article do not represent the views of NewsBTC 
or any of its team members. NewsBTC is neither responsible nor liable for the accuracy of 
any of the information supplied in Sponsored Stories/Press Releases such as this one.