Hi Everyone,
It's occurred to me that I may have been projecting a bit of pessimism in my last few updates. Images from storms like Florence and Mangkhut can give us the impression that the world is ending.
However, looking at the news today there's a lot to be positive about. Turkey and Russia have decided not to launch a ground assault on Idlib, a move that could end up saving thousands of lives, and a summit between North & South Korea is bringing hope to many.
As far as the economy is concerned, something I saw yesterday seems really exciting. This graph shows interest in the United States minus inflation…

What this shows, is that when the Federal Reserve raises their interest rate next week, it will once again be profitable to save money. This is the first real sign we've seen since the crisis that the economy may finally be stabilizing.
I also recommend to check out the full explanation of this graph when you have a moment.
Its illustrator, who I've been following for a while also sees that some stocks might be expensive at the moment but that there are still plenty of opportunities for investors at this time.
@MatiGreenspan – eToro, Senior Market Analyst
Due to local holidays, there will be no market update tomorrow. We will resume again on Thursday the 20th.
Today's Highlights
Shrugging off the Trade War
Positive Signs in the Crypto Market
Please note: All data, figures & graphs are valid as of September 18th. All trading carries risk. Only risk capital you can afford to lose.
Traditional Markets
Yesterday, Donald Trump decided to ramp up the trade war against China with unprecedented tariffs. However, rather than falling Chinese stocks have been rising sharply this morning.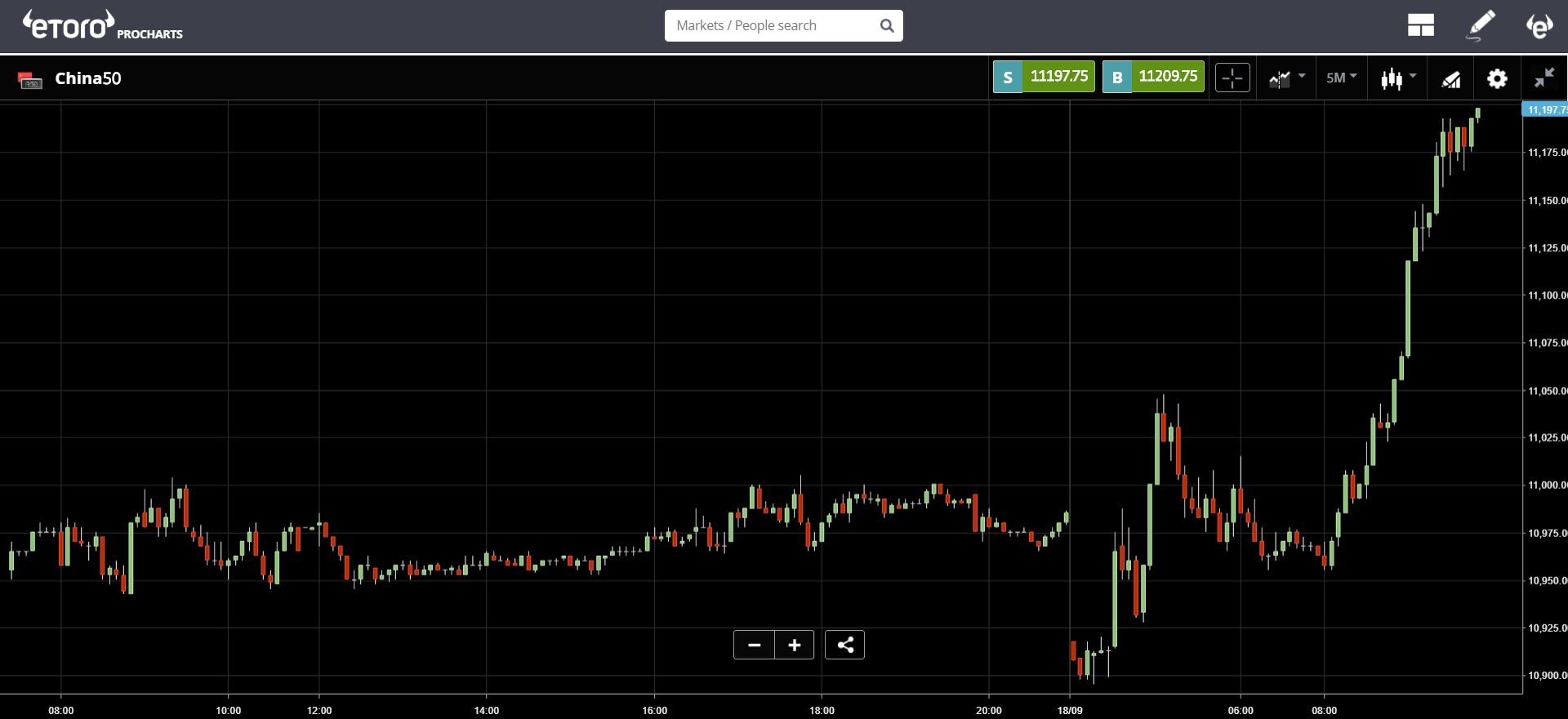 As we highlighted in a previous update, the China50 Index had fallen nearly 30% from its peak at the beginning of the year so the fact that the worst of it may be over seems to be sparking some kind of relief rally today.
Positive Signs in Crypto
Volatility in the crypto markets is picking up again and several players seem to have gotten nervous over the price of Ethereum, which is once again testing the $200 per coin level.
Though Ethereum might be going through a bit of a rough patch due to scaling issues, it's still the most widely used blockchain at the moment.

Notice also how the number of transactions on bitcoin has remained very steady at approximately 2.55 per second over the last few months.
Also, Bitcoin's hashrate has grown quite significantly this year. It seems that despite the bear market, more and more people are getting involved in mining for digital gold.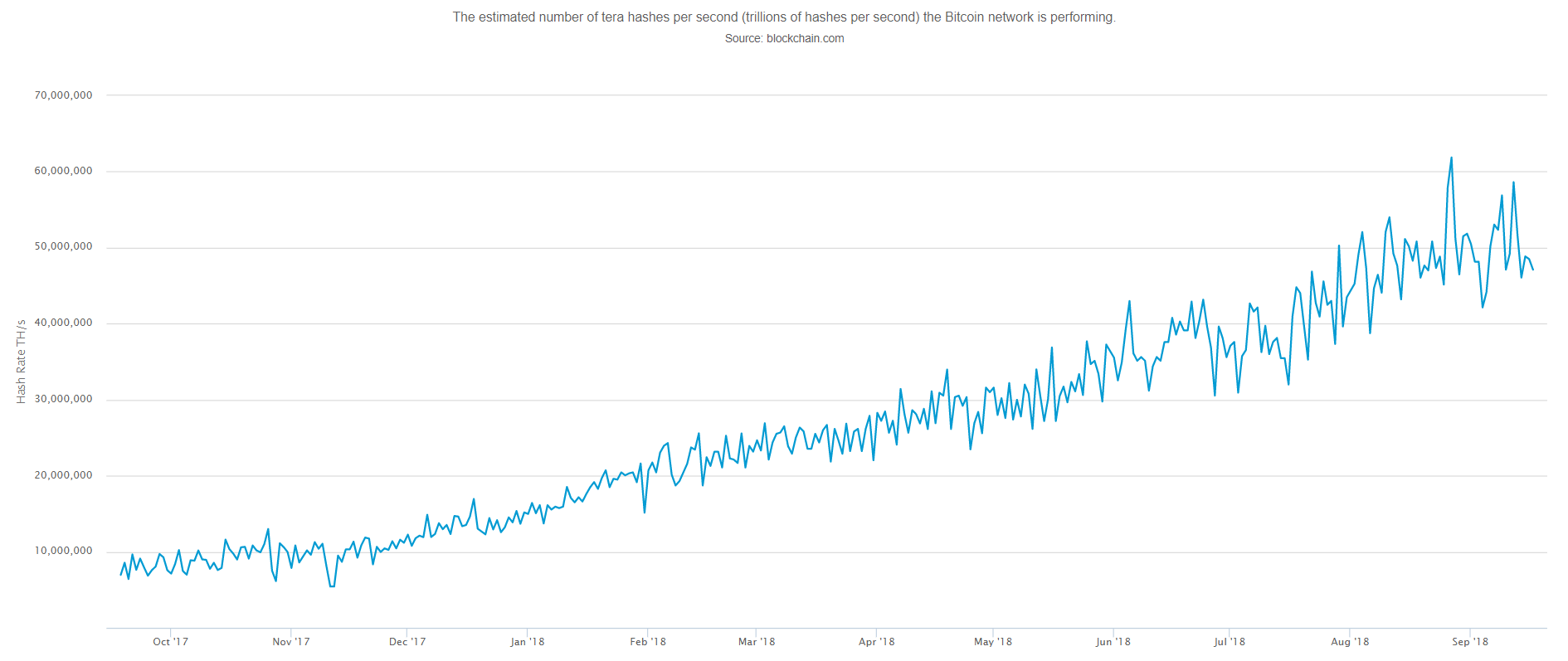 Last but not least, the High Court of India is set to have another crypto hearing today. As we know, the Reserve Bank of India currently has a ban in place prohibiting banks from dealing with crypto-assets. The ban is currently under review by the court as some have called it unconstitutional.
The RBI's arguments until now have seemed rather non-sensical. They've basically been trying to make the case that cryptocurrencies are not money. A difficult case to make to be sure, but even still it shouldn't give cause to shut them down completely and hamper innovation.
In this two–part series from cryptotrader Ran Neu Ner, we can see a great example of some of the wonderful projects that are currently being built in the space.
Let's hope the crypto ban in India is overturned today!
Wishing you an amazing day ahead. I'd also like to take this opportunity to say thank you to everyone who is reading regularly.
This content is provided for information and educational purposes only and should not be considered to be investment advice or recommendation.
The outlook presented is a personal opinion of the analyst and does not represent an official position of eToro.
Past performance is not an indication of future results. All trading involves risk; only risk capital you are prepared to lose.
Cryptocurrencies can widely fluctuate in prices and are not appropriate for all investors. Trading cryptocurrencies is not supervised by any EU regulatory framework.
About the Author: Mati Greenspan is a Senior Market Analyst at eToro
Connect with Mati on….
eToro: http://etoro.tw/Mati | Twitter: https://twitter.com/matigreenspan | LinkedIn: https://www.linkedin.com/in/matisyahu/ | Telegram: https://t.me/MatiGreenspan | Office Phone: +44-203-1500308 (ext:311)
Disclaimer: The opinions expressed in this article do not represent the views of NewsBTC 
or any of its team members. NewsBTC is neither responsible nor liable for the accuracy of 
any of the information supplied in Sponsored Stories/Press Releases such as this one.