Hi Everyone,
We can't just dismiss history every time something new is invented. The development of crypto-assets makes possible something that's never been seen before, programmable money.
The applications of this are limited only to the human imagination. However, as investors, we much continue to closely watch what's happening in the other markets in order to understand the context of the movements in the crypto market.
As we'll explore below, as this new industry matures, the correlations between the stocks, commodities, currencies, and crypto are growing ever stronger.
@MatiGreenspan – eToro, Senior Market Analyst
Today's Highlights
Dollar Weakness Boosts Crypto
Try by Itself
Crypto Protest Protocol
Please note: All data, figures & graphs are valid as of August 27th. All trading carries risk. Only risk capital you can afford.
Traditional Markets
The economy is strong and the United States is going to continue to raise its interest rates. This is the message from the Chairman of the US Federal Reserve Bank, the organization that has the most influence overall money on the planet.
Yet, even as the Fed is signaling that they will tighten, the US Dollar continued to soften, just as it has been doing since reaching a new peak on August 15th.
To demonstrate just how influential the Dollar's movements have been on the rest of the markets, here's a graph that shows 4 key markets from different asset classes since the Buck's peak.
As you can see, the stock market, commodities, currencies, and even crypto have all been taking advantage of the Dollar's sudden weakness and rising during the Greenback's pullback.
Of course, early on this month, things were going the other direction. As the Dollar got stronger everything was falling in relation.
The TRY is falling
The Turkish Lira made a break lower early in this week's trading. However, unlike earlier in the month where this type of movement caused massive tidal waves in other markets, the falls today are completely isolated.
Even in the middle of the month, the Lira's declines would influence other emerging market currencies. Today though, the Lira falls all by itself.
Here we can see the Dollar gaining strength against the Turkish Lira but the spillover into other EM currencies seems to be rather limited.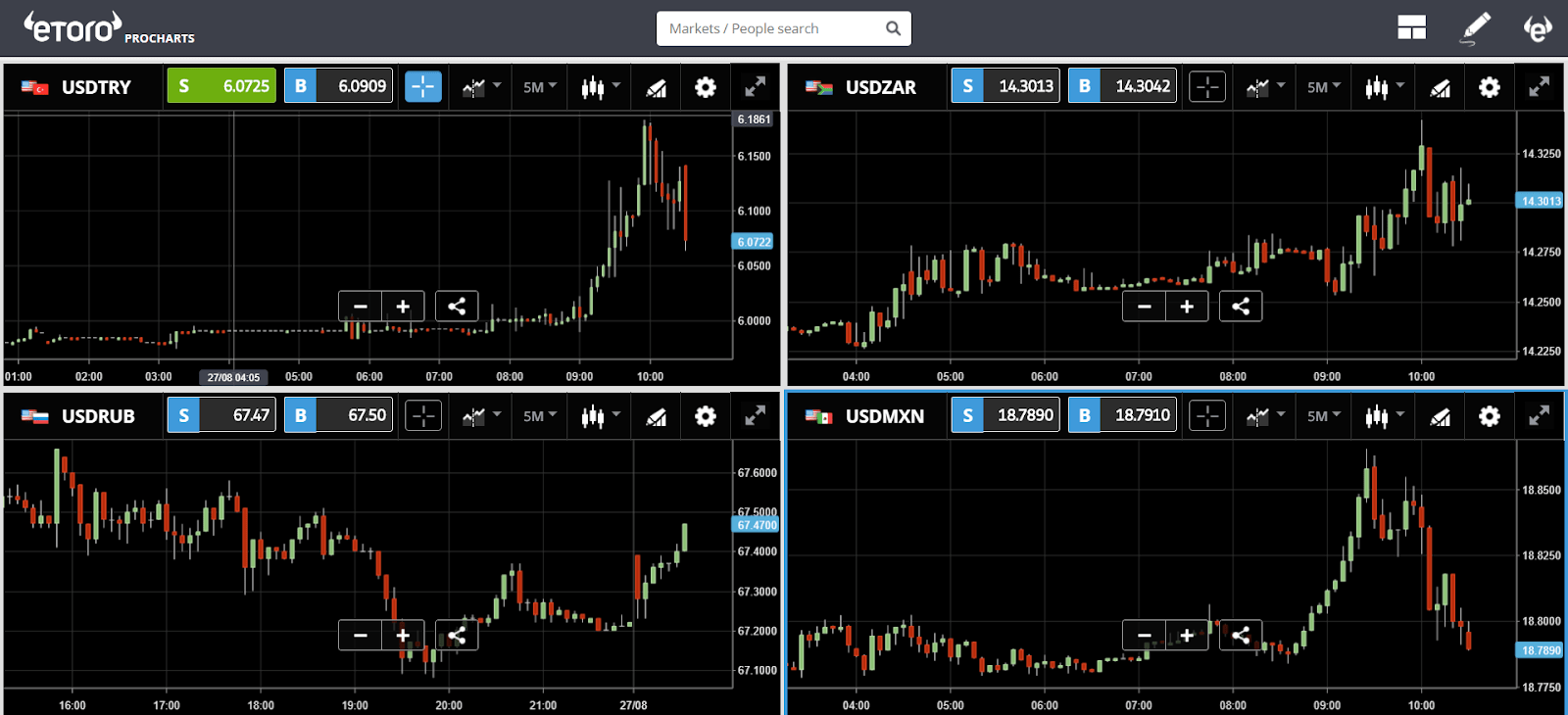 9 BTC ETFs Won't be Approved
In what seemed like a strange move…
As it turns out, the SEC seems to be having a change of heart regarding the ETFs that it rejected on Friday. What's more confusing is that even though there has been overwhelming public support for a bitcoin backed ETF, these specific applications were never expected to go through in the first place.
These specific contracts were a bit less structured in nature and not anything like the VanECK ETF that at this point has a much better shot at getting through. So why the change of heart?
Well, as it turns out, it only takes one SEC commissioner to order a review of a rejected proposal. That commissioner is none other than Hester Peirce, known by the community as Crypto Mom. Hester wrote a long letter after the recent rejection of the Winklevoss twins' Bats ETF about how the SEC was hampering innovation.
Unfortunately, it does seem that the 9 will indeed remain rejected and that Hester was only following protestful protocol by ordering the review. We'll continue to watch for updates in this space. A bitcoin backed ETF is not necessarily a defining moment for crypto but it could potentially help put a bottom on prices.
Wishing you an amazing week ahead.
This content is provided for information and educational purposes only and should not be considered to be investment advice or recommendation.
The outlook presented is a personal opinion of the analyst and does not represent an official position of eToro.
Past performance is not an indication of future results. All trading involves risk; only risk capital you are prepared to lose.
Cryptocurrencies can widely fluctuate in prices and are not appropriate for all investors. Trading cryptocurrencies is not supervised by any EU regulatory framework.
About the Author: Mati Greenspan is a Senior Market Analyst at eToro
Connect with Mati on….
eToro: http://etoro.tw/Mati | Twitter: https://twitter.com/matigreenspan | LinkedIn: https://www.linkedin.com/in/matisyahu/ | Telegram: https://t.me/MatiGreenspan | Office Phone: +44-203-1500308 (ext:311)
Disclaimer: The opinions expressed in this article do not represent the views of NewsBTC 
or any of its team members. NewsBTC is neither responsible nor liable for the accuracy of 
any of the information supplied in Sponsored Stories/Press Releases such as this one.