Hi Everyone,
Perhaps the oldest and most used decentralized network in existence today is the file-sharing platform BitTorrent.
After the US Government with the help of Metallica's drummer shut down Napster in March 2001, the idea of file sharing quickly evolved to a more resilient peer to peer model. Today it's estimated that more than 170 million people are actively using BitTorrent and yesterday they launched their very own crypto token.
The ICO distributed almost 60 billion tokens, worth a total of roughly $7.2 million, in the blink of an eye. The CEO of Binance who hosted the sale summed it up on Twitter…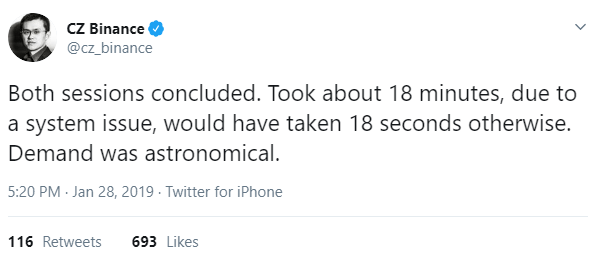 Personally, I try not to take part in ICOs and IPOs but what I did want to highlight here is the atmosphere surrounding this event. Indeed, the enthusiasm on social media and the ensuing frenzy when the site was overrun with traffic was strongly reminiscent of the exuberance that gripped the crypto market in 2017.
Perhaps this is a sign of good things to come of a market that is willing to take calculated risks on projects that people believe in yet at the same time quick to reject projects that don't add value.
@MatiGreenspan – eToro, Senior Market Analyst
Today's Highlights
Days to next Shutdown: 17 | Days to Brexit: 59
Earnings Season Continues
USDT Takes 4th Place
Please note: All data, figures & graphs are valid as of January 29th. All trading carries risk. Only risk capital you can afford to lose.
Traditional Markets
A series of votes in the UK Parliament today could very well give us some fresh insight into how Brexit will play out.
Things are getting pretty confusing now and rather than taking three long paragraphs of your time, I'll simply refer you to this video where the BBC gives a surprisingly comprehensive overview of the current situation.
In any case, we can watch the drama and the market's reaction this evening. There's an increasing feeling that sterling traders have become complacent to Brexit risks, especially now that the government seems to be making contingency plans for a no-deal Brexit.
The GBPUSD is now trading above its 200-day moving average (blue) and near the top of the range that it's been building for the past six months (yellow lines).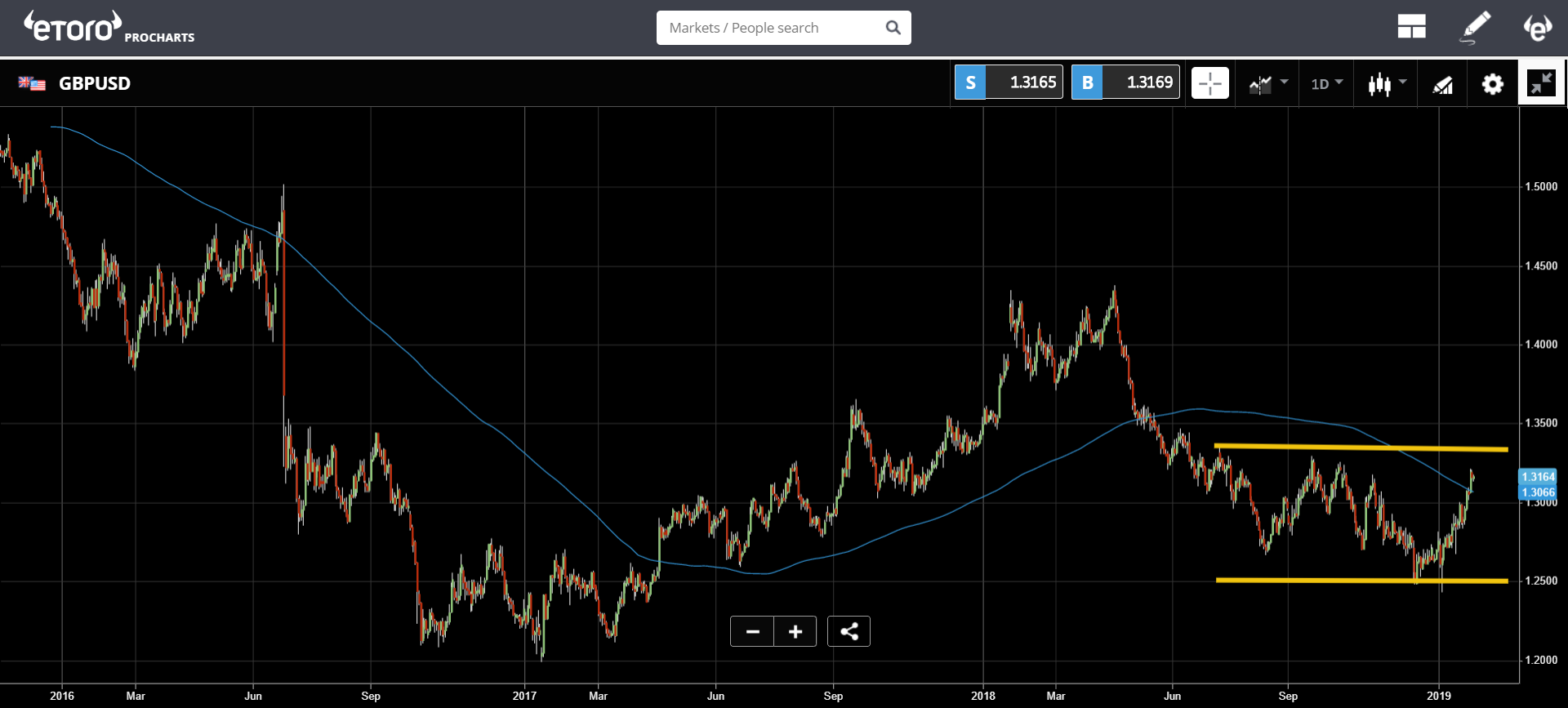 Earnings Drama
Things didn't go so well for Nvidia or Caterpillar. Both companies reported earnings below analysts expectations and both have blamed the economic slowdown in China for their shortcomings.
The two companies opened the day with a sizable gap downward, which ended up putting a damper on the US session.
Today we'll see another three dozen or so companies reporting their earnings. The big one, of course, will be Apple who is reporting after the market closes tonight. Tim Cook has already prepared the market in advance for a disappointing figure and no doubt many analysts have already lowered their expectations. Who knows, maybe they'll even surprise for the good.
The United States will also be reporting their consumer confidence figures shortly after the opening bell, which may shake things up as well.
Stablecoin in 4th Place!?
The crypto space was shocked yesterday afternoon to see the stablecoin known as Tether (USDT) take 4th place in the market cap rankings.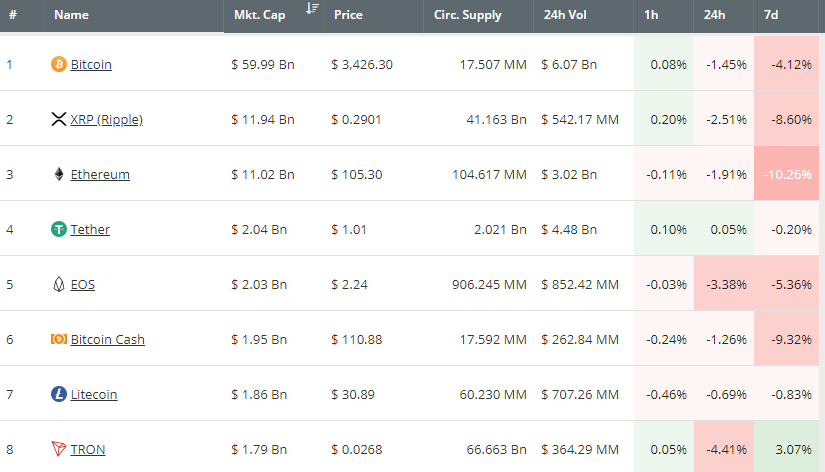 As we've mentioned many times before, the market cap metric is not a great way to measure the value of cryptoassets but seeing USDT rising up the ranks so quickly can be a very telling sign of investor sentiment.
Generally speaking, if traders are fearful of volatility in the crypto market and want to reduce exposure, the default option at many exchanges is to hold the money in USDT.
To be clear, this is neither a bullish nor a bearish signal, it just means that traders are taking their foot off the gas for a bit. In this graph from tradingview.com, we can see that short positions on bitcoin (blue line) have come down pretty drastically over the last two months whereas long positions (red line) haven't increased by much.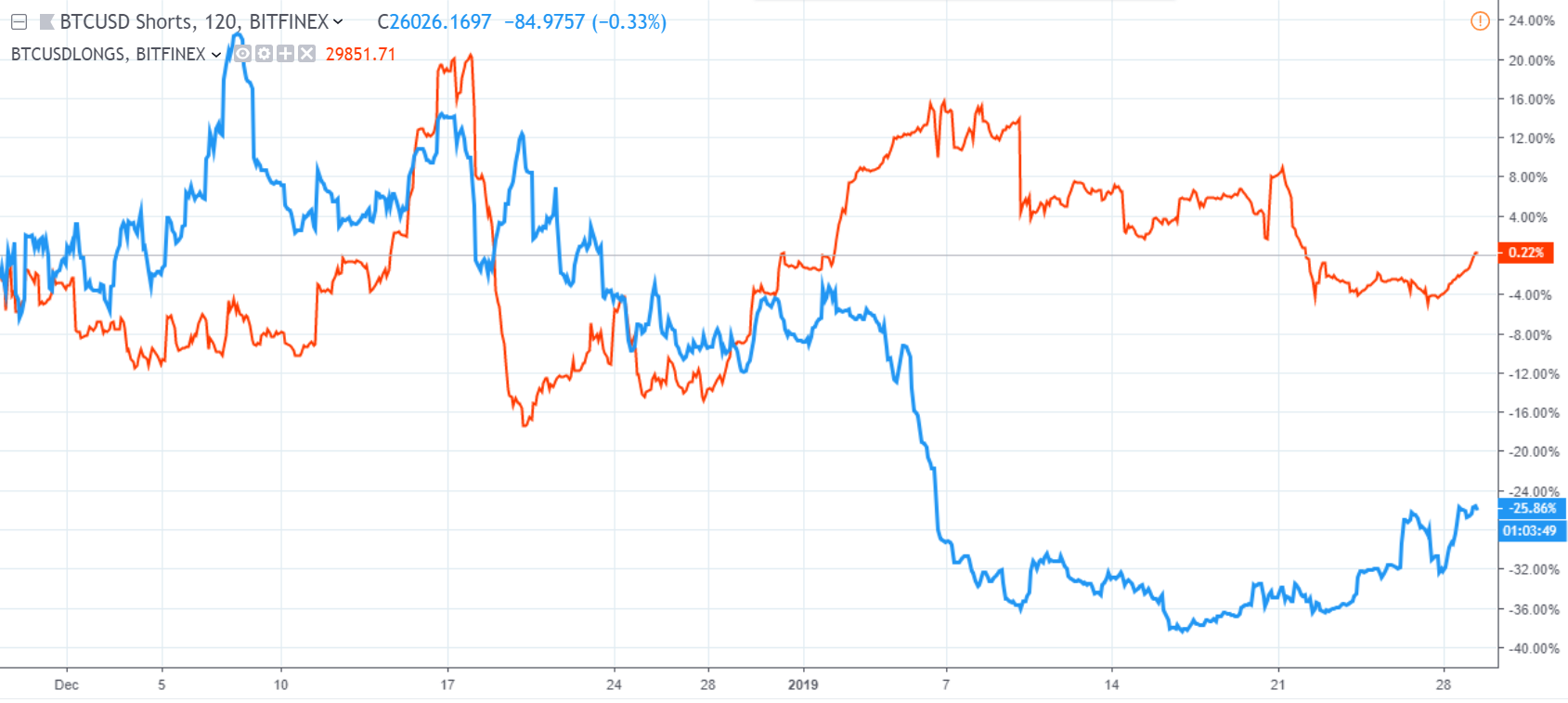 Indeed, Tether's market cap has grown during this time frame but if we zoom out even just a little bit we can see that USDT market cap has been higher than it is now.
A neutral position could very well be a sign of good things to come as it might just signal that the bears are finally letting up.
Let's have a fantastic day ahead!
About the Author: Mati Greenspan is a Senior Market Analyst at eToro

Connect with Mati on….

eToro: http://etoro.tw/Mati
Twitter: https://twitter.com/matigreenspan
LinkedIn: https://www.linkedin.com/in/matisyahu/
Telegram: https://t.me/MatiGreenspan
Office Phone: +44-203-1500308 (ext:311)


Disclaimer: The opinions expressed in this article do not represent the views of NewsBTC 
or any of its team members. NewsBTC is neither responsible nor liable for the accuracy of 
any of the information supplied in Sponsored Stories/Press Releases such as this one.

Image: Pixabay