Hi Everyone,
Over the weekend I managed to re-watch one of my favorite movies about the financial crisis of 2008 and couldn't help but wonder, what's happening in the world right now that everyone might be missing?
The words of Gordon Brown that we highlighted last week still echo strongly into my head…

For the sake of the world, I do hope he's wrong and that the next big trend is one of financial success and not failure.
@MatiGreenspan – eToro, Senior Market Analyst
Today's Highlights
Sleepwalking
Trade War: On
Silver Surfer
Ethereum Getting an Upgrade
Please note: All data, figures & graphs are valid as of September 17th. All trading carries risk. Only risk capital you can afford to lose.
Traditional Markets
Signs of complacency abound, two of which I'd like to highlight today.
First is the bond market, which once again seems to be playing out in the background. If you'll recall, in Q1 we were watching the yields on the US 10 Year bond like a pack of penguins on an iceberg.
The fear that the yield might go above 3% and remain there caused the stocks to drop quite suddenly in early February. However, by the time they did poke above that level in late April, it seems the concerns of such a move had simply dissipated.
Today, the yield is sitting at 2.99% and nobody even seems to care.
The other indicator of extreme complacency is the VIX volatility index.
As you'll recall, this indicator also spiked in Q1 as the stocks were dropping. At the time the move was welcome as it was coming off the all-time lows for the 30-year-old indicator, which were reached recently (yellow circle).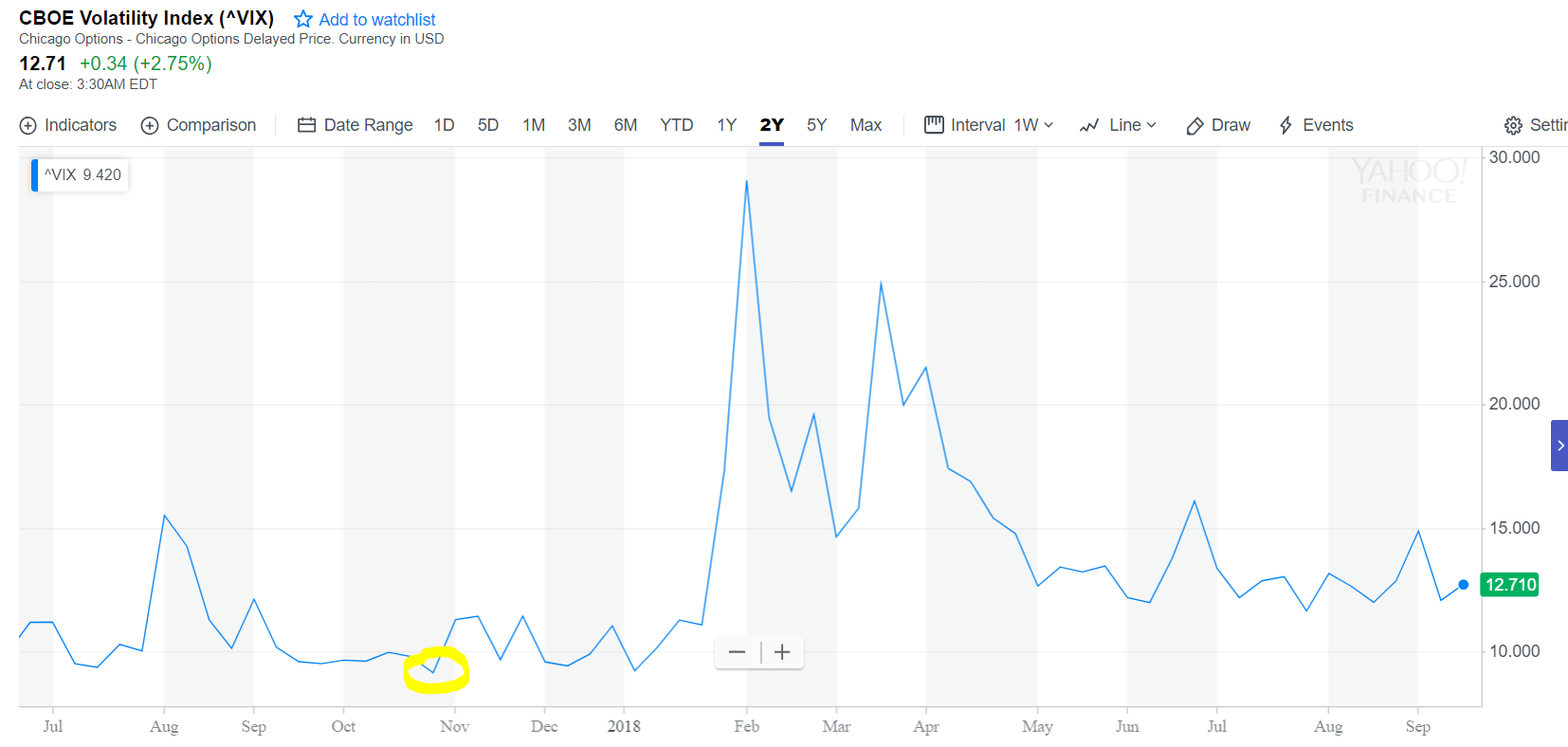 Looking at the action at the action of the last few months, it certainly does look like the stocks are in the sleepwalking territory.
Trade War: On
Even the big news of the day seems to be losing its potency. It seems that every trading day the trade war is switched on or off like a light. Today the headlines say on…
Sure, some stocks have been hit, especially in Asia, but on the face of it, a 1.44% decline in the Hang Seng Index doesn't seem like much of an impact at all.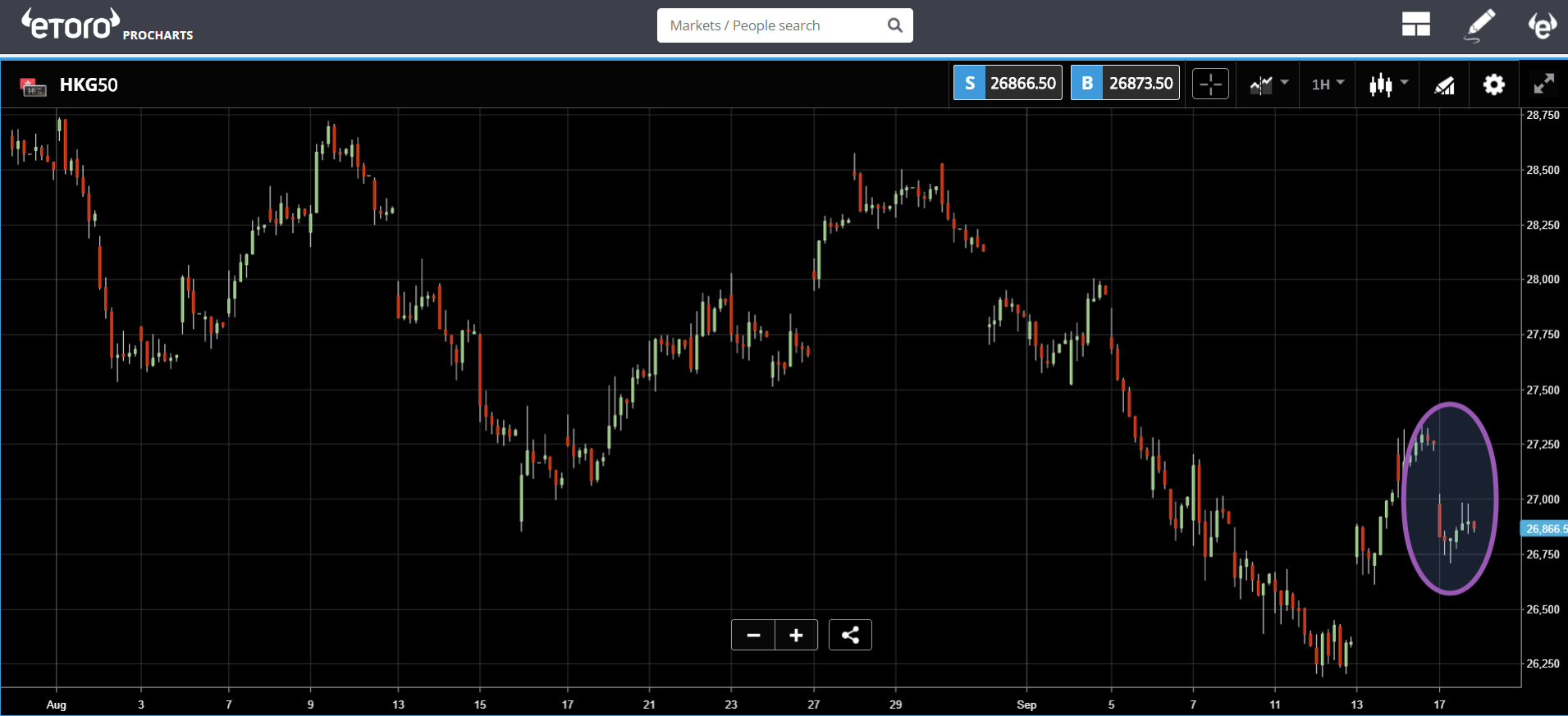 Even the headlines pointing out that Shanghai stocks are at multi-year lows don't seem too drastic at the moment. Even though the milestone seems big, the actual percentage movement that brought us here is quite small.
Silver Surfer
Another thing that I just can't seem to keep out of my mind, or portfolio, are the precious metals. It boggles the brain to see them as low as they are, especially when many analyst calls at the beginning of the year were fairly bullish.
Silver is now sitting above $14 an ounce, toying with this psychological support level over the last few days…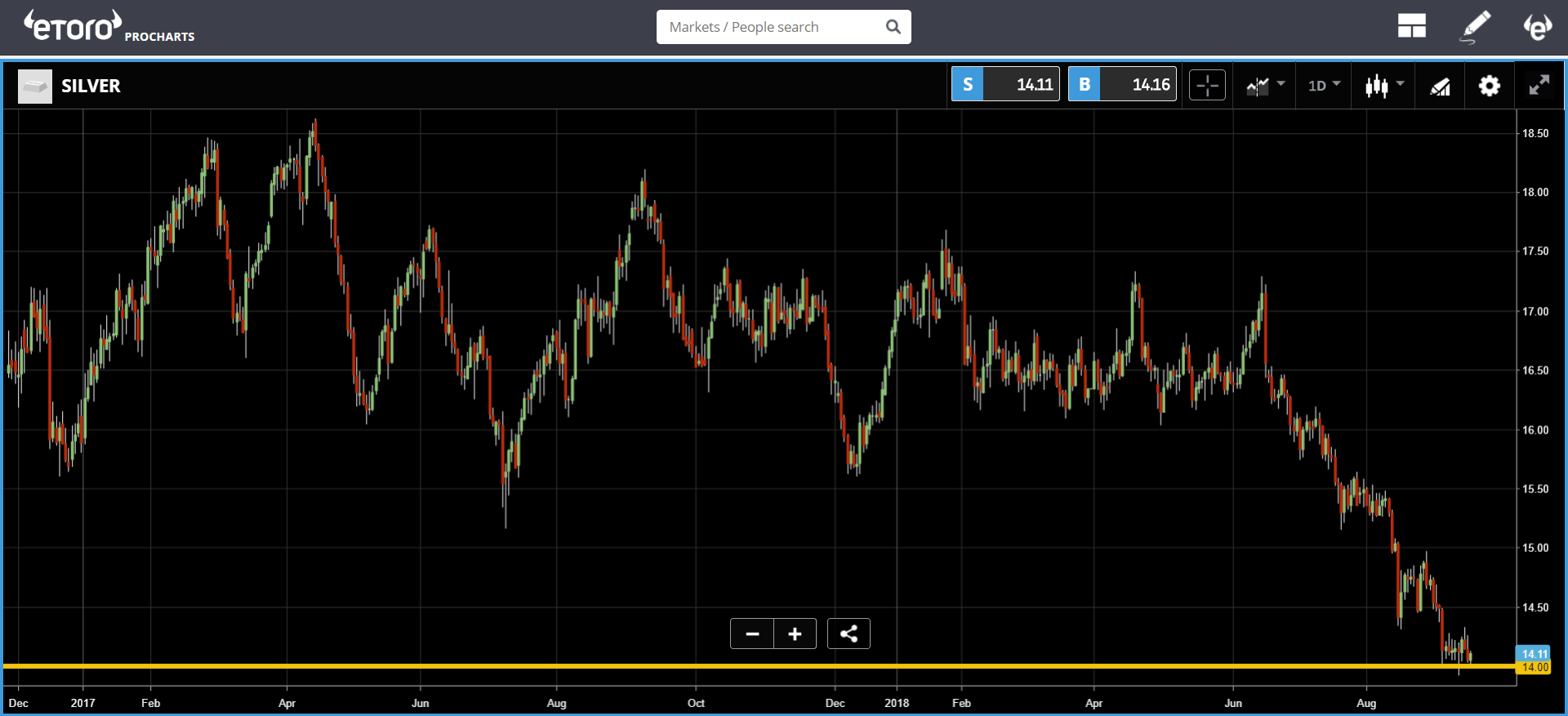 One thing that may have contributed to the decline is cost cutting on behalf of the miners. This article that was written in June speaks about how prices could easily be sustained as low as $17 per ounce.
We're well below that now.
Ethereum Upgrade Coming
As we know, the Ethereum Blockchain is currently the world's leading network for the development of decentralized applications. However, it does seem that the EOS network is hot on its heels.
According to data from dappradar.com, there are a total of 13 dApps that have seen more than 300 users in the last 24 hours. 6 of them on Ethereum and 7 on EOS.
Ethereum Top dApps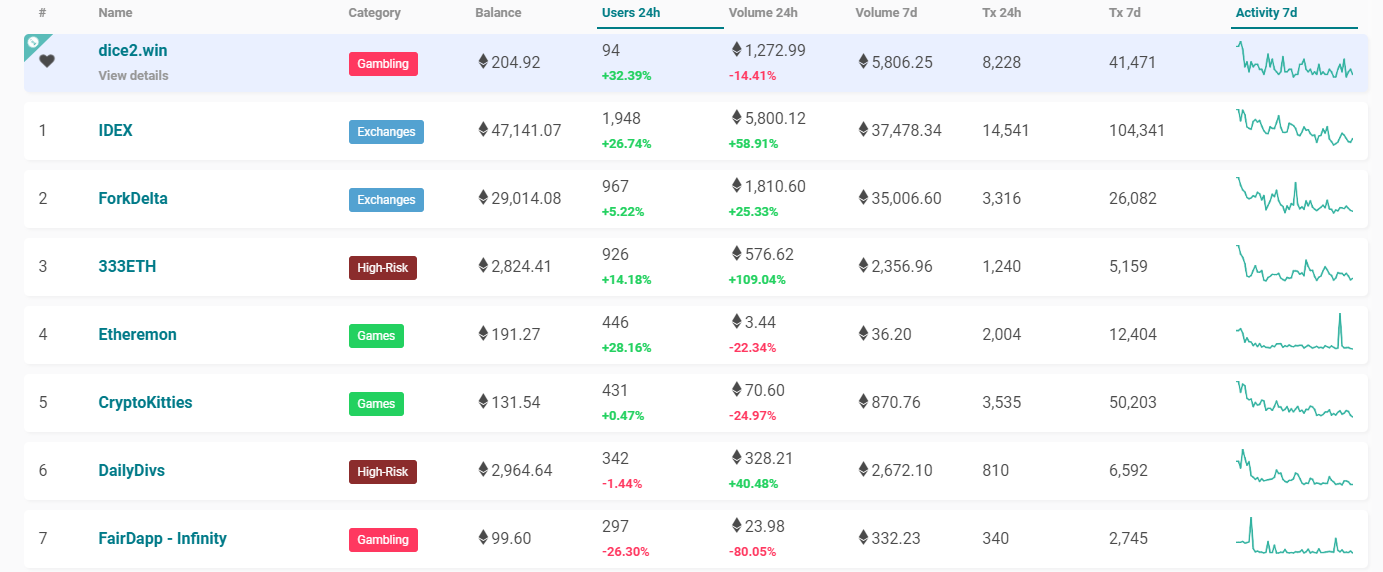 EOS Top dApps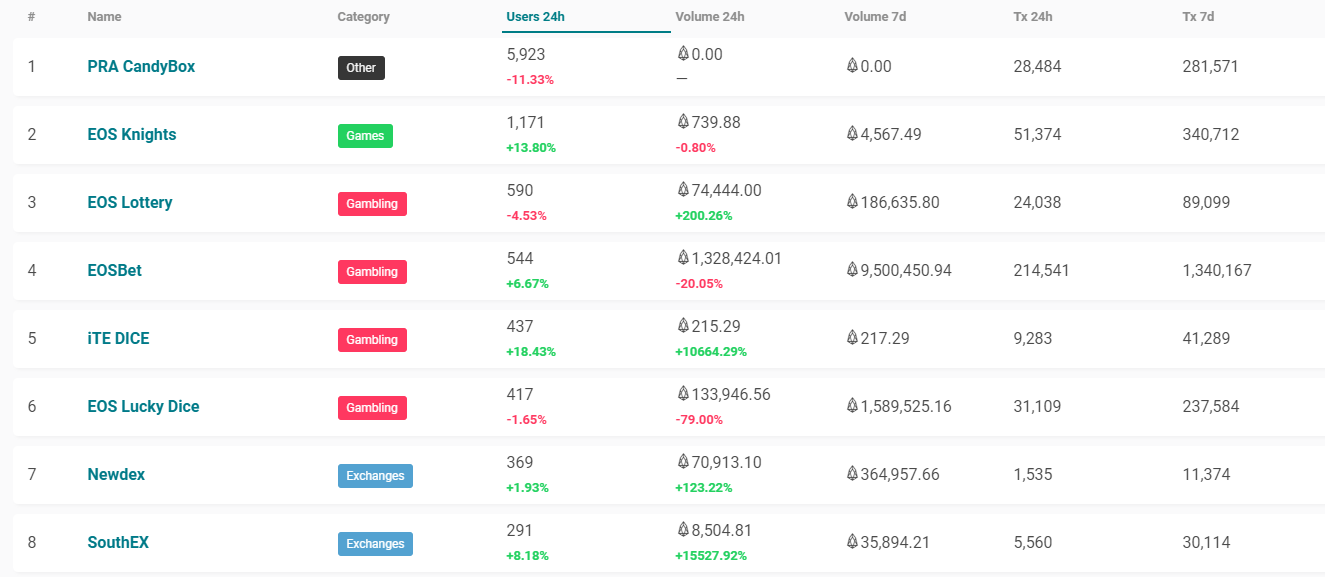 We're still in the early stages of decentralized computing and the future is far from certain. Ethereum is currently the most widely used blockchain in the world by transaction rate and is second only to bitcoin in many other aspects.
However, concerns about how to grow the network have emerged in many investors minds. Well, recently there's been a sign that the path to scalability is once again moving forward.
The long-awaited Constantinople upgrade will reportedly be launched on the Ethereum test net as soon as next month.
Here we can see all four platforms that are competing for market share in the dApp industry over the last week.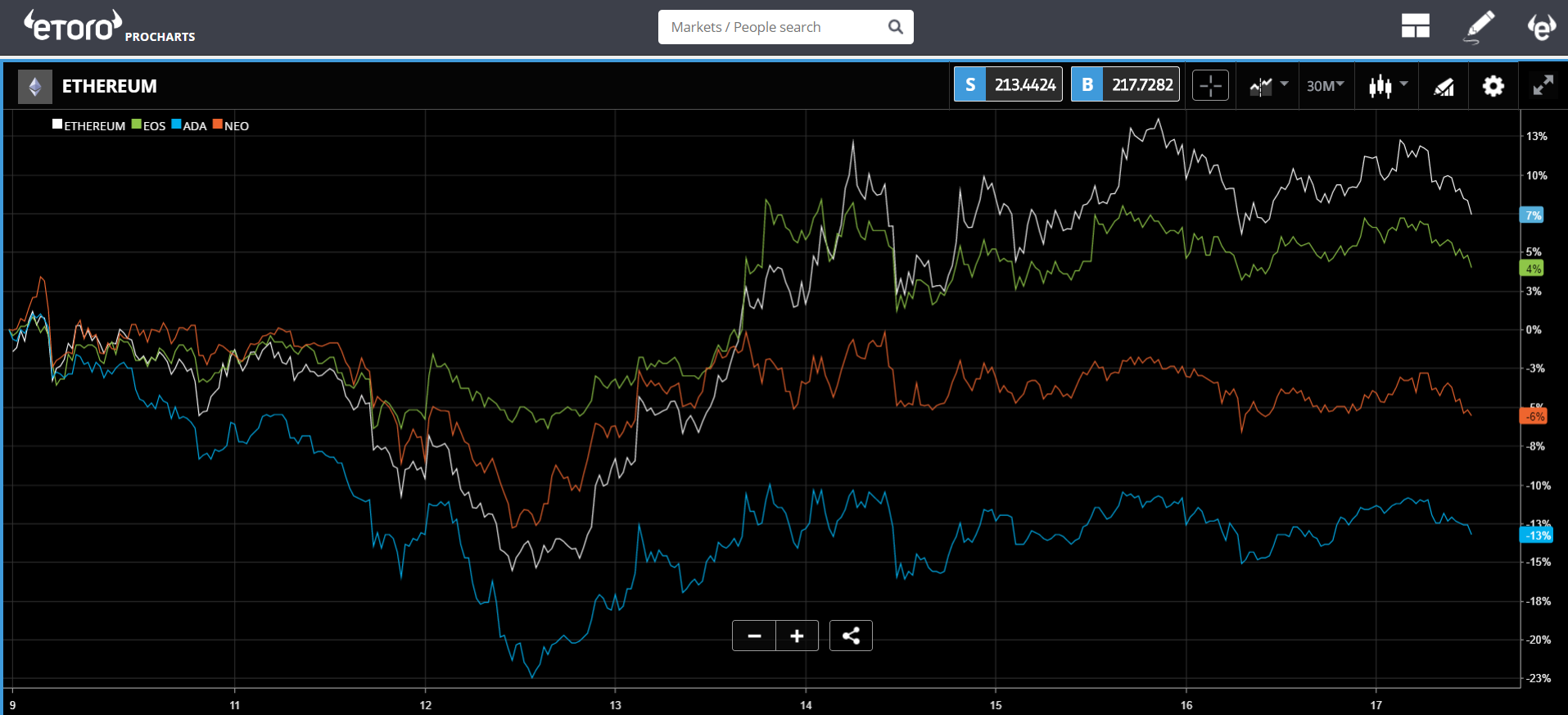 It seems that after months of being battered, at least as far as price, Ether is finally ahead of the pack.
Let's have an amazing week ahead!
This content is provided for information and educational purposes only and should not be considered to be investment advice or recommendation.
The outlook presented is a personal opinion of the analyst and does not represent an official position of eToro.
Past performance is not an indication of future results. All trading involves risk; only risk capital you are prepared to lose.
Cryptocurrencies can widely fluctuate in prices and are not appropriate for all investors. Trading cryptocurrencies is not supervised by any EU regulatory framework.
About the Author: Mati Greenspan is a Senior Market Analyst at eToro
Connect with Mati on….
eToro: http://etoro.tw/Mati | Twitter: https://twitter.com/matigreenspan | LinkedIn: https://www.linkedin.com/in/matisyahu/ | Telegram: https://t.me/MatiGreenspan | Office Phone: +44-203-1500308 (ext:311)
Disclaimer: The opinions expressed in this article do not represent the views of NewsBTC 
or any of its team members. NewsBTC is neither responsible nor liable for the accuracy of 
any of the information supplied in Sponsored Stories/Press Releases such as this one.