Hi Everyone,
Do you want to learn how to write a smart contract on Ethereum? Don't have time, want to sponsor someone else to learn how to do it?
A new community education program is opening up at B9lab Blockstars that will train 1000 Ethereum developers for free. B9lab is looking to sponsor up to 500 students, matching one for one with contributions from the community.
If you have 20 hours a week and a basic understanding of code (recommended one-year exp) feel free to apply at https://blockstars.b9lab.com
If you'd rather sponsor someone else to learn for the cost of 999 DAI (approx $1,000), please visit this link: https://blockstars.b9lab.com/donation.html#donation
Let's build up this awesome environment!
@MatiGreenspan – eToro, Senior Market Analyst
Today's Highlights
Days to next Shutdown: 14 | Days to Brexit: 56
Jobs Day on WS
Bitcoin ETF is Back on
Please note: All data, figures & graphs are valid as of February 1st. All trading carries risk. Only risk capital you can afford to lose.
Traditional Markets
The clock continues to wind down on our three main political dramas…
Brexit (March 29th). With the politicians seemingly no closer to a deal, and no indication whether there can be a time extension, many companies are already starting to announce their contingency plans for a no deal Brexit.
US Government shutdown (February 15th). Both sides say they're working hard to avoid the next shutdown in two weeks but there hasn't been much notable progress on this.
US-China trade talks (March 1st). The only thing that actually does seem to be moving forward at the moment. Apparently, Trump has reached some sort of preliminary agreement with Chinese ambassadors and would like to seal the deal in person with President Xi. With the deadline just one month away, let's hope they remember that February is a short one.
Volatility has notably faded since the beginning of the year but is still well above normal levels. Here we can see the VIX volatility index over the last two years.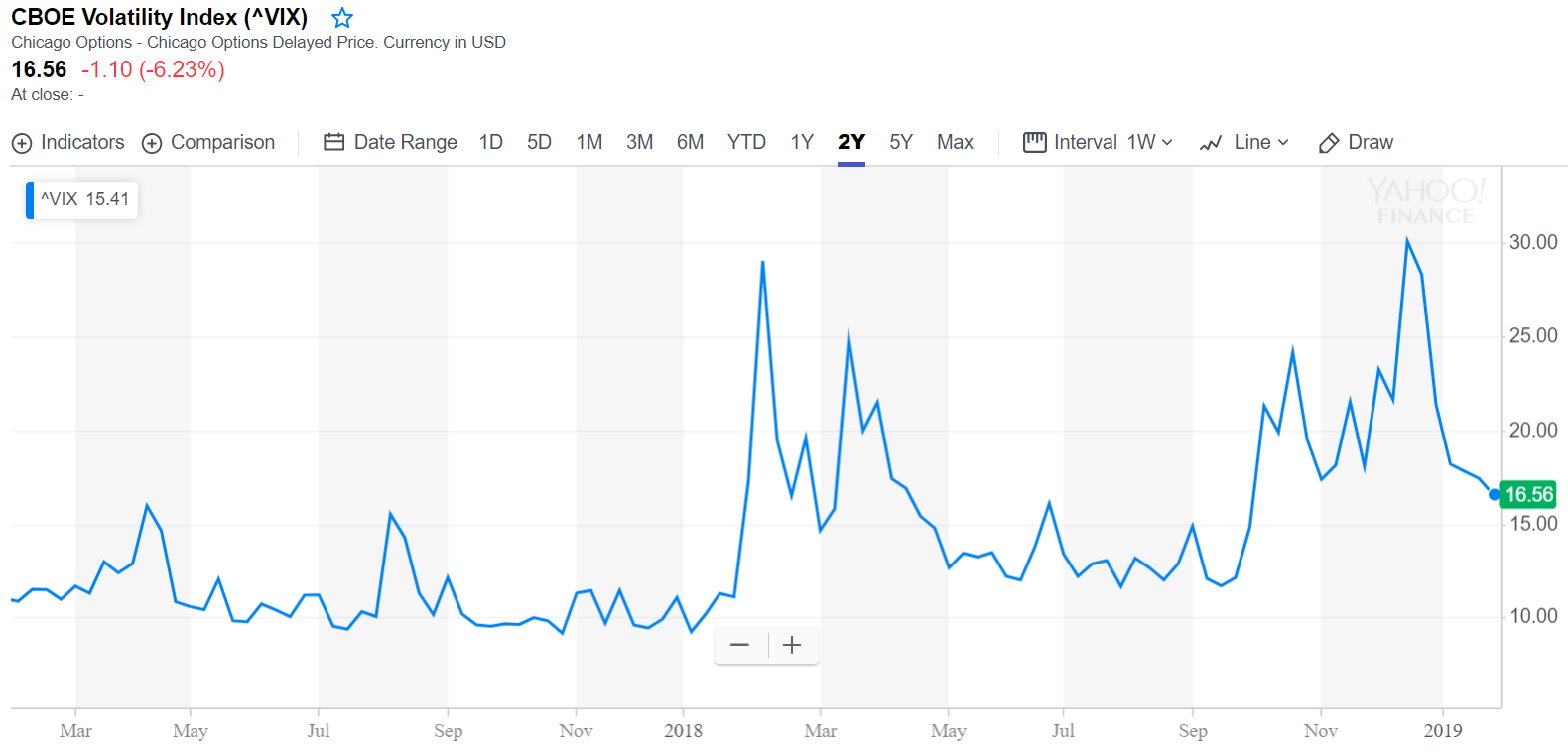 What oddly doesn't seem to be having much impact is that Italy has now fallen into a recession. Stock markets are rather mixed today.
Jobs Day on Wall Street
Yup, it's that time of the month again. It's gonna be extremely difficult to follow last months performance though.
The US economy reportedly added 312.000 jobs in December and analysts are forecasting that today the government will announce a gain of about 165,000 jobs in January. Overall, job growth in the United States has been pretty steady since the crisis.
A weak number today can be forgiven fairly easily, especially after last month. A super strong number, on the other hand, could cause some concerns that the economy is overheating.
If we see anything over 250,000 it could likely cause analysts to claim that the most recent Fed announcement was actually a policy mistake.
We also have about 20 more companies reporting earnings today. It seems Amazon disappointed investors, but not in a concerning way. See if you can spot anything funny about this headline.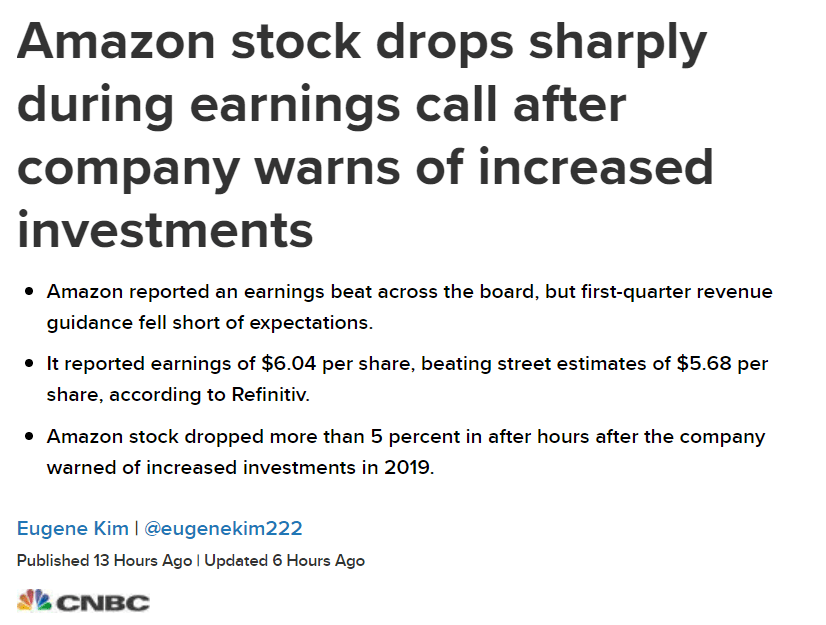 Investors have a long history of getting upset at Amazon for reinvesting their profits rather than distributing them but we can probably say that this strategy has been responsible for their explosive growth.
Bitcoin ETF – Clock Reset
Yesterday investment firm VanECK caused a stir by announcing they are re-submitting their application for a bitcoin backed ETF.
For those of you who haven't been following, the crypto community has been hoping that an ETF will be opened up to Wall Street investors so that they can invest in bitcoin without having to worry about things like opening an account on an exchange or storing their private keys.
VanECK had a very solid proposal sitting on the SEC's desk but ended up withdrawing it due to the government shutdown. That was last Thursday!!
On the graph below there are two purple circles. The first is when they withdrew their application on January 23rd, the second is the time of the announcement last night.
As we can clearly see, the market is not being affected very much by all this.
Why would they withdraw the application only to resubmit a week later?
Well, it's all in the timing. The first application had a hard deadline for the SEC to approve or reject it by February 27th. By starting the application process over, they're basically buying themselves a lot more time.
If the previous process was any indication, we could be looking at a final answer from the SEC by August or September. In the meantime, that should give plenty of time for the market to mature in the way that the SEC is looking for. By then we will likely have a running service by Bakkt, bitcoin futures on the Nasdaq, and a trading and storage platform from Fidelity.
Wishing you a peaceful weekend.
About the Author: Mati Greenspan is a Senior Market Analyst at eToro

Connect with Mati on….

eToro: http://etoro.tw/Mati
Twitter: https://twitter.com/matigreenspan
LinkedIn: https://www.linkedin.com/in/matisyahu/
Telegram: https://t.me/MatiGreenspan
Office Phone: +44-203-1500308 (ext:311)


Disclaimer: The opinions expressed in this article do not represent the views of NewsBTC 
or any of its team members. NewsBTC is neither responsible nor liable for the accuracy of 
any of the information supplied in Sponsored Stories/Press Releases such as this one.