Hi Everyone,
Just a quick note this morning to say… Tron is now available to trade on eToro!
Tron has been one of the most highly requested cryptos from clients looking to trade it on our platform, so we are very proud to provide it today.
The idea of the project is simple yet ambitious, to create a decentralized internet or Web 4.0, where content creators will have full ownership of their materials and will be directly compensated for it, thereby bypassing the FAANGs.
Here's a quick video that explains a bit further from my friend Tony at Thinking Crypto.
Enjoy!
@MatiGreenspan – eToro, Senior Market Analyst
Today's Highlights
Stocks Still in Consolidation
Bonds are Inverted
Crypto Wash for ETF
Please note: All details, figures & graphs are valid as of March 25th. All trading carries risk. Only risk capital you can afford to lose.
Traditional Markets
Stocks took a turn for the worse on Friday afternoon. The move lower does seem to have carried over the weekend into the Asian and European sessions.
Overall though, I'd say we're not really in a bull market. Nor are we in a bear one. Here we can see the Dow Jones ever since Donald Trump's election. What it looks like at the moment is that we're simply consolidating near the top.
With the heavy hand of the Fed now fully in support of the markets and many analysts claiming that we're near the end of one of the longest bull runs in history, this thing could really go either way.
Inversion Time
One of the reasons being noted for the recent stock declines is a well-known indicator that is known to foreshadow a recession, an inversion of the bond yields.
When long term bond yields are lower than short term yields, economists start to worry that investors are pricing in some upcoming trouble.
The big one that is more closely watched is the spread between the 2-year and the 10-year notes, but on Friday the spread 10-year and the 3-month bonds went negative for the first time since 2007.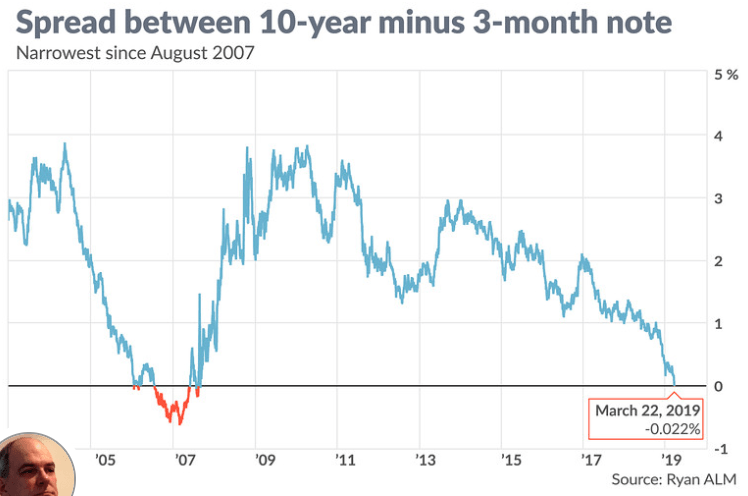 Some economists, including Mohamed El-Erian, have already dismissed this signal saying that there is a danger in misinterpreting it. El-Erian believes that the data itself doesn't necessarily indicate a recession is coming but he's afraid that this could become a self-fulfilling prophecy if investors believe that it does.
Washing Out an ETF
So this next story hits strongly at two of the top topics in crypto at the moment, the rampant level of wash trading in the industry, and the possible approval of a bitcoin ETF suitable for US institutional investors by the SEC.
In their effort to get a new Bitcoin backed ETF approved by US authorities, a company called Bitwise has just released a 226-slide presentation for the SEC, which presents a unique and groundbreaking view of the bitcoin market.
Truth is, they probably could have squeezed the report onto much fewer pages but the way it's presented makes it much easier to digest. The visual representation is key to driving their points home.
Bitwise claim is that 95% of bitcoin volumes reported on sites like CoinMarketCap are indeed false.
They even give great examples of how to spot this fake volume by comparing the order books of clean exchanges to those of suspicious ones.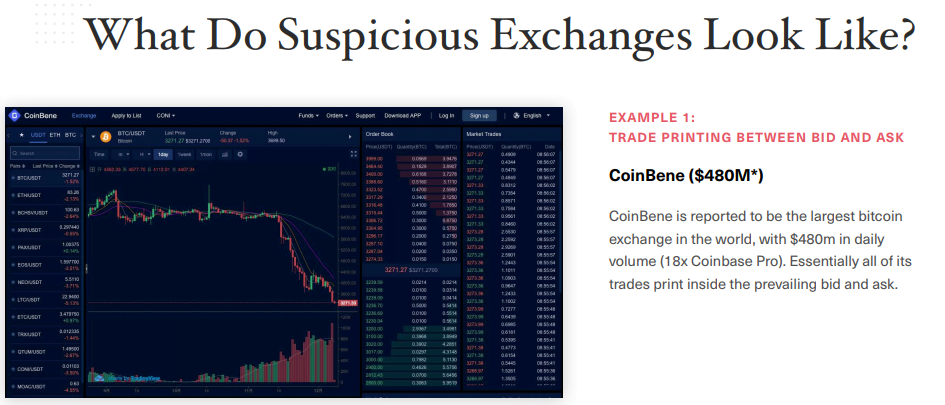 Of 81 exchanges examined in the report, only 10 are reporting real volumes. With the total reaching about $270 million per day.

This, says bitwise, is actually a great thing because there are 10 reliable, mostly regulated brokers, that they can take their pricing from when offering an ETF. This argument directly addresses the SEC's previously stated concerns of market manipulation and maturity.
In short, what they're saying is that, while there are many exchanges who are reporting false pricing and volumes, if we ignore them completely, we can see that the real bitcoin market is actually quite mature and resistant to manipulation and arbitrage.
In short, this report brings the bitcoin market into an entirely new light and has somewhat altered my personal perception of the current market conditions for the better.
Let's have an amazing week ahead!
About the Author: Mati Greenspan is a Senior Market Analyst at eToro

Connect with Mati on….

eToro: http://etoro.tw/Mati
Twitter: https://twitter.com/matigreenspan
LinkedIn: https://www.linkedin.com/in/matisyahu/
Telegram: https://t.me/MatiGreenspan
Office Phone: +44-203-1500308 (ext:311)


Disclaimer: The opinions expressed in this article do not represent the views of NewsBTC 
or any of its team members. NewsBTC is neither responsible nor liable for the accuracy of 
any of the information supplied in Sponsored Stories/Press Releases such as this one.

Image: Pixabay