Hi Everyone,
In our ongoing effort to bring crypto to the general public, we've done yet another survey, this time focusing on online traders in the USA.
The results are clear as day, the United States is more than ready to invest in crypto.

Definitely, make sure to read the full report with all the jaw-dropping stats and the methodology of the poll. This is extremely encouraging.
Enjoy!
@MatiGreenspan – eToro, Senior Market Analyst
Today's Highlights
US-China trade deadline: 9 days | Days to Brexit: 37
Unsustainable Trajectory
Crypto Rally Stalls
Please note: All data, figures & graphs are valid as of February 20th. All trading carries risk. Only risk capital you can afford to lose.
Traditional Markets
Everyone will stop what they're doing at 2:00 PM New York time today to take in the FOMC's meeting minutes. During their last meeting, the Fed did a complete 180 on policy, which many have pointed to as a complete capitulation to the market's desires. So, when they release the minutes of that meeting it will be extremely interesting to hear what they have to say.
It's becoming increasingly clear that there will not likely be any final deal between the US and China by March 1st. It's also becoming increasingly clear that this deadline was never very significant in the first place. Trump has indicated that he's willing to let the deadline slide if significant progress is being made, and many feel that it is, however, until we get final confirmation of that it will remain in our countdown above. It wouldn't be the first time Trump changed his mind at the last moment.
As well, I've decided to leave the Brexit countdown timer set for March 29th, the day Article 50 kicks in, rather than the new self-imposed deadline that Parliament put on their Prime Minister.
Markets are now returning to their normal levels of volatility.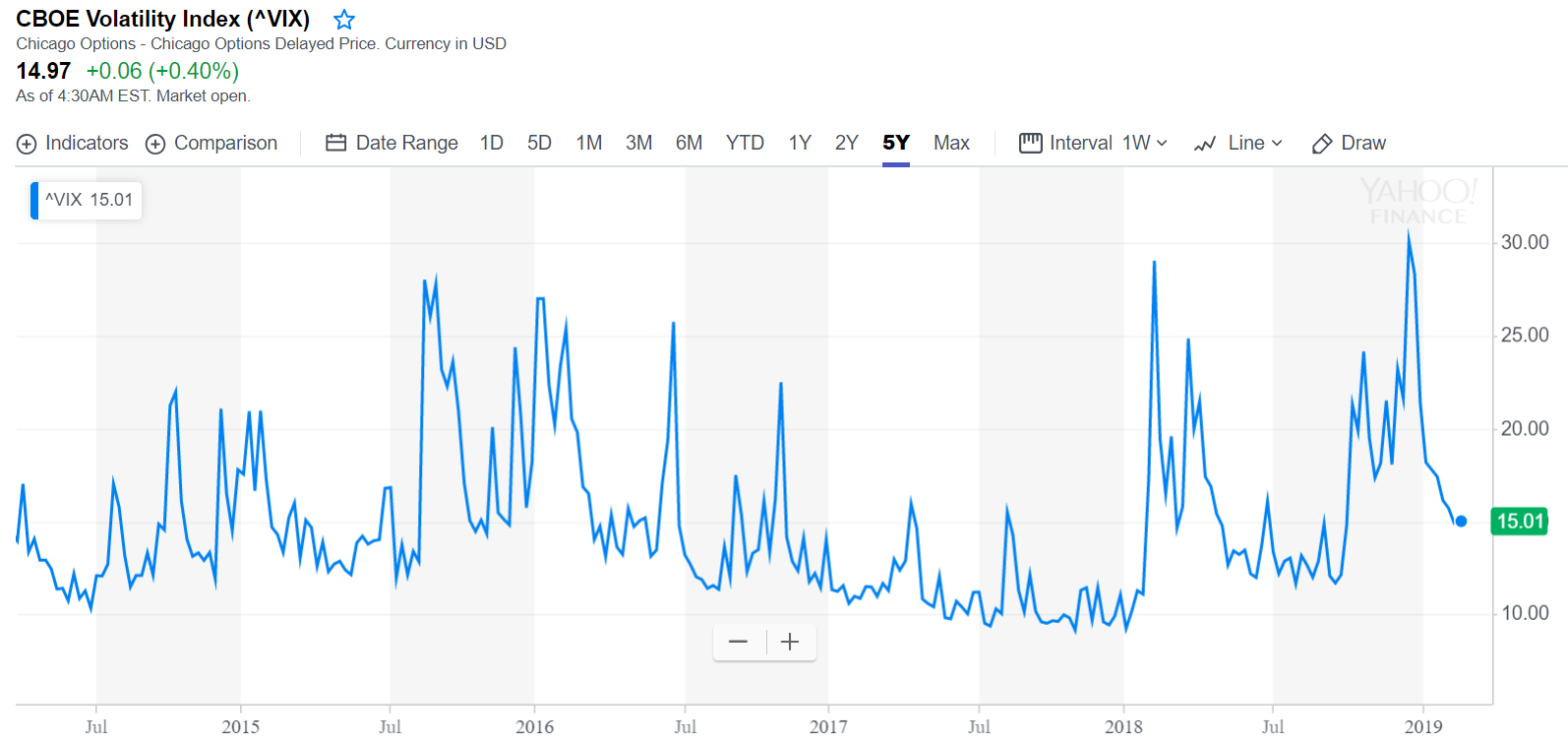 Trajectory Unsustainable
After crashing in January and making a huge comeback in January, financial markets are now remarkably average.
The 200-day moving average (blue line) shows us the average price of the last 200 days and is one of the most widely watched indicators among technical analysts. Here we can see that the Nasdaq 100 is now at this level.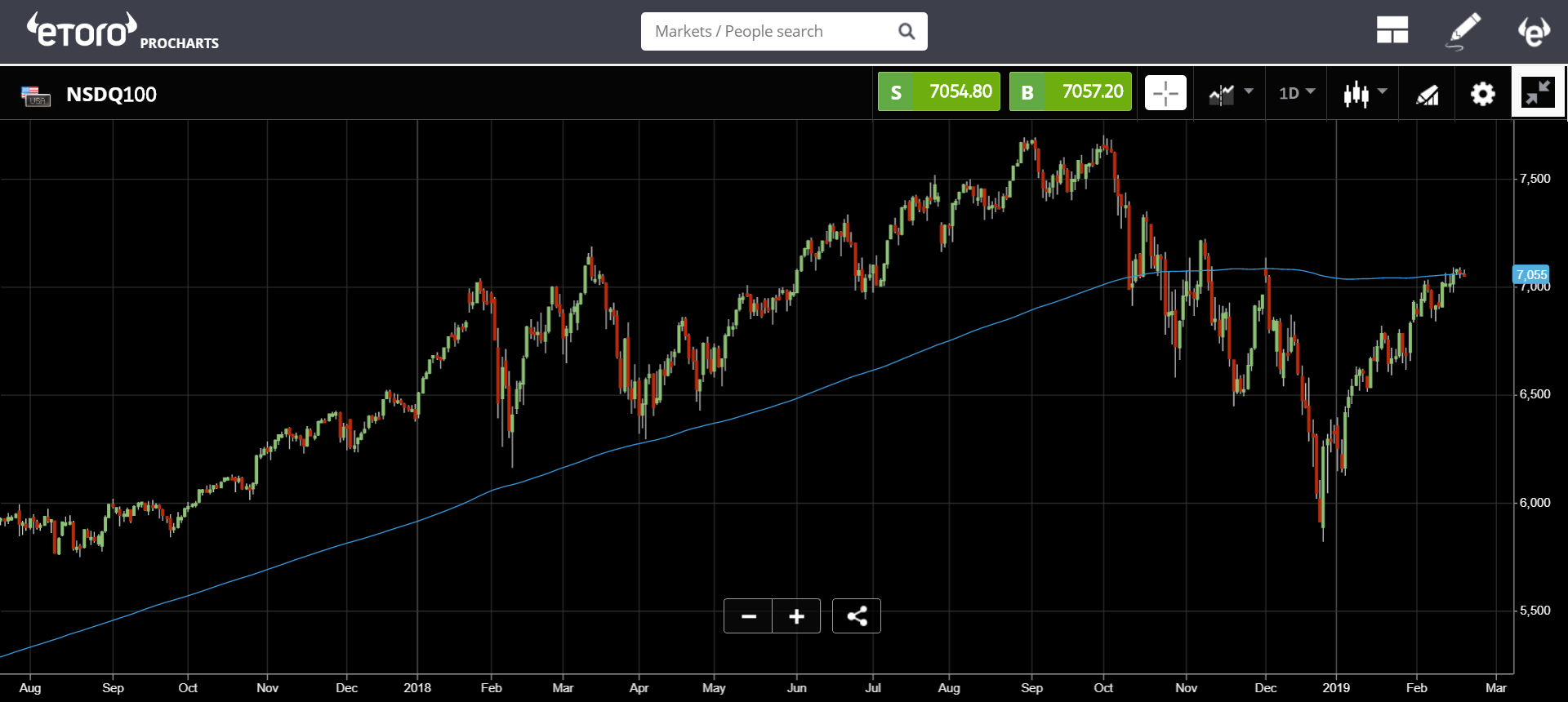 Many analysts were quick to point out that if we ignore 2018 and look only at the stock market performance from January 1st, we're actually seeing stellar results.
Some pundits even take this a step further. Here's a graph posted by @StockCats who pointed out that the current trajectory of the markets does look a bit unsustainable.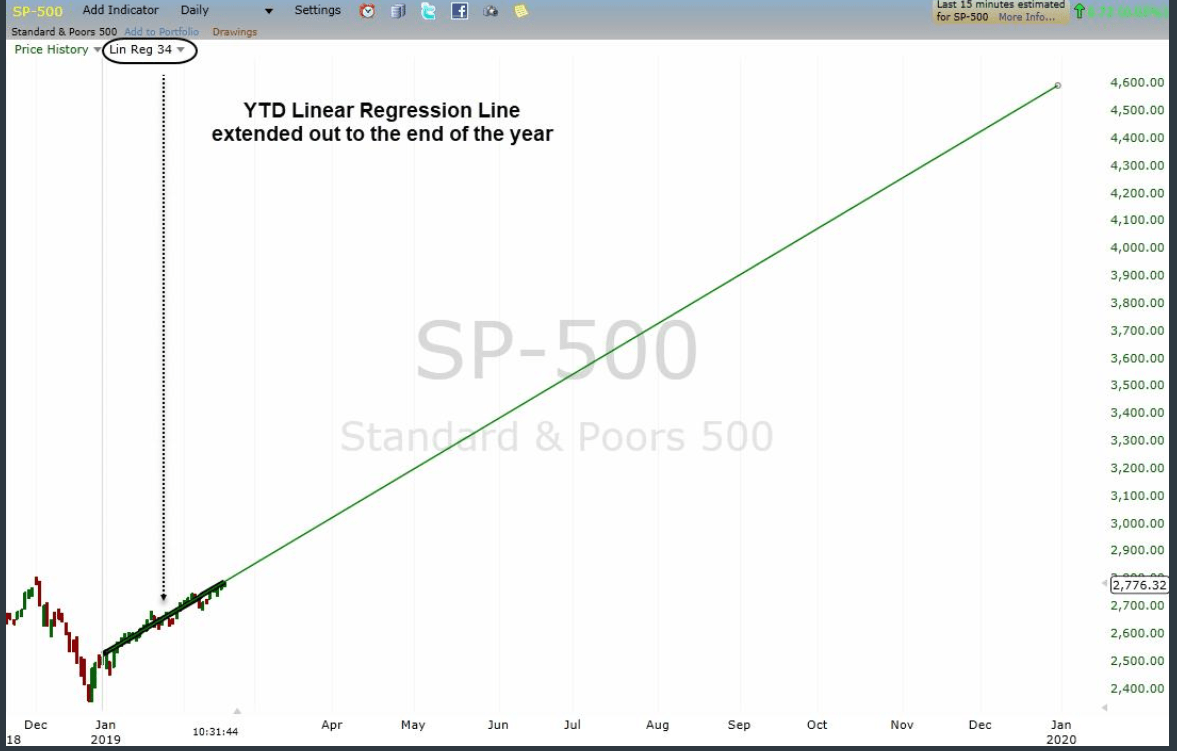 Crypto Rally Stalled – Where to Next?
Let's face it, these last few days have been amazing. However, even within this longest crypto bear market of all time, there have been rallies before that ended up fizzling out. So, even though it's possible we go to the moon from here, it certainly pays to be cautious.
One thing that's interesting to me is the different spins that some of the mainstream media are putting on this. The Independent is saying that it's because of the Galaxy S10 Crypto Wallet…

…while Bloomberg is saying that…
Forbes, on the other hand, seemed to focus on the altcoin markets.
For me, it's pretty clear that this whole thing began due to a shortage in Ethereum creation. As I explained in an interview with BlockTV yesterday, the creation of new Ether tokens has been severely limited lately. Especially for those of you who are less inclined to look at graphs and charts, feel free to watch the recording here.
For those of you who do like charts, check this out. This supply shortage while demand remained consistent caused Ethereum's price to rise dramatically and the rest of the cryptos followed. By today, we're going on sheer momentum. After months of depressed prices, it's about time we had a real rally in this market.
As I'm writing, it does seem that we may be getting a continuation of the rally but it's still too early to tell. Let's see where the day brings us.
Wishing you an excellent day. As always, please continue sending in your valuable feedbacks, questions, comments, and insights. It is always useful and always appreciated.
About the Author: Mati Greenspan is a Senior Market Analyst at eToro

Connect with Mati on….

eToro: http://etoro.tw/Mati
Twitter: https://twitter.com/matigreenspan
LinkedIn: https://www.linkedin.com/in/matisyahu/
Telegram: https://t.me/MatiGreenspan
Office Phone: +44-203-1500308 (ext:311)


Disclaimer: The opinions expressed in this article do not represent the views of NewsBTC 
or any of its team members. NewsBTC is neither responsible nor liable for the accuracy of 
any of the information supplied in Sponsored Stories/Press Releases such as this one.

Image: Pixabay