Hi Everyone,
Yeah, I know that many people just want to read about crypto, but if we don't put it into the broader context of the global economy we could miss something.
Even though the crypto market is not heavily correlated with traditional markets on a day to day basis, crypto doesn't exist in a bubble and whatever happens in the rest of the financial markets does impact crypto as well.
I had the chance to speak about this dynamic with Nakamoto Jedi recently, and you can catch the recording here.
What I did want to point to today is that the shift in expectations from the world's central banks seems to be leading rapidly towards loose monetary policy.
On Friday the President of the Federal Reserve Bank in San Fransisco indicated that the Fed is now considering using Quantitative Easing as a regular tool to 'guide' the markets.
Of course, President Mary Daly is only one member of the Fed and certainly not the most influential, but the fact that they're discussing this at all is enough to turn heads.
@MatiGreenspan – eToro, Senior Market Analyst
Today's Highlights
Days to next Shutdown: 4 | Days to Brexit: 46
Bitcoin ETF could happen any day
Weekend Price Surges
Please note: All data, figures & graphs are valid as of February 11th. All trading carries risk. Only risk capital you can afford to lose.
Traditional Markets
Today we welcome back China to the financial markets, and it seems the holiday has put Chinese investors in a buying mood. The China 50 index is leading the stocks higher today.
Estimates from the Ministry of Commerce say that China spent 8.5% more over the Lunar New Year than the same period last year. However, this is the lowest year-on-year increase since 2011.
All things considered, there doesn't seem to have been any major advances in our three main geopolitical risks over the weekend. Brexit, the US-China trade war, and the US government budget stalemate are all still very much on the minds of investors right now.
When Bitcoin ETF
With the withdrawal and renewal of VanECK's proposal, it seems that some of the key players are now far more optimistic that a bitcoin ETF could be approved sometime soon.
The decision to approve or disapprove falls on the SEC, so let's take a look at who is making the decisions…
Hester Peirce is by far the biggest bitcoin advocate on the panel. Many prefer to call her by the nickname Crypto Mom. On Friday, Hester published this blog post stressing the advantages of bitcoin and cryptoassets.
The newest member, Elad Roisman, is also a known crypto advocate
Last week Robert Jackson made headlines by stating…

The toughest walnut to crack remains Chairman Jay Clayton, who continues to engage with the crypto community, but so far remains steadfast in his view that the market isn't ready for it just yet.
VanECK remains optimistic though. Digital Assets Director Gabor Gurbacs recently told CNBC's Ran Neuner that the application process may take up to 240 days but that it could be done in a single day should the SEC decide to approve it.
Crypto Prices Bounce
Over the weekend we saw some very encouraging price movements in the crypto market. Litecoin is up 80% over the last month and Binance Coin has surged 107%.
Still, though it pains me to say it, we haven't seen any real signs that the bear market is over. Another encouraging sign is that the resistance level that we've been tracking for bitcoin (dotted white line) seems to have been broken.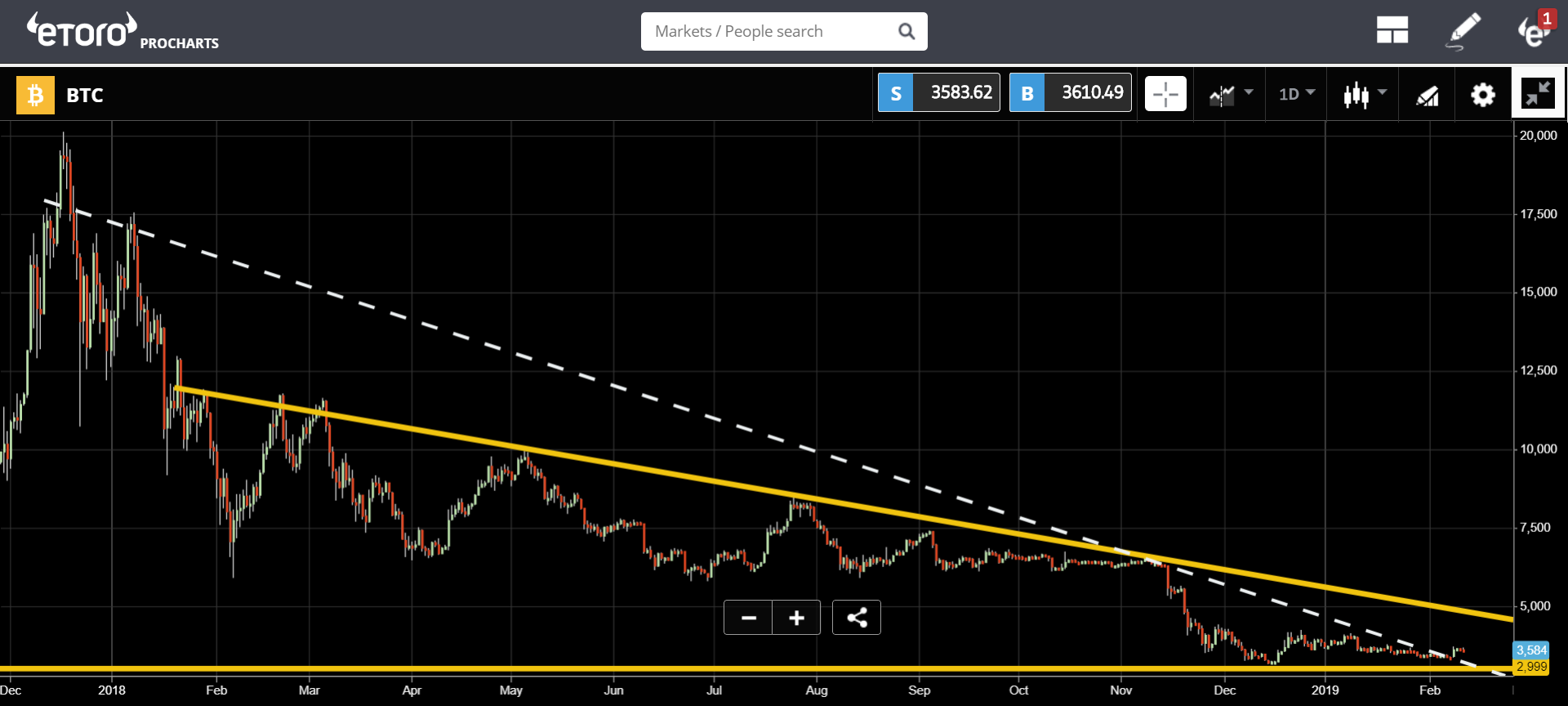 Of course, each technical analyst will draw their lines a bit differently. So now that one resistance has been broken we need to draw a less aggressive line. The upper yellow line in the graph above is about as conservative a line as we can possibly draw.
Therefore, in order to say definitively that the bear market is over, we would need a strong break above the key psychological barrier of $5,000.
In any case, even though the technical indicators remain bearish, the fundamentals continue to grow stronger. Volume across crypto exchanges over the last 24 hours have reached a fresh high of $25 billion on Friday and have sustained well above the baseline of $15 billion since.
Also, we've been tracking rising volumes in key regions on peer to peer exchange site Local Bitcoins lately. One thing that jumped out at me this morning was Indonesia. I mean, volumes there have been building lately but seem to have exploded this last week.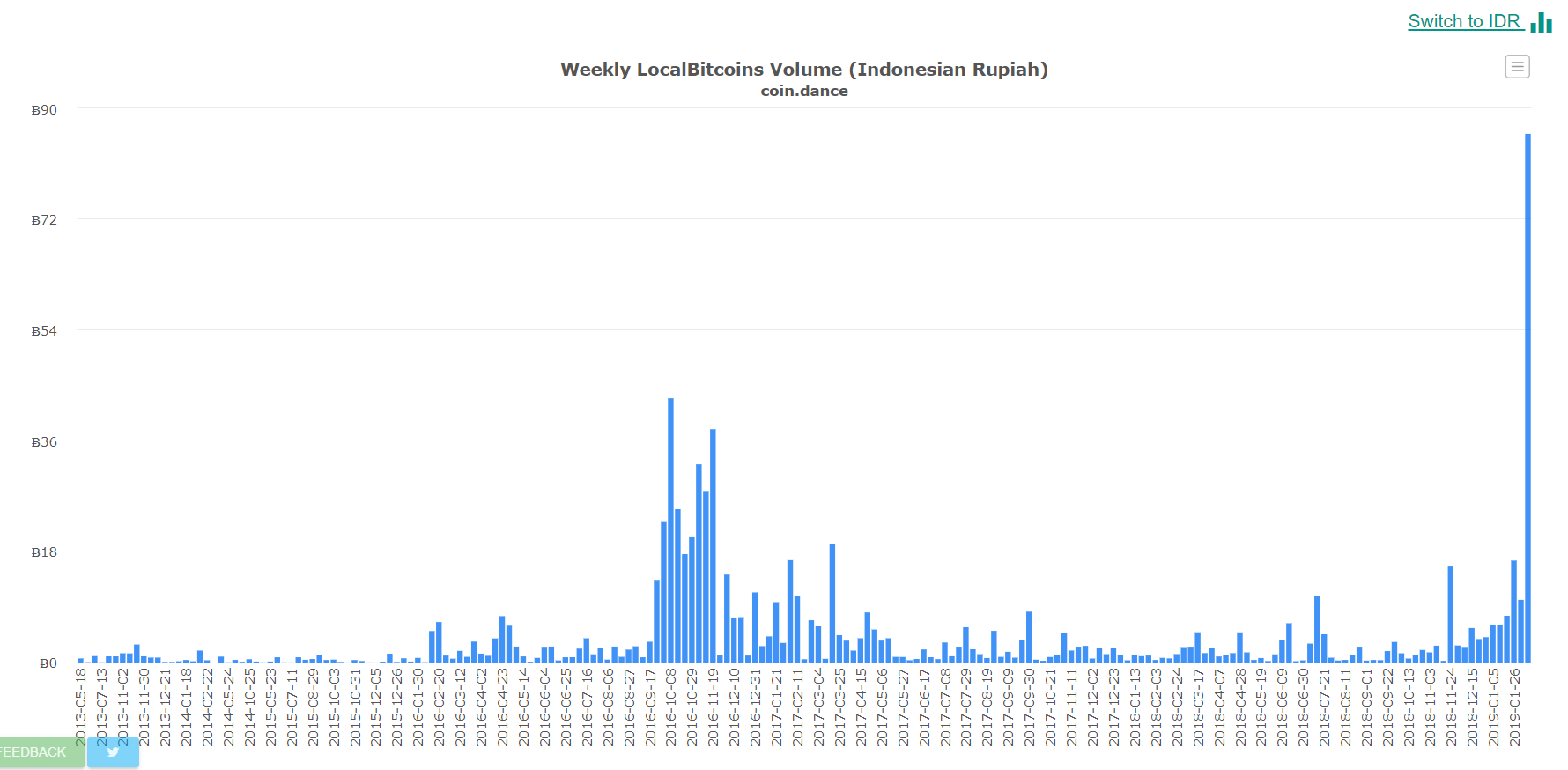 Sure, 86 BTC in a week might not seem like much for a country with a population of 264 million people, but as this is a key region where people tend to send remittances, it's entirely possible that the people have woken up to a new payment method to facilitate these transfers. We'll need to keep an eye on it.
Have a wonderful week ahead!
About the Author: Mati Greenspan is a Senior Market Analyst at eToro

Connect with Mati on….

eToro: http://etoro.tw/Mati
Twitter: https://twitter.com/matigreenspan
LinkedIn: https://www.linkedin.com/in/matisyahu/
Telegram: https://t.me/MatiGreenspan
Office Phone: +44-203-1500308 (ext:311)


Disclaimer: The opinions expressed in this article do not represent the views of NewsBTC 
or any of its team members. NewsBTC is neither responsible nor liable for the accuracy of 
any of the information supplied in Sponsored Stories/Press Releases such as this one.

Image: Pixabay