Hi Everyone,
This might be considered old news to some but I didn't take it seriously myself until this article came out today on bitcoin.com.

Lately we've been talking a lot about bitcoin's rising transaction rate, which is now coming close to its all-time highest levels.
So, it seems that many of these transactions are coming from an entirely new bitcoin use case, other than just for sending money. It also seems that this is rapidly becoming the focus of hot debate among crypto spheres.
Without going into too much technical detail, what's happening here is that some new projects are making use of Bitcoin's stability as a network to maintain the stability of other crypto projects.
The use of crypto's main Blockchain in this way has some upset that it could be "spamming the network" and by raising the amount of data stored it could increase the fees.
Proponents of the concept, on the other hand, feel that this is actually just another real use case of bitcoin and the ability to store data in this way is built into the code for a reason.
No matter what side you're on, at this point we can take comfort in the fact that transaction fees in bitcoin are at a two year low at the moment, despite the added traffic.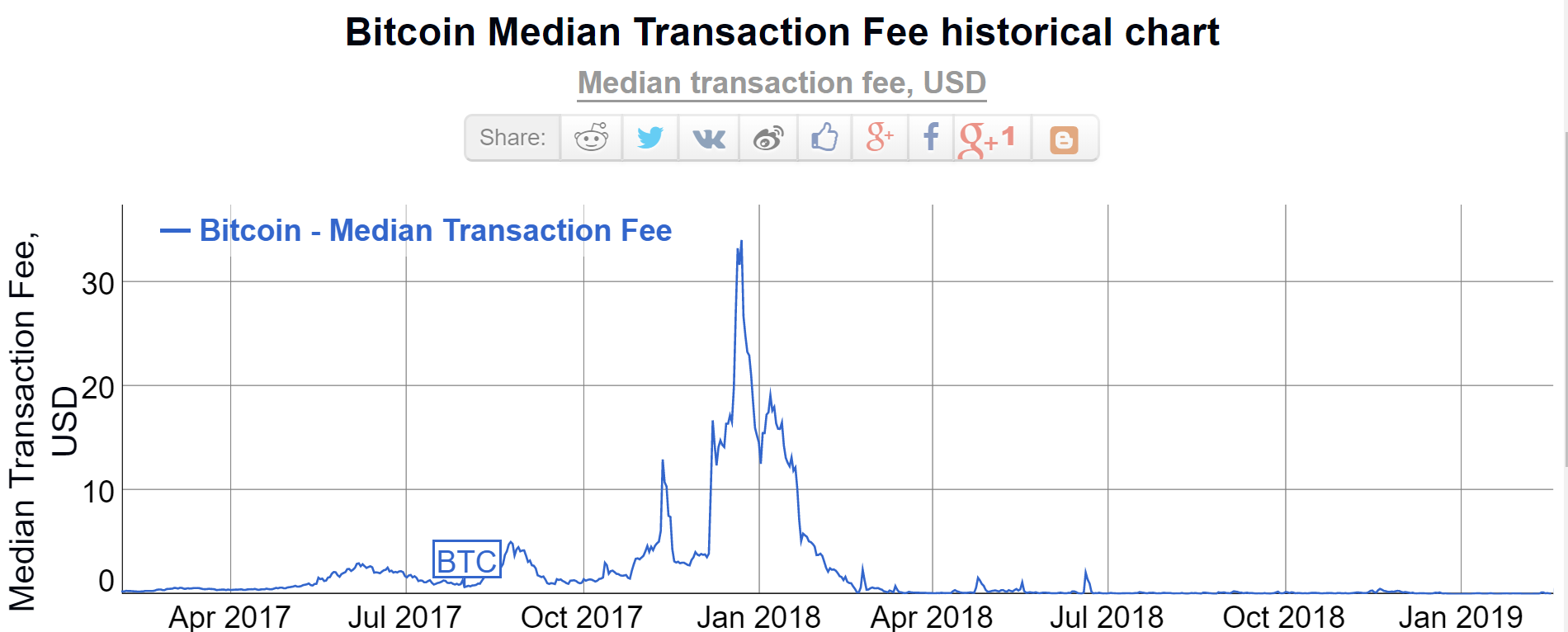 As well, real-world use of bitcoin continues to rise, whether or not you consider the above as such. For example, in Indonesia, cryptoassets have just been legally recognized as a trading commodity.
Last week, we noticed a large spike in Indonesian volumes on P2P site Local Bitcoins. Well, that figure has continued on to double this week.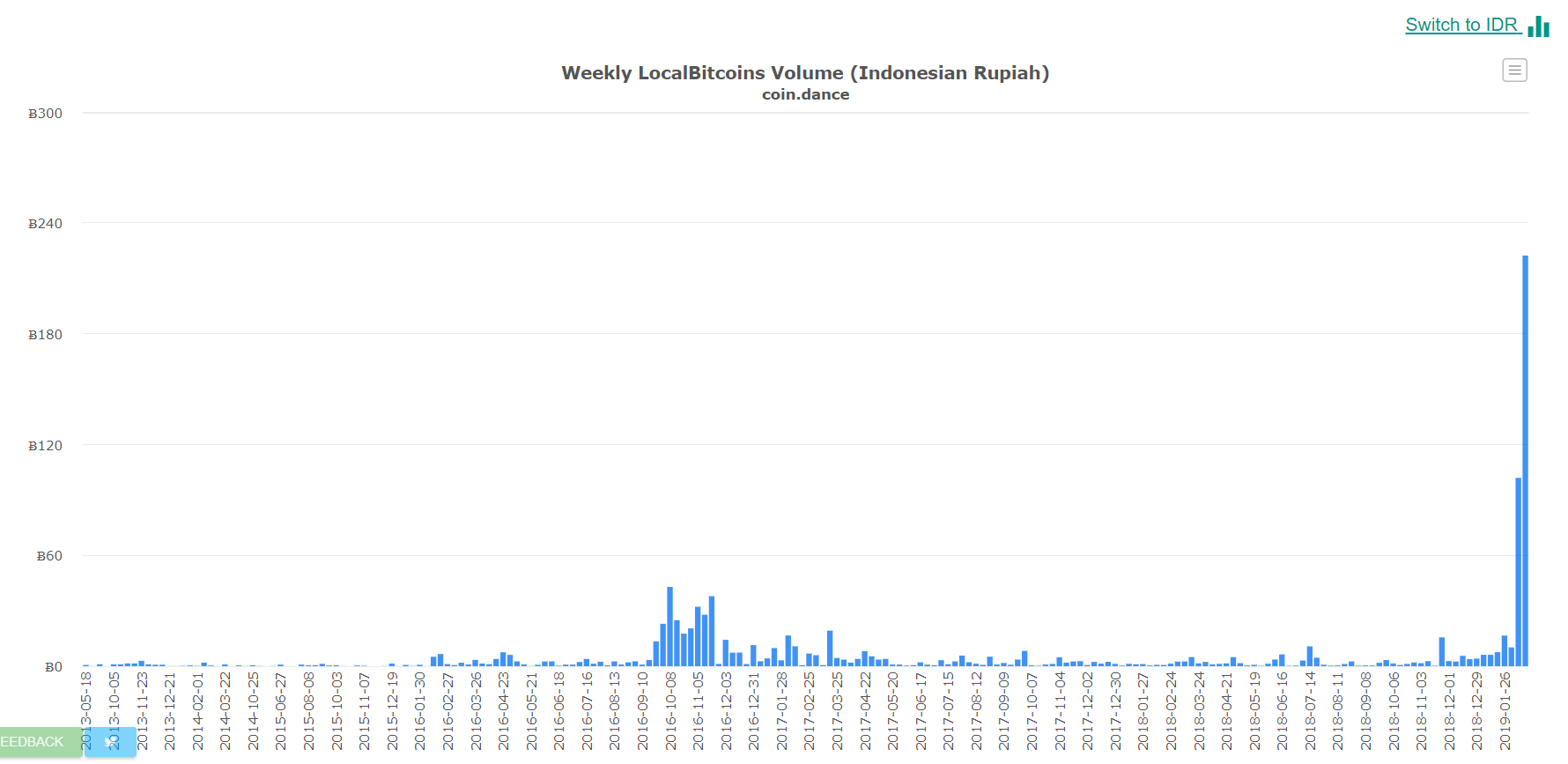 With the size of the Indonesian remittance market topping $2.7 billion in Q3-2018, this is quickly becoming a crypto market to watch.
@MatiGreenspan – eToro, Senior Market Analyst
Today's Highlights
US-China trade deadline: 11 days | Days to Brexit: 39
Presidents Day (Reduced Volumes)
Crypto Markets Rising
Please note: All data, figures & graphs are valid as of February 18th. All trading carries risk. Only risk capital you can afford to lose.
Traditional Markets
Markets continued to rise on the news that another US government shutdown has now been averted. This morning, Asian markets are celebrating the completion of the last round of trade talks and optimism for what's to come.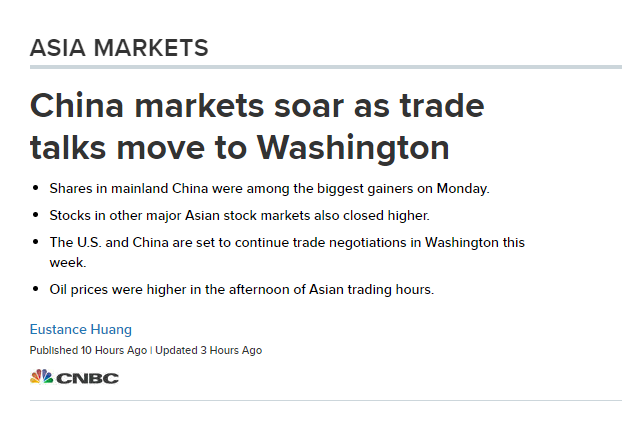 The timetable for Brexit may have just been shortened. As we know the deadline for Article 50 is on March 29th. However, it seems that the final deadline for May to close a deal has now been shortened by Parliament.
The US session will be partially shut down today in celebration of President's Day. Check for market hours on the assets you're trading at this link.
Cryptos Rising
Crypto markets have risen nicely over the weekend. A move that has largely been led by Ethereum.
In this graph, we can see ETH (white line) against a basket of other cryptoassets. Notice the sudden spike yesterday morning, which was followed by a full retracement. After which, Ethereum continued to rise throughout the afternoon and by the evening turned into a market-wide rally.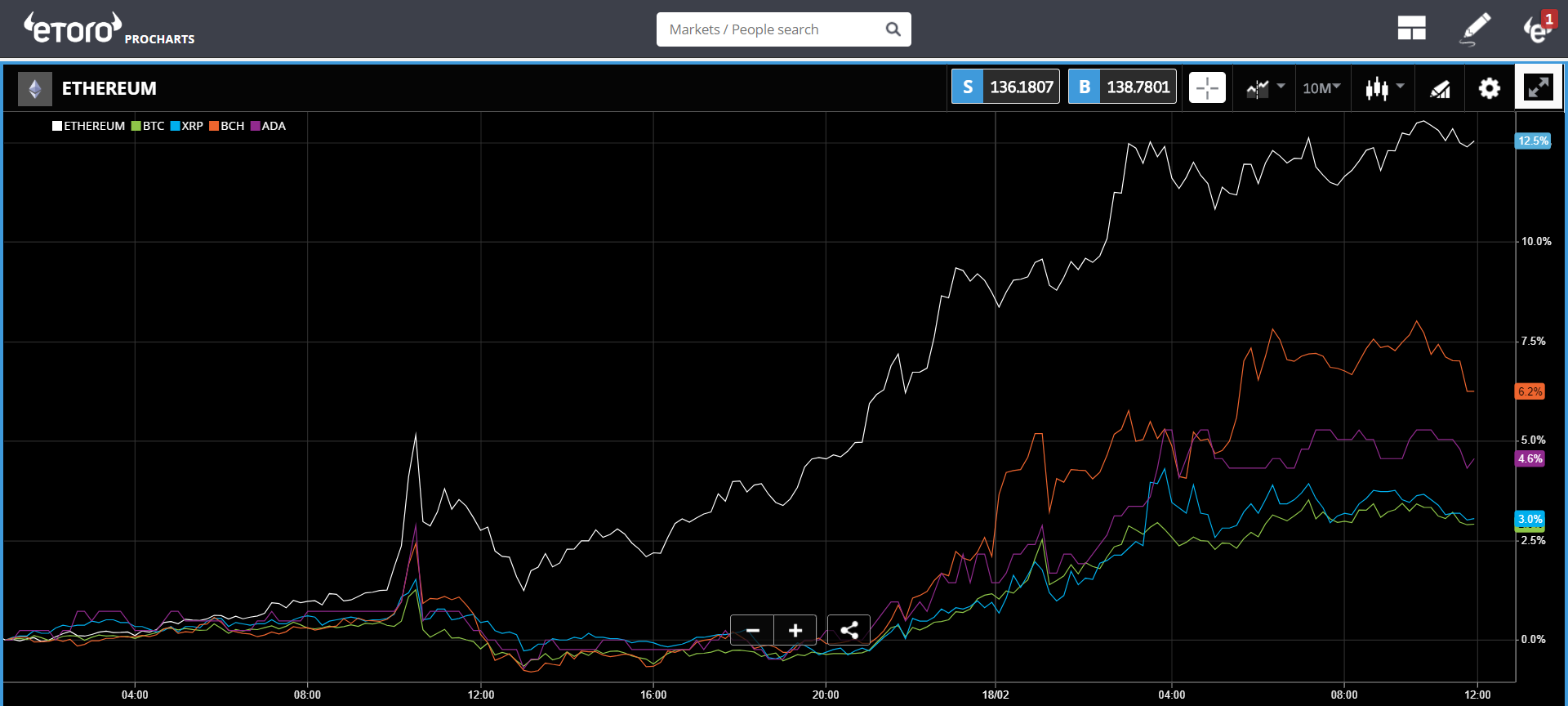 I was able to put out a short tweetstorm this morning with several graphs and the highlight, in my opinion, is the rising volume across changes. In this chart from coincheckup.com, we can see that global volumes had bottomed out around $14 billion on February 8th but have now come up as high as $27 billion today.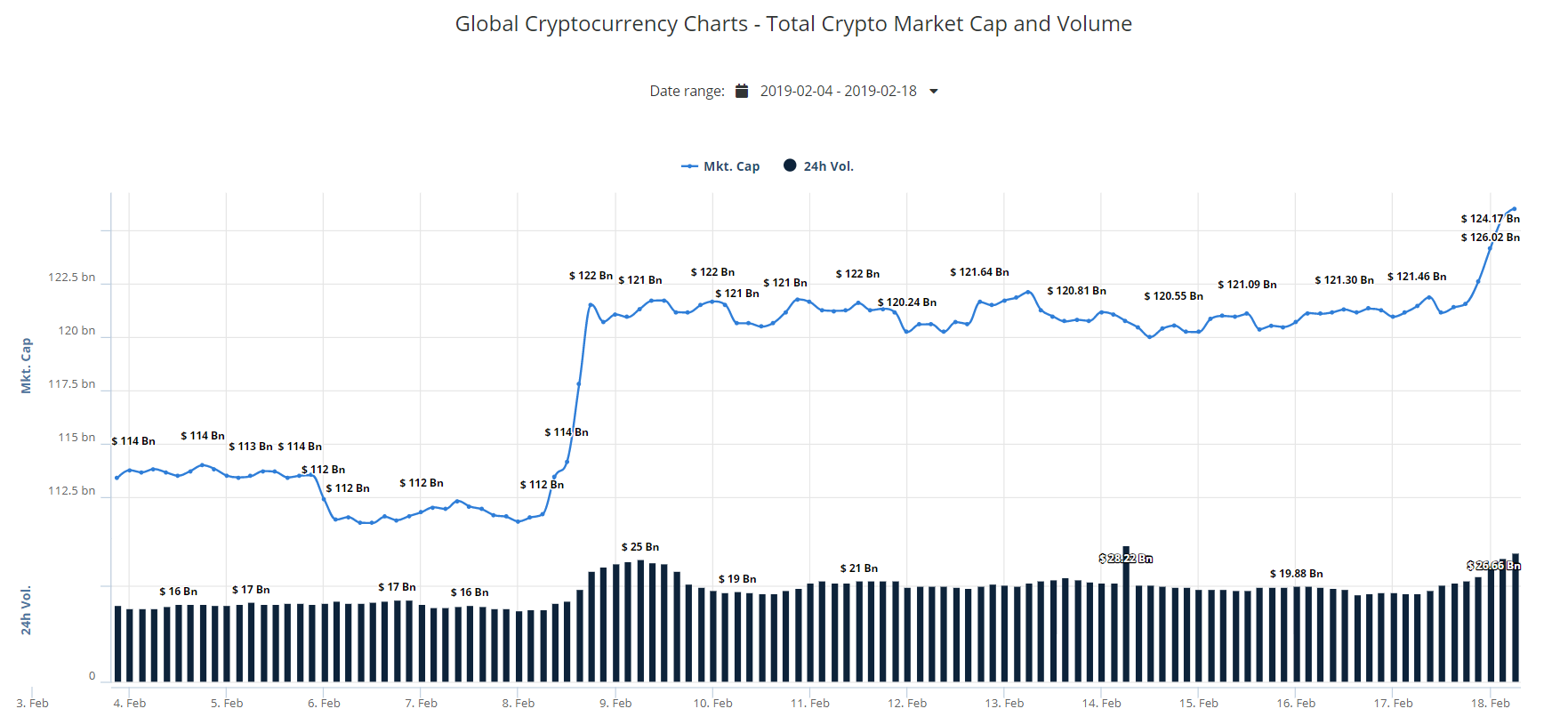 Movements that happen on strong volume tend to be more meaningful in the market as it shows the flows have power behind them.
Let's have an amazing week ahead!
About the Author: Mati Greenspan is a Senior Market Analyst at eToro

Connect with Mati on….

eToro: http://etoro.tw/Mati
Twitter: https://twitter.com/matigreenspan
LinkedIn: https://www.linkedin.com/in/matisyahu/
Telegram: https://t.me/MatiGreenspan
Office Phone: +44-203-1500308 (ext:311)


Disclaimer: The opinions expressed in this article do not represent the views of NewsBTC 
or any of its team members. NewsBTC is neither responsible nor liable for the accuracy of 
any of the information supplied in Sponsored Stories/Press Releases such as this one.