Hi Everyone,
"Arguing that you don't care about the right to privacy because you have nothing to hide is no different than saying you don't care about free speech because you have nothing to say."
-Edward Snowden, on Reddit (May 2015)
Indeed, personal privacy is an ideal that we cherish very highly, and yet, it seems that many authorities and regulators have taken a negative view on privacy coins… why is that?
The Zcash project is making terrific progress on the ground in changing the perception of what internet money should look like. There is a great demand from institutional investors because it is the only privacy coin accepted at the top regulated crypto exchanges.
By using simple terminology and highlighting endorsements from Vitalik Buterin, Edward Snowden, Charles Hoskinson, and the Winklevoss twins, we showed how Zcash works, and why it works.
With great pride, I humbly present to you our full research paper: eToro.tw/Research-ZEC
All feedback is welcome. Hope you enjoy!
@MatiGreenspan – eToro, Senior Market Analyst
Today's Highlights
Trump & May Disappointed
BoJ is Downbeat
Bitcoin Delisted
Please note: All data, figures & graphs are valid as of March 15th. All trading carries risk. Only risk capital you can afford to lose.
Traditional Markets
Stocks are on fire today as both Donald Trump and Theresa May have been delivered resounding defeats, each from their own respective parties.
May seems to have lost all decision-making power, as the UK Parliament now seems to be fully in the driving seat. We could very well be headed towards a long Brextension. (Did you cringe reading that amalgamation? I did when writing it.)
The Senate voted to deny Trump's budget proposal, with several Republicans turning on their President. The kicker on the geopolitical front this morning though is the rhetoric from Trump who seems to be playing hard to get with China.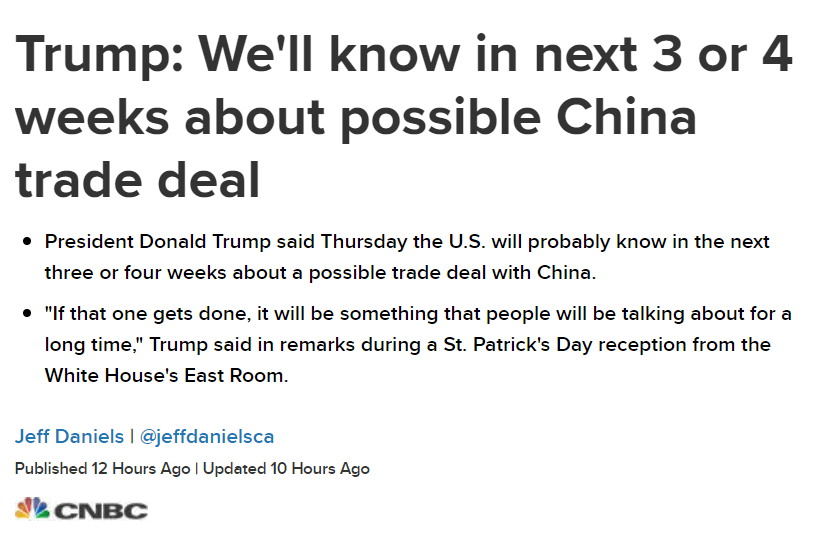 None of this is bothering the stock markets though. The rally on Wall Street has continued straight into the Asian and European sessions. Here's the Dow Jones forming a rather bullish pattern over the last few days…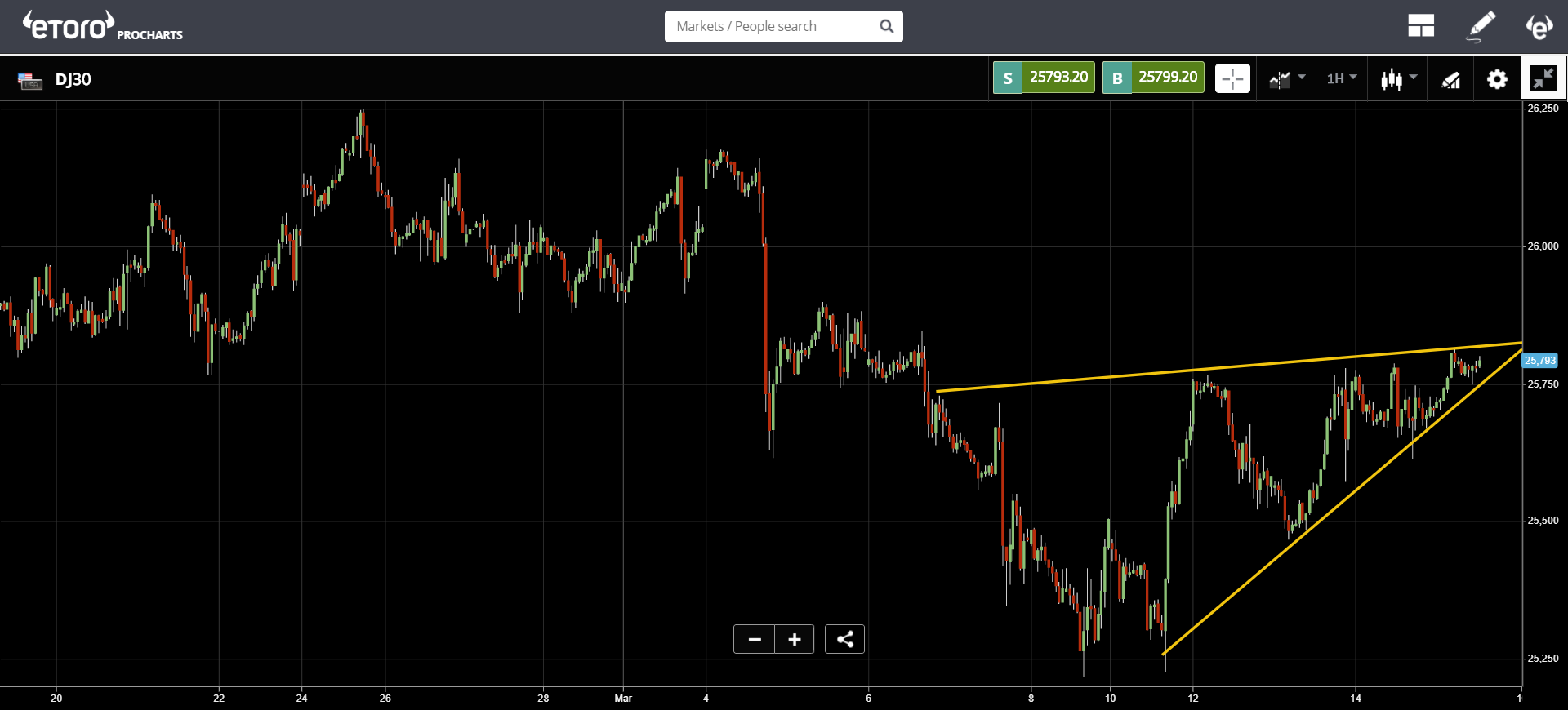 Normally, I don't like to use technical analysis on an index, simply because indices are made up of many components and so they don't necessarily pay as much attention to arbitrary lines, but I do feel that the above pattern is an accurate display of overall sentiment in the markets at the moment.
Everyone clearly wants to go higher but it's difficult to stretch the limitations of valuations and brush aside risks that are clearly prevalent.
Bank of Japan Not Excited
One of those risks was highlighted by the Bank of Japan this morning, which downgraded its expectations for their own economy.
The announcement did end up causing some volatility on the Japanese Yen, but after the dust settled it's pretty clear that the market wasn't altogether shocked by this update.
The chart on the left shows the short term movements in the USDJPY pair and the one on the right has this morning's volatility inside a small purple circle. I think the trend is pretty clear here. The US Dollar is strengthening against the Yen as the FED seems to be considering hinting at raising rates while Japan seems to be going in the opposite direction.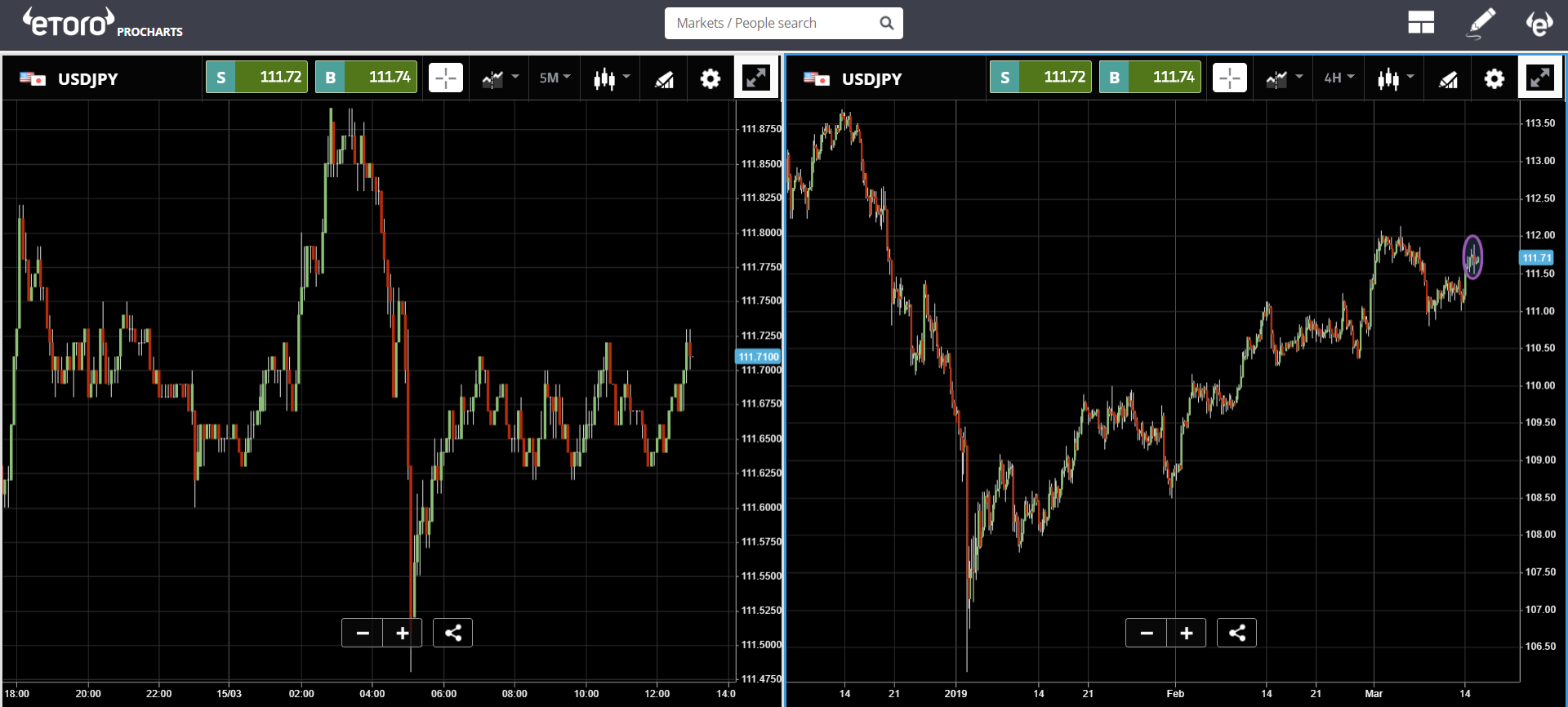 Bitcoin Delisted
There were more than a few gasps in the crypto social media circles after the news that the CBOE will be phasing out their bitcoin futures contracts.
There are currently enough contracts to last them through June, but as they will not be issuing any new ones, for the time being, we can expect them to be completely delisted by then.
Sure, this is a bit sad but I'm not too phased. The CBOE contracts weren't delivering a lot of volumes anyway. The dominant player on Wall Street remains the CME Group, whose bitcoin futures remain in play.
It's also important to note that neither of the above-mentioned futures markets are actually settled in Bitcoin. They are both cash settled, meaning that two players trade against each other based on the price, and the loser forks over USD to the winner, so Bitcoin is never moved by this market. Whether or not the players had other positions in other markets is a different story.
In any case, according to all the current public information, the Nasdaq seems to be gearing up to offer its own bitcoin futures and it could very well be available before June. So, overall the news isn't really very bad at all.
Looking at crypto prices this morning, it seems as if we've got a strong rally brewing. I've put up a few graphs for you on twitter that may be helpful to see how and why.
Have an amazing day ahead!
About the Author: Mati Greenspan is a Senior Market Analyst at eToro

Connect with Mati on….

eToro: http://etoro.tw/Mati
Twitter: https://twitter.com/matigreenspan
LinkedIn: https://www.linkedin.com/in/matisyahu/
Telegram: https://t.me/MatiGreenspan
Office Phone: +44-203-1500308 (ext:311)


Disclaimer: The opinions expressed in this article do not represent the views of NewsBTC 
or any of its team members. NewsBTC is neither responsible nor liable for the accuracy of 
any of the information supplied in Sponsored Stories/Press Releases such as this one.
Image: Pixabay