There's a lot going on in the world right now. Of course, images of the historic handshake between the leaders of North Korea and the United States are grabbing the headlines, but there is a lot more happening under the surface that has much more potential to affect your investment portfolio.
In fact, now that the big news is behind us, markets are more likely to react to the Fed and ECB meetings.
Tomorrow, rather than doing a daily market update in writing, we're going to discuss the markets in true eToro fashion, in a live stream on YouTube and everyone is invited.
To join in, simply click this link and set a reminder: https://youtu.be/fmOK8PjQyKI
Today's Highlights
Pricing in a Bluff
Big Meetings Coming
Bitcoin Finding Footing
Please note: All data, figures & graphs are valid as of June 12th. All trading carries risk. Only risk capital you can afford to lose.
Traditional Markets
As Donald Trump and Kim Jong Un make their way through the Elton John Playlist (going from Rocket Man to Can You Feel the Love), the world is left questioning the logic of the American President who walked out of a G7 meeting to sign a deal with a man who has until recently been seen as a great threat.
Even the International Monetary Fund seems to think that he's gone too far.

Trump's proponents, however, remain firm, stating that this is simply a negotiation tactic to get the world back on track. As any poker player will tell you (or won't), a bluff only really works when your opponent believes you have the cards and are ready to play them.
As far as global markets are concerned, the entire trade war is just a series of bluffs. Global stock markets have been holding up just fine over the last month and some of them are not too far away from their all-time highest levels.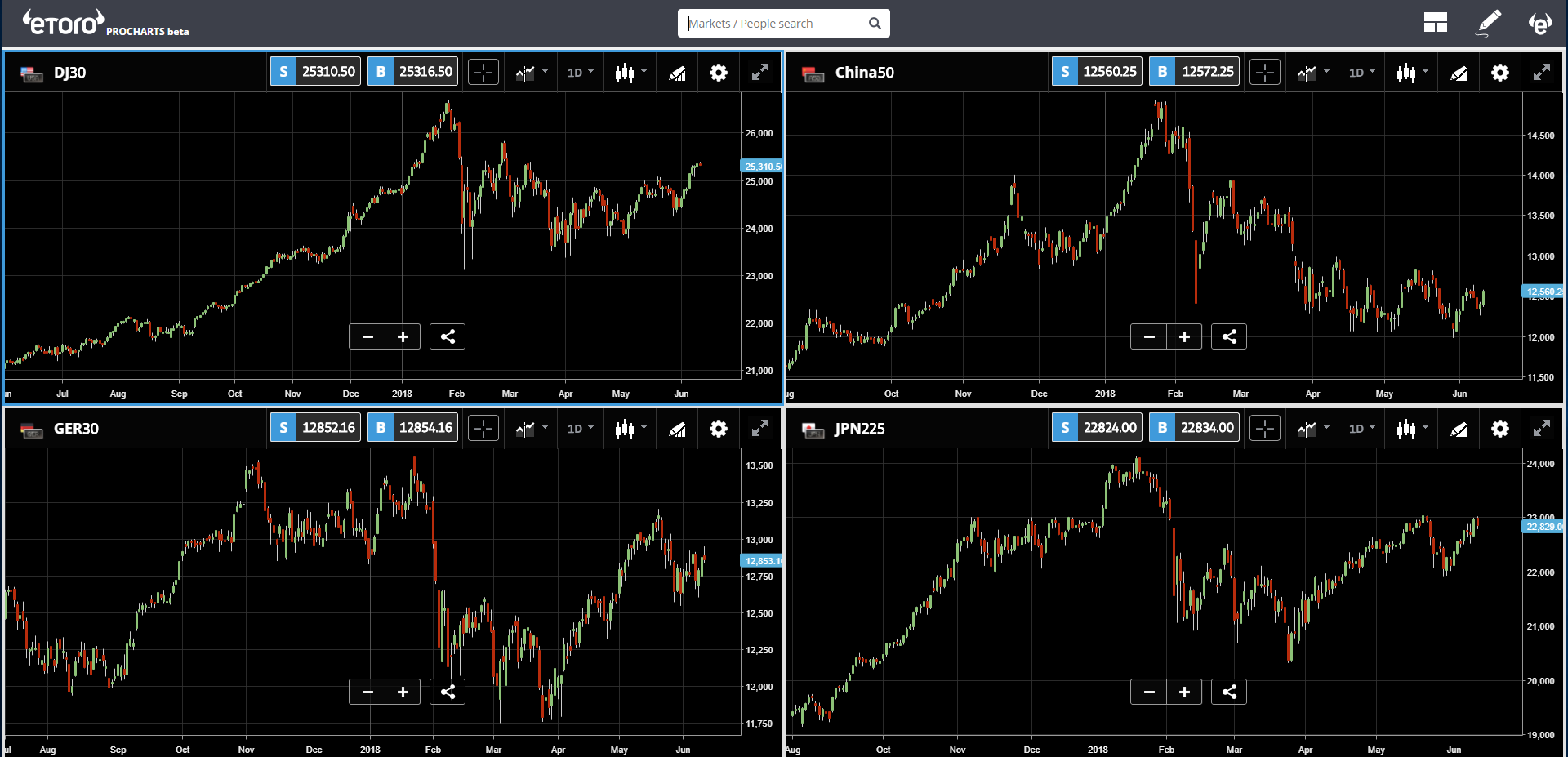 Of course, if everything is priced to perfection, it does leave very little room for failure. On the other hand, a large amount of money left over from all the quantitative easing still seems to be finding its way into the markets. How long that will take to dry up is anybody's guess.
Central Banks This Week
As indicated above, there are two meetings happening soon that have far greater potential to move the financial markets than the historic handshake today.
The US Federal Reserve will publish their interest rate decision tomorrow evening, followed by a press conference with Jerome Powell. The ECB will do the same on Thursday.
As these institutions unilaterally control the monetary policy and supply, we will be listening closely to what they have to say.
The EURUSD has been consolidating tightly over the last week, most likely in anticipation of these two meetings.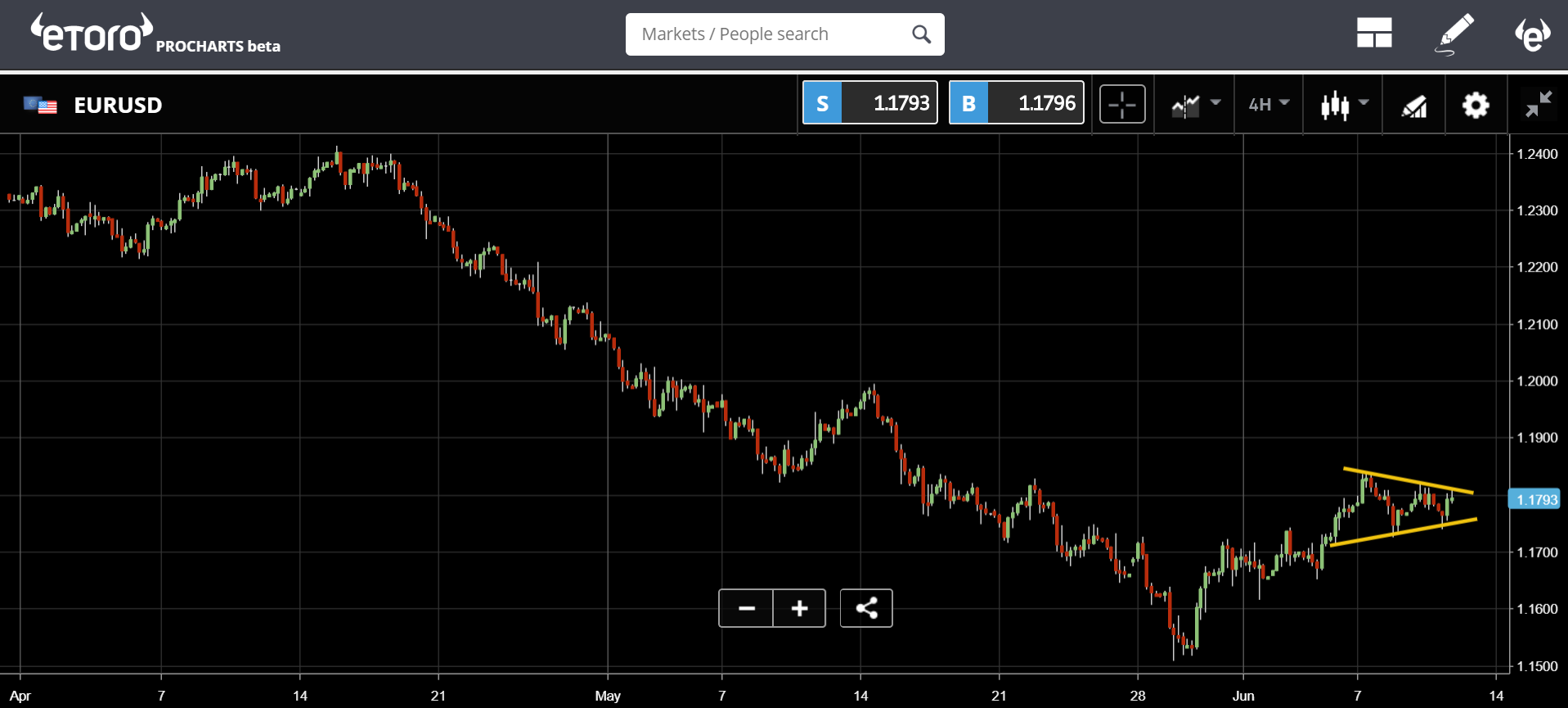 Bitcoin Fighting
The price of bitcoin is still searching for solid footing after Sunday's $1,000 plunge. For now, we're holding well above the first support mentioned yesterday, around $6,450.
The crypto market seems to be in a liquidity vacuum at the moment. Even though we did see the volumes spiking a bit during the sell-off, it seems that they're receding again quickly.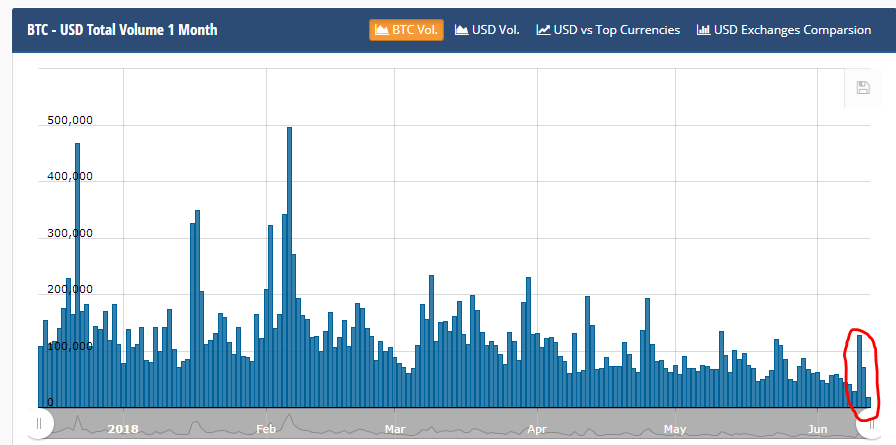 We have seen several allegations flying around that some large players may be trying to push the price down on purpose, but I haven't seen any proof of that.
If there are any such foul players, they may want to keep a low profile at the moment as the CFTC is now probing this exact issue. If they found Ross Ulbricht, they can probably locate any potential price manipulators rather easily.
We'll need to watch the area of support rather closely over the next few days.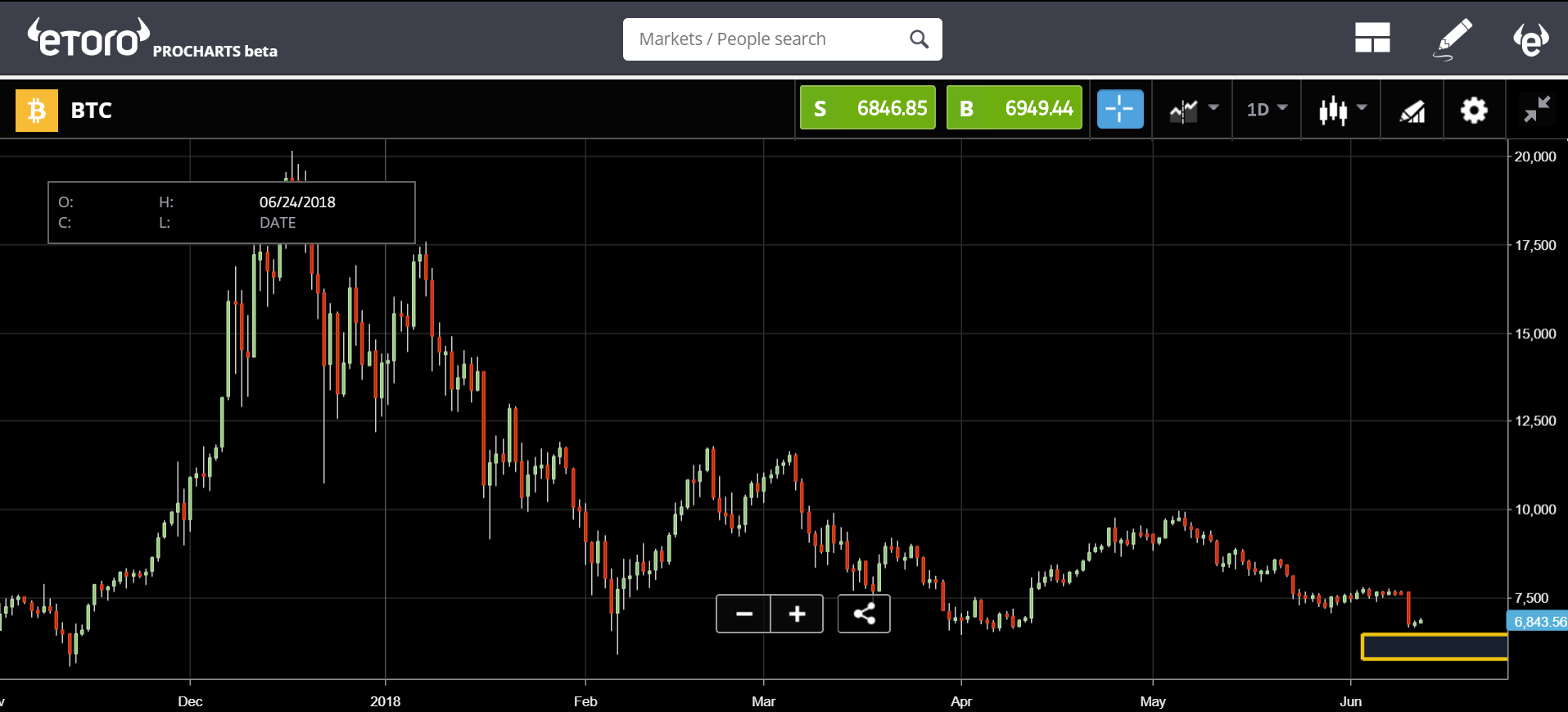 Let's have an amazing day ahead!
This content is provided for information and educational purposes only and should not be considered to be investment advice or recommendation.
The outlook presented is a personal opinion of the analyst and does not represent an official position of eToro.
Past performance is not an indication of future results. All trading involves risk; only risk capital you are prepared to lose.
Cryptocurrencies can widely fluctuate in prices and are not appropriate for all investors. Trading cryptocurrencies is not supervised by any EU regulatory framework.
About the Author: Mati Greenspan is a Senior Market Analyst at eToro
Disclaimer: The opinions expressed in this article do not represent the views of NewsBTC 
or any of its team members. NewsBTC is neither responsible nor liable for the accuracy of 
any of the information supplied in Sponsored Stories/Press Releases such as this one.