Hi Everyone,
Hope you're having a fantastic day so far. Writing to you today from sunny Amsterdam where I will be attending the Blockchain Expo over the next two days.
Today, I will be making good on a debt that is owed…

Will post a picture with @pipatel and my Heineken later in the day on social media.
If you're in the neighborhood, let me know and I'll be glad to meet up. 🙂
@MatiGreenspan – eToro, Senior Market Analyst
Today's Highlights
Trade War Intensifies (Again)
Ride that Hog
Crypto Eyes Emerging Markets
Please note: All data, figures & graphs are valid as of June 26th. All trading carries risk. Only risk capital you can afford to lose.
Traditional Markets
So far, the protectionist policies of Donald Trump have yet to hurt the international markets too badly, although this week has certainly been an exception to that.
Trump's announcement that he is considering a limit on Chinese investment in the USA tech firms, as highlighted in yesterday's market update, seems to have caused some tension within his own cabinet.
Treasury Secretary Steven Mnuchin has apparently downplayed the possibility of these investment controls but Trump's Trade Advisor Peter Navarro was quick to rebuff by saying that America needs to be tough on China.
Tech stocks in the United States have been the worst hit as the Nasdaq declined more than 2%. Asian and European stocks are also feeling the losses so far today.
Riding the Hog
In war, there are no winners. Even though Donald Trump has made some progress in showing how "unfair" trade has been so far, yesterday he took a big blow when this headline hit the news cycle…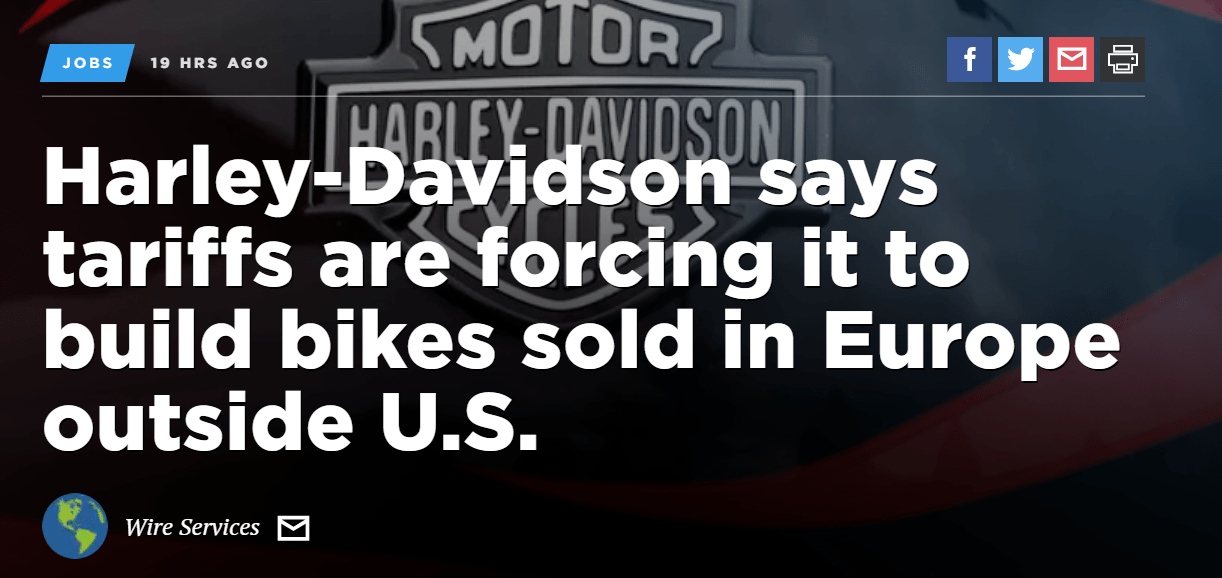 The European Union has reportedly raised the tariffs on America's iconic bike maker from 6% to 30% in response to Trump's new policies, which is causing the motorcycle maker to take their show on the road.
Shares in Hog where hit hard yesterday.
Trump supporters were quick to point out that the company was already in the midst of restructuring their production methods and that the timing here is simply a matter of convenience.
Still, the Financial Times reports that…

Crypto Eyes on Argentina & Iran
Economic protests have popped up today in both Argentina and Iran, which is notable given that these are two countries that we have been watching closely as possible hotbeds for increased adoption of Bitcoin.
As if by some twist of fate, I happened to spot another traveler on Reddit today, who happens to be in Argentina at the moment and was able to use Bitcoin Cash in order to withdraw some local currency following an issue with his bank…
He even included a picture of the homemade BCH ATM: https://imgur.com/a/oy548Zu
Bitcoin was created in 2009 to provide an alternative to the fiat monetary system. Especially in places where mass inflation is a prevalent issue, a new form of digital asset is very useful for providing a stable currency outside the control of governments and banks.
Here we can see a graph of bitcoin against both the Argentinian Peso and the Iranian Rial over the last year.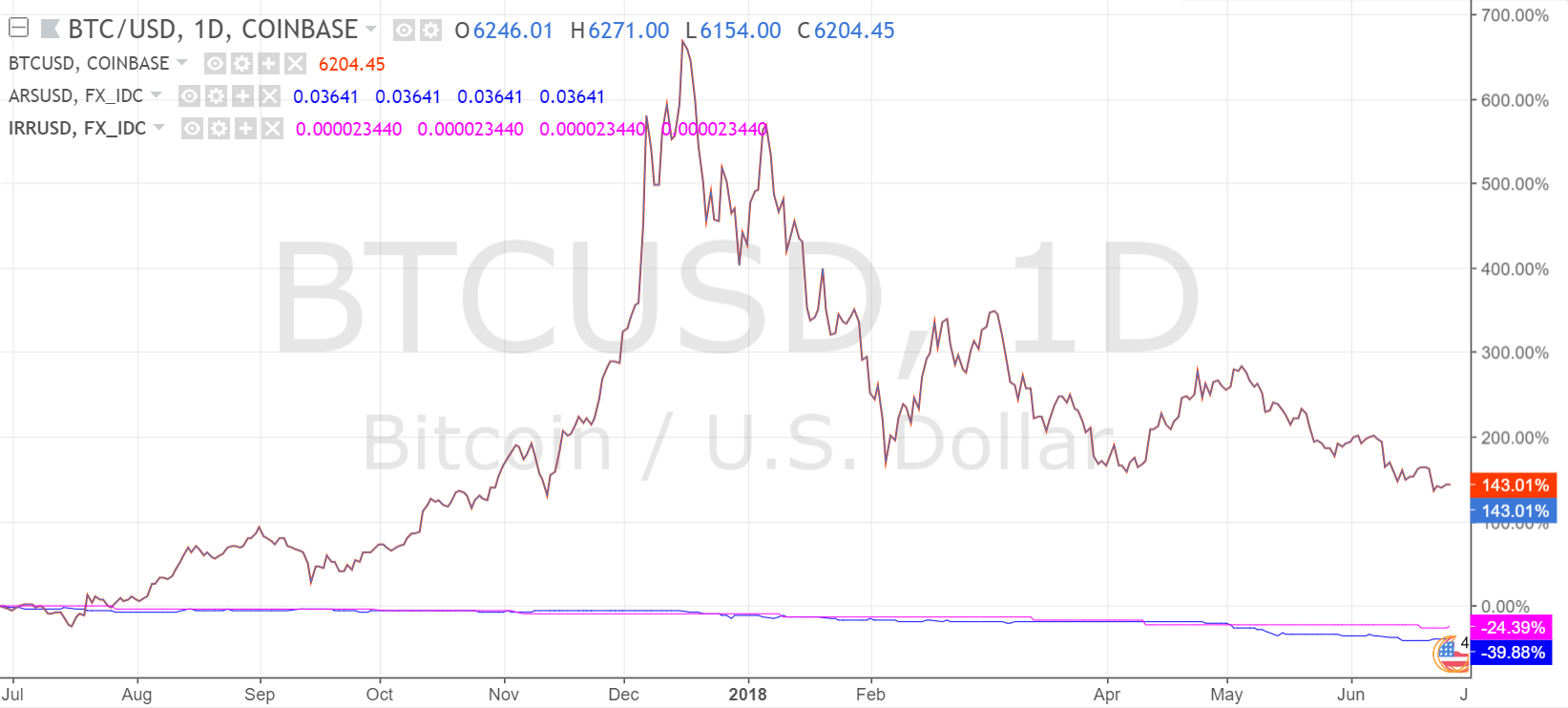 For those, asking me "when will bitcoin go back up again?" I really can't say. It's still not clear whether the demand from these countries is enough to sustain the support at $6,000 alone.
Certainly, if Japan and South Korea step in on the buy side it would drive prices upwards as would new institutional flows into this market. But as long as the price is traveling South, it's difficult to see any of these players stepping in too heavily.
What is clear is that once the momentum does build again on the buy side, there are a lot more interested parties waiting on the sidelines now.
Wishing you an amazing day ahead!
This content is provided for information and educational purposes only and should not be considered to be investment advice or recommendation.
The outlook presented is a personal opinion of the analyst and does not represent an official position of eToro.
Past performance is not an indication of future results. All trading involves risk; only risk capital you are prepared to lose.
Cryptocurrencies can widely fluctuate in prices and are not appropriate for all investors. Trading cryptocurrencies is not supervised by any EU regulatory framework.
About the Author: Mati Greenspan is a Senior Market Analyst at eToro
Connect with Mati on….
eToro: http://etoro.tw/Mati | Twitter: https://twitter.com/matigreenspan | LinkedIn: https://www.linkedin.com/in/matisyahu/ | Telegram: https://t.me/MatiGreenspan | Office Phone: +44-203-1500308 (ext:311)
Disclaimer: The opinions expressed in this article do not represent the views of NewsBTC 
or any of its team members. NewsBTC is neither responsible nor liable for the accuracy of 
any of the information supplied in Sponsored Stories/Press Releases such as this one.