Fantom (FTM) is currently one of the shooting stars alongside AI tokens on the crypto market. Since the beginning of the year, FTM has gained a whopping 164%. After trading at under $0.20 on January 1, Fantom was trading at $0.5181 as of press time. On February 3, FTM hit its yearly high at $0.6537, marking a 225% year-to-date gain.
At the moment, the cryptocurrency is seeing a remarkable high activity among its holders. As data from crypto analytics service provider Santiment shows, shark and whale addresses have been heavily dumping their FTM tokens during the recent surge in 2023.
Addresses holding 10,000 to 100 million FTM have sold $259.7 million worth of coins in the last 4 weeks. These coins were largely picked up by micro-addresses holding 0.01 to 1 FTM, Santiment said, referring to the chart below.
Fantom Bears And Bulls Fighting A Final Battle?
The sell-off of coins among the biggest investors is generally considered a bearish sign, however Fantom has been able to defy this pressure and pull off the aforementioned rally. This was accompanied by fascinating network activity.
On-chain analyst Ali Martinez pointed this out, stating that data showed a significant increase in idle FTM coins changing hands. According to the analyst, this coincided with a spike of 8.83 million FTM tokens flowing into crypto exchanges and a 7.04 million FTM increase in supply on exchanges.
Further, Martinez noted yesterday that Santiment's on-chain data showed that more than 246 million FTM tokens worth $113.2 million were sold or redistributed last week.
In this process, the bulls and bears faced a crucial battle ground. Prior to Fantom's recent surge, the price was stuck between two significant supply walls. Martinez wrote:
One acting as support between $0.25 and $0.38, where ~10,000 addresses purchased ~783 million $FTM. And the other one acting as resistance between $0.43 and $0.49, where ~3,000 addresses bought ~656 million FTM.
Today Martinez reported that the bulls prevailed. Fantom overcame the significant supply wall and turned it into support. "Notice that Intotheblock shows no other important resistance barriers ahead of FTM, which may suggest FTM is preparing for an important upswing," the analyst added, pointing out the massive upswing potential Fantom is now presenting.
The technical analysis confirms the victory of the bulls. With the current price at $0.5181, FTM has turned resistance into support. Now, FTM could enter a short consolidation and perhaps retest the new support at $0.4911 before pushing through the resistance at $0.5270.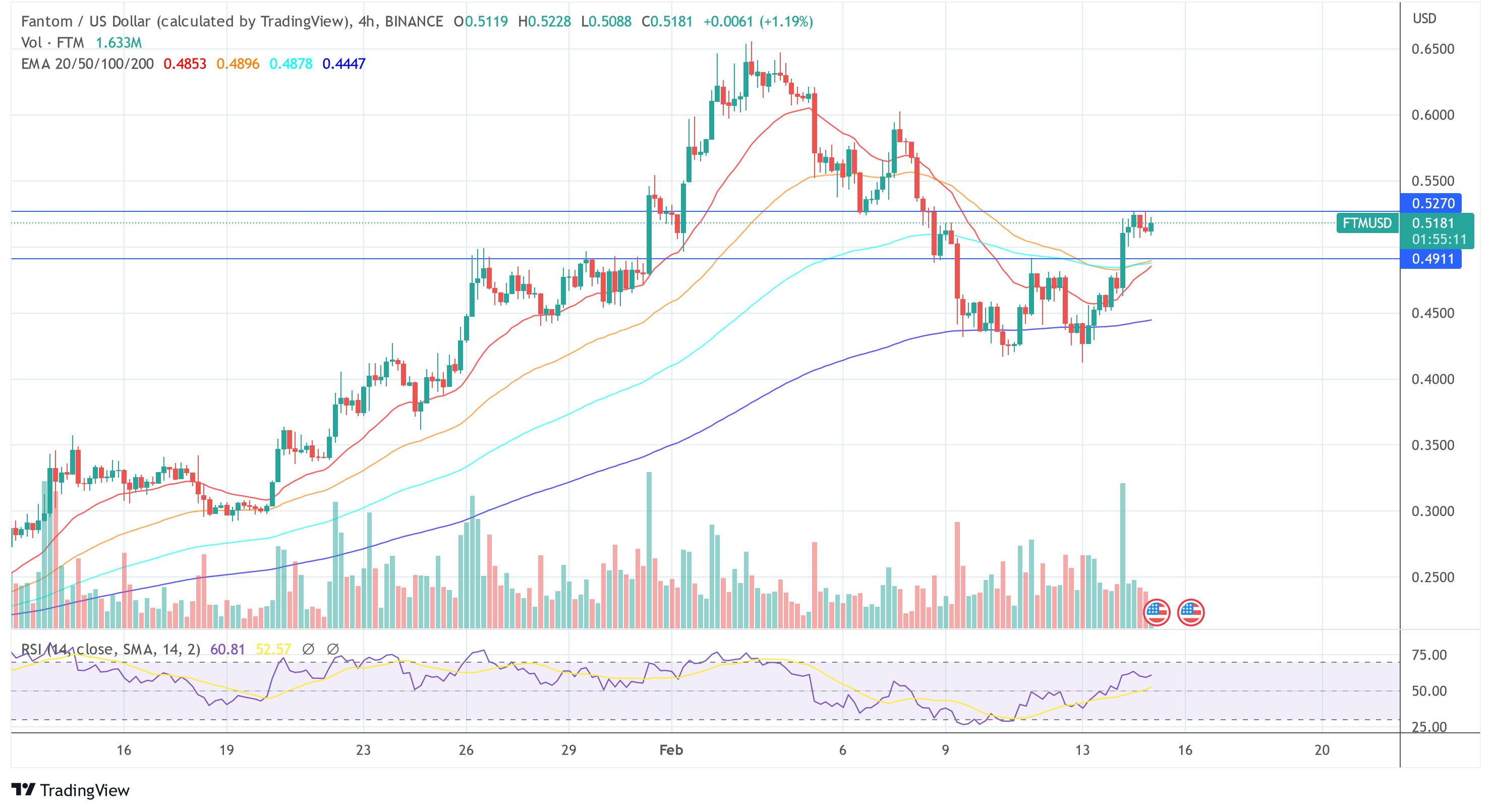 Featured image from Analytics Insight, Chart from TradingView.com