Cosmos (ATOM) has been on a remarkable rally over the past few days in spite of the price of Bitcoin stalling and actually undergoing a bearish reversal. The popular altcoin has gained 25% in the past 24 hours alone, setting a new all-time high price.
Analysts say the rally in the price of this altcoin could trigger a surge in the price of another popular altcoin, Algorand (ALGO).
Cosmos Gain Could Send Algorand Higher: Here's Why
Analysts believe that Cosmos' ongoing rally could set off a rally in Algorand, another cryptocurrency. One trader shared the chart below on August 23rd, drawing attention to the similarities on the charts. The analysis suggests that ALGO is primed to surge to a new high, likely above $1.00 if it is to follow the path Cosmos took.
Both charts have similar technical formations, including similarly-positioned moving averages and an eerily similar internal trend line.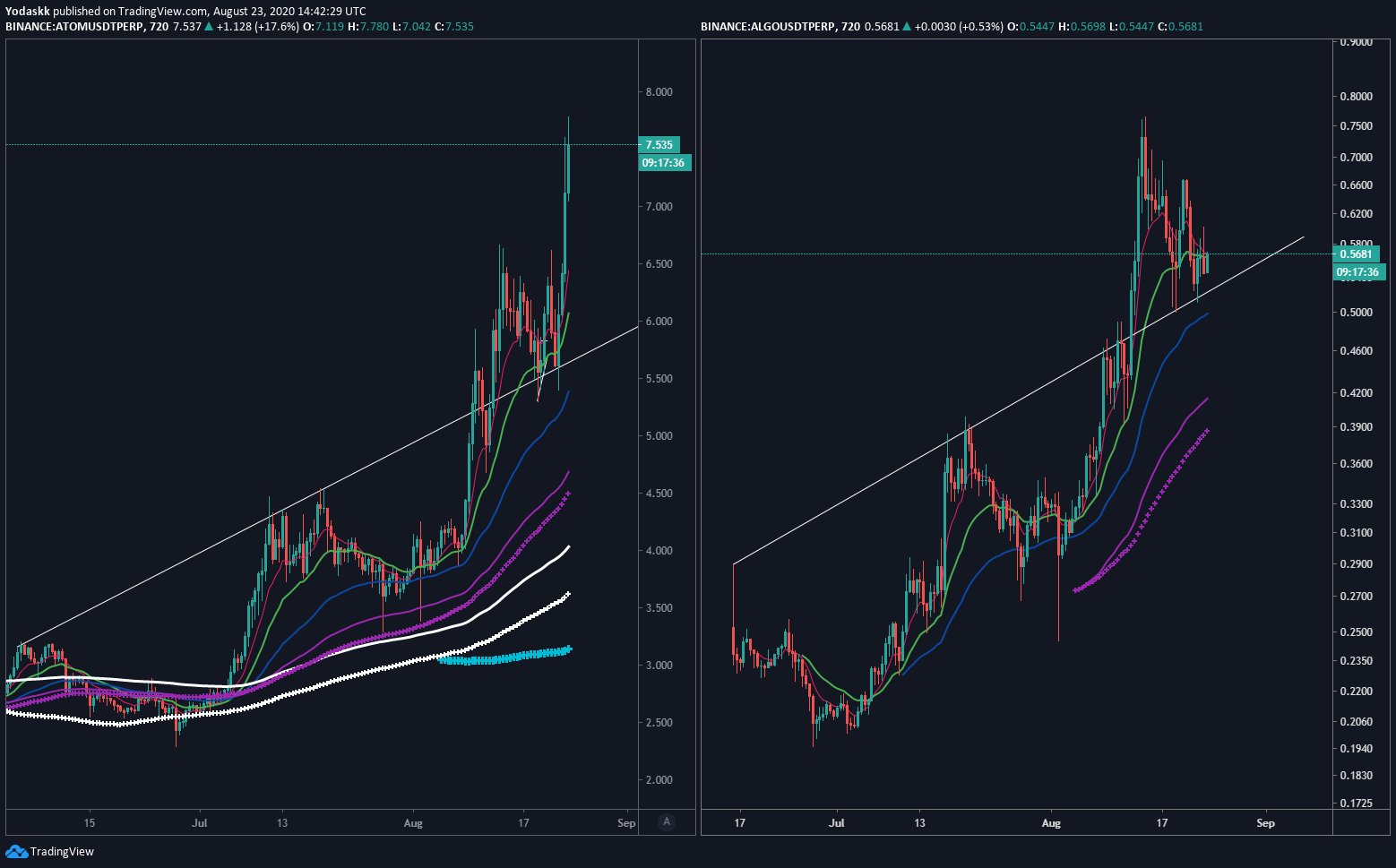 Chart of Cosmos' and Alogrand's price action over the past few months with a fractal analysis by crypto trader Coiner Yaodx. Chart from TradingView.com
The similarities between the two cryptocurrencies were echoed by another trader, who said that he's "going to see if ALGO follows ATOM a bit."
Altcoins May Take the Backseat
Altcoins like Cosmos may soon take the backseat, though, especially with Bitcoin reaching a pivotal point in its trend.
Volatility is expected with the price of BTC as the Bollinger Bands tighten. The bands are a technical indicator used to denote market volatility and important technical levels.
Analysts say that when Bitcoin is undergoing volatility, altcoins are supposed to take the backseat due to investor psychology.
Mohit Sorout, a founding partner of Bitazu Capital, remarked to NewsBTC;
"Most (altcoin) cycles in crypto are centered around bitcoin volatility. When it dries up, no one wants to trade btc which becomes evident from the volume as well. This leads to a large uptick in speculation on alts, driving their prices up – typically alts with strong narratives & large scale memetic behavior get the most volumes."
As Nik Patel, a popular crypto trader and the author of "Altcoin Trader's Handbook," echoed this analysis. He said that Bitcoin may outperform altcoins until the asset moves to a new all-time high above $20,000.
Featured Image from Shutterstock
Price tags: atomusd, atombtc
Charts from TradingView.com
25% Cosmos (ATOM) Rally Could Send This Popular Altcoin Flying