Altcoins have been absolutely dominated by Bitcoin over the last several years of crypto bear market. While the first-ever cryptocurrency has reached nearly 50% of its former all-time high, most altcoins remained down 90% or more.
However, based on probabilities alone, an altcoin recovery that brings the assets more on par with Bitcoin may be brewing. Here's what the data suggests.
The Incredible Altcoin Boom That Burst The Crypto Bubble
When the mainstream public first learned about Bitcoin in 2017, they FOMOed into the asset driving its price to its peak at $20,000.
At the same time, money-hungry investors bought up any altcoin they could hoping to find 'the next Bitcoin.'
Altcoins like Litecoin, Ethereum, Ripple, and countless others surged to all-time high valuations.
Related Reading | Alts Pumping on Cryptocurrency Exchange Listing Brings Back Memories Of Bull Market
After the bubble popped, altcoins crashed by 90% or more. Many remain down by nearly as much even today and after nearly three years passing.
Bitcoin, however, has recovered a large portion of its former high.
During 2019, Litcecoin's halving brought some buzz and momentum back to altcoins. But Bitcoin once again stole the show, rocketing to $14,000 and leaving alts decimated in its wake.
Sentiment in altcoins has never been lower, but based on probabilities alone, a turnaround could soon be coming.
Litecoin Could Soon Lead Alts To Major Recovery Against Bitcoin
Litecoin often acts as a leading indicator for the greater crypto market. It can even tip off traders as to what to expect from Bitcoin or other alts.
It led the initial rally in early 2019 that prompted Bitcoin's breakout bull run that summer.
Litecoin may once again be providing some interesting clues on what's to come in crypto.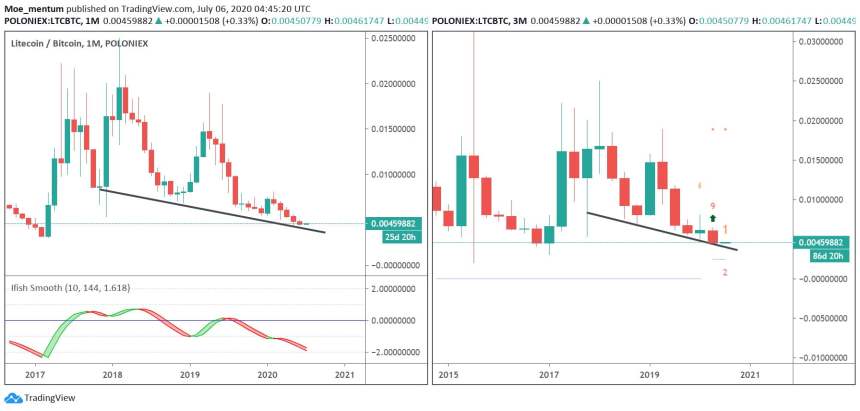 Litecoin LTCBTC 1M & 3M Divergence, Fisher Transform, TD Sequential | Source: TradingView
The Fisher Transform indicator on the LTCBTC trading pair has given a reading of a -2 deviation. This suggests there's only a tiny, 8% chance of Litecoin declining further against Bitcoin.
Related Reading | These Alts Set a New ATH While Bitcoin And Ethereum Tank
LTCBTC is also at the range low, is extremely oversold, and a perfected TD 9 buy set up triggered on  3-month time frames. The TD Sequential indicator has been highly reliable in crypto trading on lower timeframes like daily and weekly.
The largest timeframes, however, are given the most weight in technical analysis, making the signal that much more important.
This suggests that after 27 months' worth of downtrend, Litecoin is ready to regain against BTC.
And with the asset commonly acting as a leading indicator for all altcoins, a much-needed alt season could finally arrive.