The recovery has continued into its third day and markets have remained green during this morning's Asian trading session. Bitcoin has put another 4.7% on and is trading just over $9,000 which has pulled many of the altcoins back up again. A couple of them are in the red by a percentage or two but most are showing positive gain. One leading the way at the moment is Tron.
Coinmarketcap reports that TRX is up 17% this morning, trading at $0.039 from $0.034 24 hours ago. This does not sound a lot but percentage gain wise it makes it today's top performing altcoin. Tron has had a rough ride this year, falling 85% from its pump to $0.26 in early January to current levels. Over the week TRX has shown gains of 11% however over the month it is down 13%. In satoshi levels it is up 11% on the day at 453 sats, a similar gain can be seen looking at the monthly chart. This time last month TRX traded at 390 satoshis and has been in a down trend since its two peaks in January.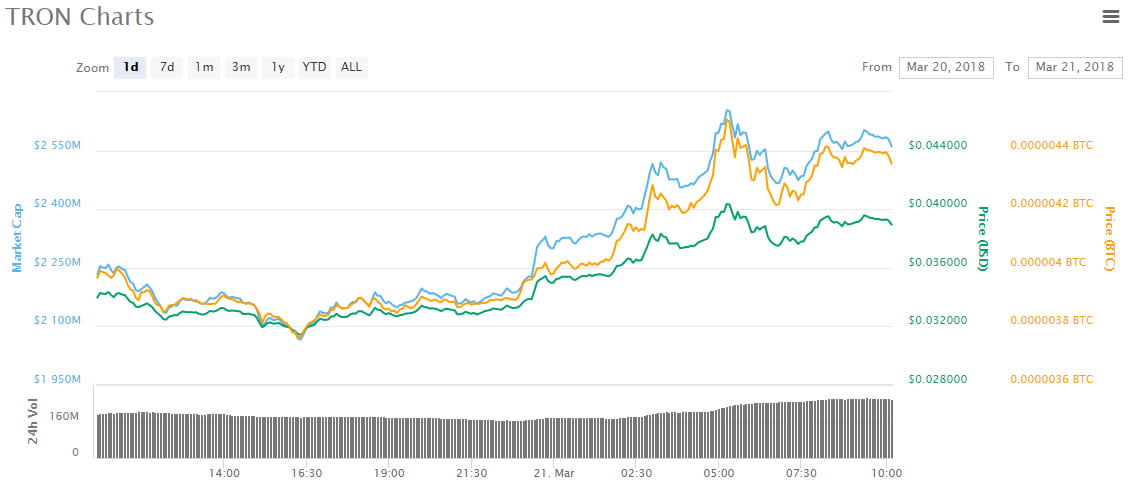 Tron has had a tough time on social media with commentators deriding founder Justin Sun for his constant partnership announcements. The entertainments based cryptocurrency has made a number of partnerships but none large enough to spur the level of fomo it had at the beginning of the year. Current interest has come as the countdown to the Tron testnet diminishes and Sun and Co are actively pumping it on Twitter. The testnet is due to launch on March 31, it will remove the dependency on Ethereum and opens doors to larger markets. The developers and community are excited about the testnet launch which precedes the mainnet launched planned for the end of May.
TRX is traded predominantly on Binance which has 56% of the total volume. In the past 24 hours $258 million has been traded in Tron, its market capacity is $2.5 billion and it is ranked at 16th. If the testnet is successful and more partnerships follow prices could start to recover faster.
Other altcoins with double digit growth during the Asian trading session include Cardano, Iota, Nano, Icon, and Verge.
More on Tron can be found here: https://tron.network/
FOMO Moments is a section that takes a daily look at the top 25 altcoins during the Asian trading session and analyses the best performing one, looking for trends and fundamentals.