The market correction has begun. Hopes that 'tax day' in the US would induce more bullish momentum have faded and buying pressure has largely been exhausted. Crypto markets are retreating a little during the morning's Asian trading session, led once again by Bitcoin which has lost 1% on the day falling back under $8,000 once again. In the repetitive cycle we keep witnessing this has dragged most of the altcoins down with it, albeit marginally. One or two seem to be faring much better than the rest this morning and leading the way at the moment is Stellar Lumens.
Coinmarketcap is reporting an 11% gains for XLM during the morning's trading in Asia. Most other altcoins are marginally up or down but very few are showing double digit gains. Stellar is currently trading at $0.31 up from $0.28 this time yesterday, over the week it has gained 55% from $0.20 the same time last Wednesday. The monthly picture is even brighter with Stellar climbing over 85% from its low of $0.167 on March 18. Against Bitcoin XLM is up 12% on the day to 3920 satoshis from 3500 sats this time yesterday. Over the past week Stellar has strengthened 34% against BTC from 2925 satoshis the same time last week.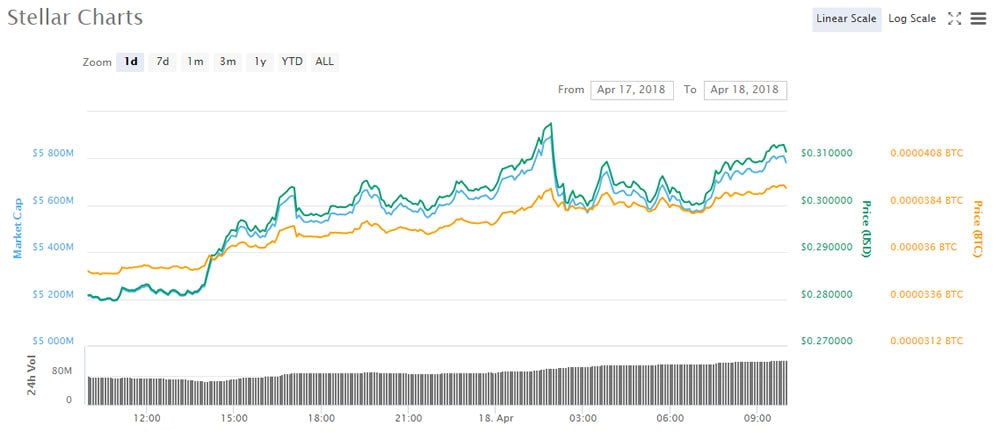 Momentum has been largely driven by general positive market sentiment for all cryptocurrencies over the past week or so. Those that had the biggest losses such as Lumens and Cardano seem to have rebounded faster as traders and investors stock up on them at low prices. A number of build challenges and hackathons announced on their Twitter feed have kept the community busy and the altcoin was recently listed on Coindirect and Buybit.
The majority of trade in Asia this morning has been on Binance which commands 30% of the total volume. South Korean's have been busy with it also as Upbit and Gopax are second and third with trade in KRW. Total XLM volume has increased over the past 24 hours by over 60% to $121 million. Stellar has remained firmly in the top ten for some time now and is currently 8th position with a market cap of $5.7 billion.
Total crypto market capitalization has remained stable over the past day and currently sits at around $326 billion. If the bears can be held off, upward momentum may continue. Other altcoins having a solid morning during Asian trading include Nem, Bytecoin and Steem.
More on Stellar can be found here: https://www.stellar.org/
FOMO Moments is a section that takes a daily look at the top 25 altcoins during the Asian trading session and analyses the best performing one, looking for trends and possible fundamentals.