Ethereum, Bitcoin Cash, Neo and Nem got smashed while VeChain, Dogecoin and Nano survived the red month.
August will probably go down as the worst month in crypto for 2018. There were few survivors of the massive rout that dumped the prices of many altcoins to their lowest levels for over a year. Following gains in July things turned south rapidly and the bears pummeled the markets to a low of below $200 billion. In the first two weeks of the month markets lost 30% to crash to $189 billion before recovering to $226 billion by the end of the month making the loss 16% overall.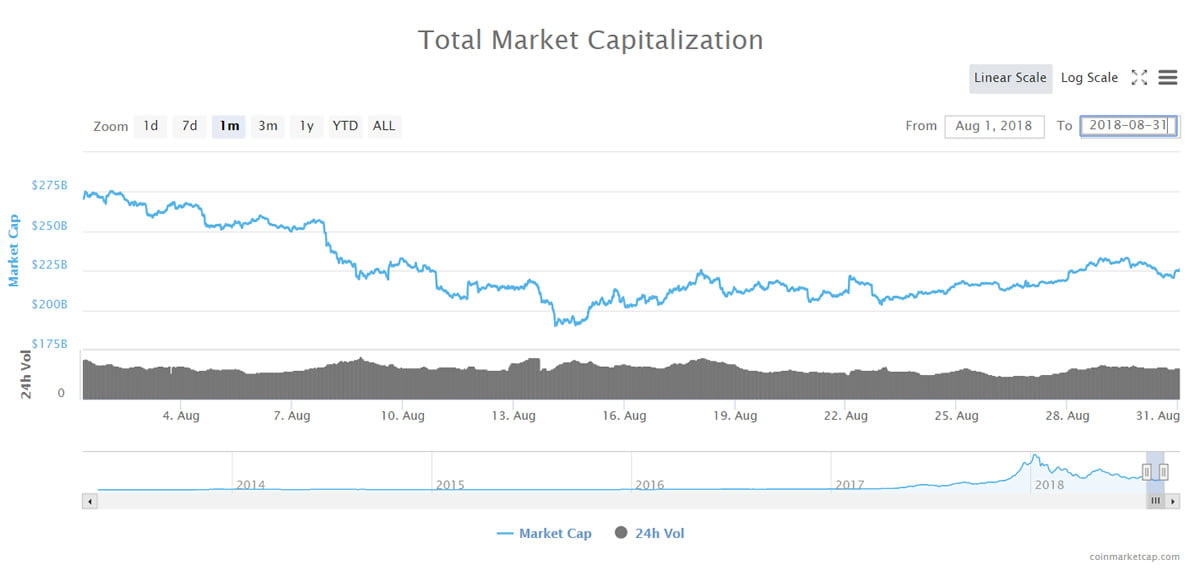 Bitcoin dropped 8% throughout August falling from around $7,600 at the beginning to $6,980 by month end. Its lowest point was on the 14th when it fell to $5,985. The good news for BTC was that its market dominance rose by 5% from 48% to 53.2% over the month indicating that the altcoins once again have taken the brunt of the beating.
August Crypto Winners
Tether could be considered one of the few winners in August since it has moved up the market capitalization chart to 8th spot overtaking Cardano and Iota. Both altcoins have lost so much market cap that USDT's $2.7 billion has moved it up the charts. Back in June Tether was in 12th spot below Tron and Neo which have dropped back even further this month.
VeChain was the only altcoin in the top twenty to make a gain in August, around 6% to end the month at $0.016. The token swap to VET and associated airdrops would have affected prices for this altcoin. A late spurt for the usually static Dogecoin also saw that rise 6% across August and Nano had a riot with a huge jump of 76% to end the month at just over $3.
August Crypto Losers
Ethereum got absolutely battered during 'red August', losing 33% from $420 to $280. It is the lowest level for ETH since this time last year when markets were largely bullish. The big drop has been blamed on failing ICO projects dumping Ether into the markets and a general slide in all other ERC20 tokens. Ethereum was still lulling around this depressed level at the end of August while Bitcoin had already made a recovery.
XRP fared only a little better shedding 23% from $0.43 to $0.33 during the month. Its lowest level this year was on the 14th when it fell to $0.26, back to last year's pre-bull run prices. Bitcoin Cash crashed almost 30% in August when it lost $220 falling from $760 to $538. More 2018 lows were recorded when BCH dropped to $480 on August 14.
Crypto number five, EOS, lost around 18% last month ending it at $6. It has shown a better recovery from the mid-month through than its brethren further up the market cap chart. Stellar, which had a sterling month in July climbing over 50%, lost most of those gains in August when it dumped 22% from $0.27 to $0.22. Litecoin has been suffering also with no news whatsoever out of the LTC camp for some time now. LTC has lost 23% on the month ending it at just over $60.
Cardano has been one of the worst performing altcoins for a number of months and August painted a similar picture as ADA dropped 28% to end the month at $0.10. Rounding out the top ten is Iota which has also lost 22% falling from $0.93 to $0.72.
Monero has been more resilient that most of the other altcoins only dropping 3% or to end August close to where it started at $120. Greater losses have been seen in the top twenty altcoins with Tron dropping 27%, Dash falling 17% to just over $180, Neo getting smashed 33% to end the month below $20, and Ethereum Classic not benefiting from Coinbase's listing as it also fell nearly 19% from $16 to $13.
The outlook was equally grim for Binance Coin falling 18%, Nem crashing 37%, Tezos down 28%, and Zcash rounding out the top twenty with a 25% decline to end the month at $150. A number of altcoins previously ranked higher for market cap have done so badly that they've dropped out of the top twenty completely; these include OmiseGO, Lisk, Ontology, 0x, Qtum, and Icon.
Crypto markets reached their lowest levels in 2018 last month but the 16% overall decline was less than in March when they dumped over 40%. This could be a sign that the selloff has slowed significantly and we could be nearing the bottom. To summarize the only survivors in August were VeChain, Dogecoin and Nano while Ethereum, Bitcoin Cash and Neo got trounced.
All figures from Coinmarketcap.com
Previous months: February | March | April | May | June | July