SXP, the native token of Swipe, a crypto-focused payment network, debit card, and mobile wallet service, jumped 25 percent in the last 24 hours.
The gains followed a string of uplifting market news. Traders expressed their bullish convictions over Swipe's new whitepaper launch, as well as the start of several new products.
Their upside sentiment took the SXP/USD exchange rate towards its record high at $3.177.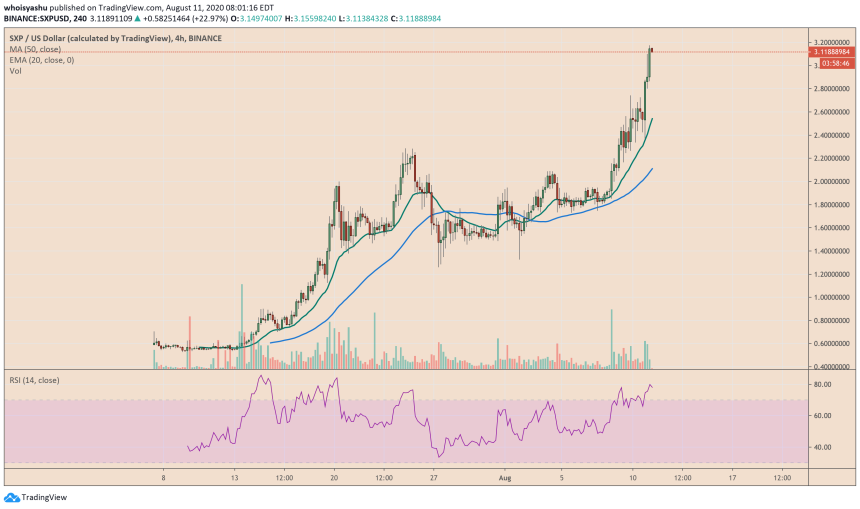 SXP price uptrend. Source: TradingView.com
The profits in the Swipe token market came as a part of the wider uptrend that started after it went live on Binance on July 6. In its first parabolic bull run, SXP/USD surged by 238 percent, a move that followed a steep downside correction of up to 31 percent.
The uptrend continued, nevertheless. Traders bought SXP on each dip, thereby pushing the token price further higher into its debut fiscal quarter. As of today, SXP/USD was trading 438 percent higher above its first-day opening rate of $0.589.
What Drove Traders to SXP?
So it appears, the involvement of Binance–the world's leading cryptocurrency exchange by volume–was enough to excite the bulls in SXP's early days. The trading platform acquired Swipe, making it a legitimate token before its hundreds of thousands of users across the world.
The upside sentiment for SXP picked momentum as the token gained listing on competing exchanges, including FTX. The Swipe team further announced the launch of its Visa-enabled crypto card in mid-July. Binance also introduced its flagship card powered by Swipe.
The days leading up to its all-time high level also saw the firm entering a partnership with Elrond Network, DeFi project Compound, Travala.com, Expedia, Booking.com, as well as the introduction of SXP-focused margin trading on Binance.
Swipe has partnered with @Travalacom, a @Expedia & @bookingcom partner, to accept $SXP as a preferred payment at more than 2 million hotels & airlines around the world! pic.twitter.com/8Xd7X6YsLh

— Swipe (@SwipeWallet) July 24, 2020
As on August 1, Swipe's social engagement had crossed 100 million, with crypto-focused sentiment analysis platform Santiment adding that it represented "deeper interactions" and indicated "greater community participation."
Moving further, Swipe decided to join the decentralized finance boom with the introduction of Swipe Network on Binance Smart Chain. The service allows users to earn up to 12 percent annual percentage yield by staking their SXP tokens.
"Swipe plans to enable staked SXP to earn the processing fees it charges in the future as well on top of the collateral rewards from staking," the company announced on August 1.
That further raised the demand for SXP tokens among speculators.
New Upgrade
As of later, Swipe relaunched a simplified version of its whitepaper to reach more users. It also announced to upgrade the SXP token. It would, as the company said, "destroy and remove all admin keys and make the protocol fully decentralized with control through on-chain governance using SXP."
The Swipe token was now correcting lower after establishing its all-time high. But analysts expect the pair to continue its bull run.
"By leveraging #Binance's products, assets and relationships, Swipe will grow aggressively these next 6 months," one analyst said. "Oh, and we're in a bull market."
The Swipe token price was $2.995 at the time of this writing.