Binance Coin (BNB/USD) is bracing for a massive bullish move in the sessions ahead, a trend that could see the exchange token rise above $450.
The analogy comes from an independent analyst on Twitter, operating under the pseudonym of Crypto Kaleo to distribute day-to-day cryptocurrency updates across its 142,000 followers. Kaleo predicts a wild upside rally in the BNB/BTC instrument as he compares the pair's current price movements with those last month — that led a parallel instrument, the BNB/USD, to its current record high of $422.
The Breakout Mood
In February 2021, BNB/BTC reached a new high in a breakout move that followed a consolidating move below a descending trendline and pattern top (0.0032 satoshis). After hitting 0.0067 satoshis as its breakout target, the pair started consolidating again under a new descending trendline pattern. Only this time, bulls waited for days before pursuing an upside breakout.
Later, the BNB/BTC pair consolidated near the level coinciding with its descending trendline top at 0.0067 satoshis.
"The first one back in mid-February went nearly vertical afterward," said Crypto Kaleo, mentioning the chart as shown below. "I expect something similar here, though probably a bit slower considering the higher market cap/longer accumulation period prior."
The analysis appeared as the cryptocurrency market, on the whole, risked correcting lower under Bitcoin's influence. The BTC/USD exchange rate again failed to log a breakout move above $60,000. Traders unwound their upside positions to secure short-term profits and dropped the pair to as low as $55,400 on Wednesday. It was attempting to rebound this Friday, albeit with weaker volumes.
BNB's fundamentals typically take cues from the Bitcoin market. The correlation efficiency between the two assets currently sits near 0.75. The general market consensus for Bitcoin is bullish. It means Binance Coin also has a likelihood of tailing the flagship cryptocurrency to its gains.
BNB/USD
Kaleo spotted more similarities in the BNB/USD price movements in February 2021 and right now.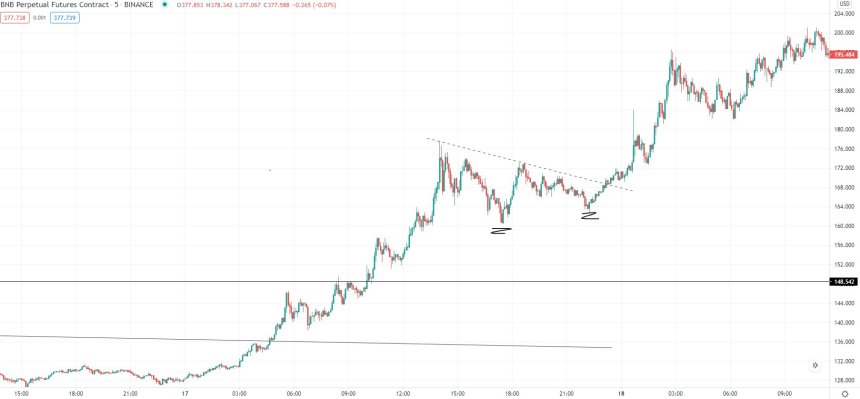 and in April 2021:
"Extremely similar also," Kaleo stated, "both accumulated/accumulating slightly higher than the ATH they recently broke. "Continuing to play out like the time above. I'm expecting a surge out of this range to a new all-time high and price discovery any time now."