A few hours ago Bitcoin revisited its lowest level in 2018. After a week of down trending and failure to break key resistance levels this latest plunge comes as no surprise.
Bitcoin Revisits 2018 Low
With a 5% slide Bitcoin dumped from $3,450 down to $3,284 during intraday trading. This repeats the yearly low it made almost a week ago on December 8. According to Coinmarketcap BTC fell sharply around 19.00 UTC after spending most of the week above $3,400.
Bitcoin reached $3,680 briefly on Monday but has been in a downward slide ever since, hitting the bottom a couple of hours ago before rebounding a little. At the time of writing BTC was trading at just over $3,300. It is the second time it has hit this level and is likely to stay there for a while before falling further.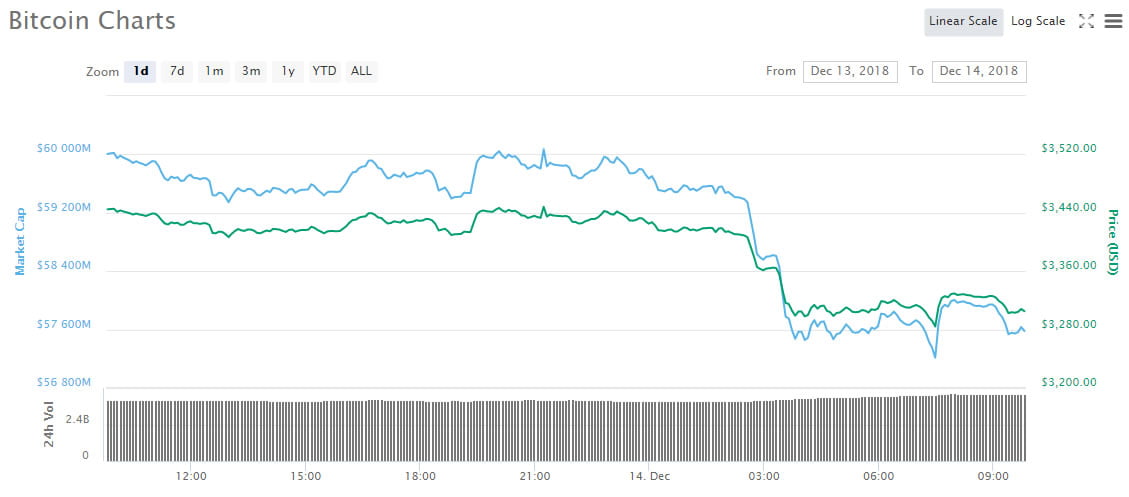 Bitcoin has almost halved since the same time last month when it was trading closer to $6,400. Since all-time high, a year ago next week, Bitcoin has hemorrhaged 83.6% to its current low. Previous crashes have been worse however so the daddy of digital currencies is not out of the woods yet.
Analysts have predicted a fall to $3,000 which is looking more likely every day as markets weaken further. Friday's have been particularly painful in crypto land for the past few weeks. Last Friday saw a $15 billion dump to a new low for the year and previous ones have not been much better.
Total cryptocurrency market capitalization has not quite hit a new low at the moment but is very close to it. With a level of just below $105 billion at the time of writing it does not have that far to go and the weekend could see things plunge below the psychological barrier of $100 billion.
The near future sees no catalyzing factors to reverse this trend and crypto aficionados are pinning hopes on institutional heavyweights such as Bakkt and Fidelity getting their products off the launch pad.
The general public, fed by mainstream media FUD, has largely written off Bitcoin and cryptocurrencies as a flash in the pan. Only the hardcore hodlers, and whales that loaded up years ago, are still in the game it seems.
Those that have done their research and actually understand what they are investing in will weather the storm. A further drop for Bitcoin is unlikely to faze the people that are here for the long run.
Image from Shutterstock