One of the worst performing cryptocurrencies this year has been Bitcoin Cash but in a seemingly miraculous recovery it has surged 28% today alone.
As crypto markets continue to rebound off their lowest levels of the year, some coins are performing better than others. Bitcoin and Ethereum have been slow and steady, yesterday EOS pumped 30% but today it is the turn of Bitcoin Cash.
Since its all-time high of over $4,000 back in December last year BCH has lost more than its brethren, plummeting over 98% to an all-time low of $75 last Saturday. Many had written it off to join the ranks of dead coins but today it has pumped 34%, leading the two day recovery in the top ten.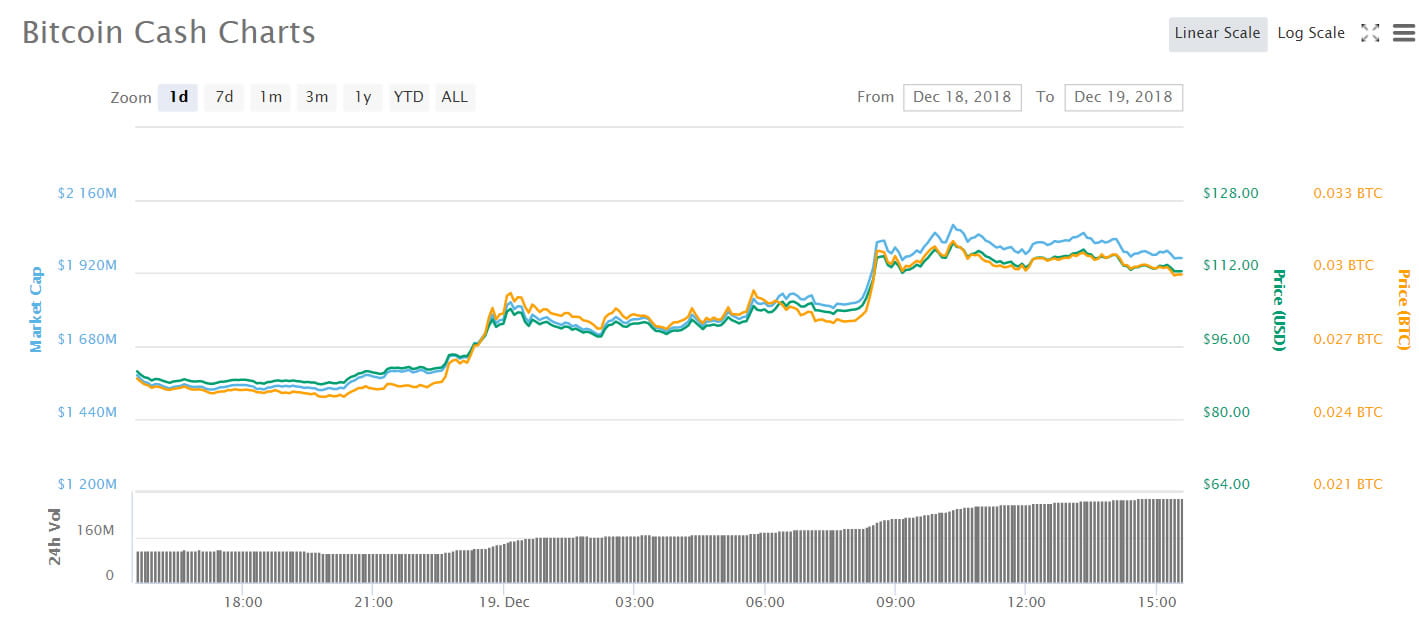 From an intraday low of $88, BCH climbed to $118 over the past 24 hours before pulling back slightly to trade at around $115 at the time of writing. Trade volume has also surged from $115 million to almost $300 million over the day.
At the time of writing during the Asian trading session, South Koreans were pumping BCH with the biggest share of volume on Upbit in KRW. Binance, Huobi and Bithumb followed as Asian traders load up on dirt cheap Bitcoin Cash.
The surge has rescued this crypto asset from plunging into the digital abyss. It has managed to climb the market cap table again and regain sixth spot surpassing Tether and Litecoin. It has also remained ahead of its arch nemesis, Bitcoin SV which is rapidly sliding out of the top ten. These two spent some time jockeying for position and flipping each other following the hard fork a few weeks ago.
It seems that BCH has emerged victorious, at least today anyway. BSV has only shown a 6% gain on the day and remains around $85. It is currently in ninth spot and will be surpassed by Tron soon which also keeps making solid gains and is up itself 12% today.
There do not appear to be any obvious fundamentals driving the BCH bull run aside from a wallet release in Bangladesh by a company called Cointextio. The wallet will allow residents of the nation to send and receive Bitcoin Cash by simply using a text message service.
Cryptocurrency markets in general have been on a big run lately, recovering over 20% from their lowest point of the year last weekend of $100 billion total market capitalization.
Image from Shutterstock