On Thursday, Bitcoin Cash (BCH) re-entered the top ten market capitalization rankings after a 36% overnight gain that compounded to 68% growth for the week. BCH's per-coin value jumped from $1,068 to $1,462 in less than 24 hours leading up to Thursday, extending a significant rise from its weekly low in the $800 region.
A Revival Before The Hard Fork
Bitcoin Cash has a lot of catching up to do to Bitcoin in terms of the size of its network. After reaching a high of nearly $4,000 back in 2018, it then dropped considerably and settled to around $300-400 for the next couple of years. A big jump in recent weeks has seen it climb back to more than $1,400.
The revival of what was once a mainstay of the top-10 lineup cryptocurrencies comes just over a week before Bitcoin Cash's bi-annual hard fork on May 15, which will bring two minor but important network changes.
The unconfirmed transaction chain cap in Bitcoin Cash has been removed, allowing for more micro-transactions to be broadcast without having to wait for a block confirmation.
On Bitcoin Cash, blocks are mined every 10 minutes, and the old unconfirmed chain limit was set at 50 transactions. High-volume applications may now make 50 near-instant transactions before needing block confirmation. In the upcoming hard fork, this limit will be fully removed.
Related article | Bitcoin Cash Rallies 7%, More Upsides Likely If BCH Clears 100 SMA
The implementation of several "OP RETURN" outputs is the other big reform scheduled for May 15. Simply put, the Bitcoin Cash blockchain currently allows for the inclusion of miscellaneous data, such as text, images, and other data forms, into a transaction. At the moment, a transaction can only have one "OP RETURN" output — one image, text, etc. Multiple pieces of miscellaneous data may be used in a single transaction thanks to an imminent network update.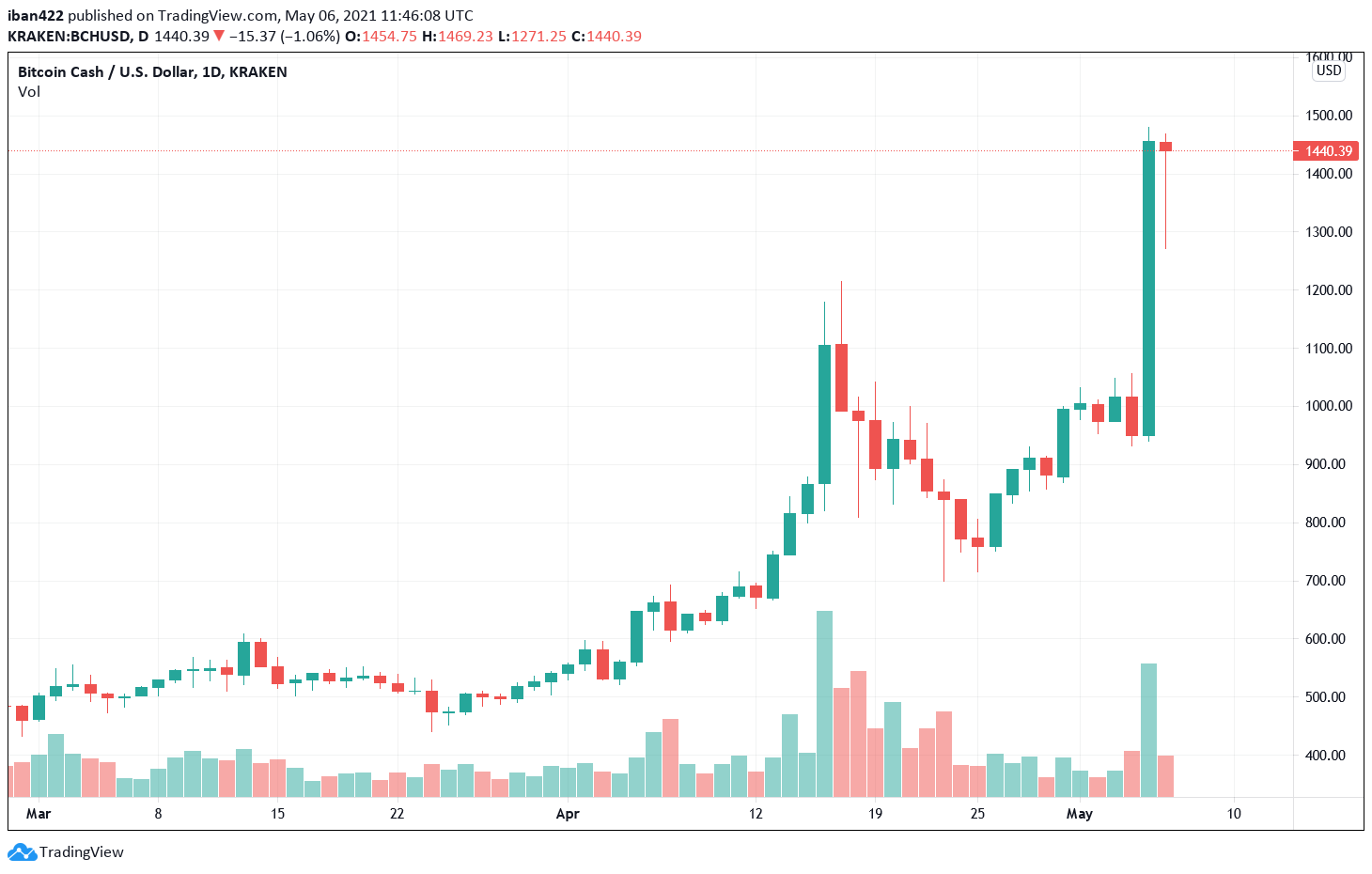 The Bitcoin Cash Network Upgrade aims to solve the issues with centralization and transparency by introducing the concept of CHIPs aka Cash Improvement Protocols. these are standardized proposals that will modify certain aspects of BCH. These CHIPs will work as full node client programmers aiming to find consensus and reject any significant modification.
The market price of Bitcoin Cash, like the rest of the cryptocurrency world, has been that since the beginning of the year. According to Bitinfocharts' on-chain numbers, its overall consumption has also increased.
The number of regular Bitcoin Cash transactions increased by 650 percent from 20,000 in December to over 150,000 at the time of publishing. Between February and April, Bitcoin Cash handled more transactions every day than Bitcoin (BTC), peaking at 414,000 on March 21 compared to Bitcoin's 229,000.
However, the number of transactions from unique addresses increased just 25% from 40,000 to 50,000, a percentage one-fifth of that seen on Bitcoin, according to the same data source.
Related article | Bitcoin Cash Near Key Inflection Zone: Here's Why BCH Could Rally Again
Featured image from Pixabay, Charts from TradingView.com