Anticipation over the up and coming Bitcoin block reward halving continues to make headlines. But Bitcoin Cash, which forked from the original chain in the middle of 2017, already had its halving on Wednesday, April 9th.
Since then, the fifth-largest cryptocurrency by market cap has experienced several setbacks, which has led to more heated discussion regarding the already controversial token.
Bitcoin Cash Experiences Wobble After Halving
Last week, Bitcoin Cash mining rewards were cut from 12 BCH per block to 6.25 BCH. Miners of the BCH network, as a result, have had their revenues cut in half.
Analysis of how this has affected price shows a bearish response. On the day before the halving, BCH closed at $268. But since then, the price has been on a downward trend, pausing briefly over the Easter holiday weekend to continue its slide today.
Currently, BCH is trading at $220, which represents an 18% loss from the pre-halving price. Having said that, over the same period, a declining volume indicates exhaustion and therefore a possible reversal may be in the cards.
However, a death cross, of the 50-day MA crossing below the 200-day MA, on the daily occurred around about the same time as the halving. This shouldn't bode well for the asset, considering the last time this transpired in September 2019, Bitcoin Cash fell 34%, from $323 to $213 over an eight-day period.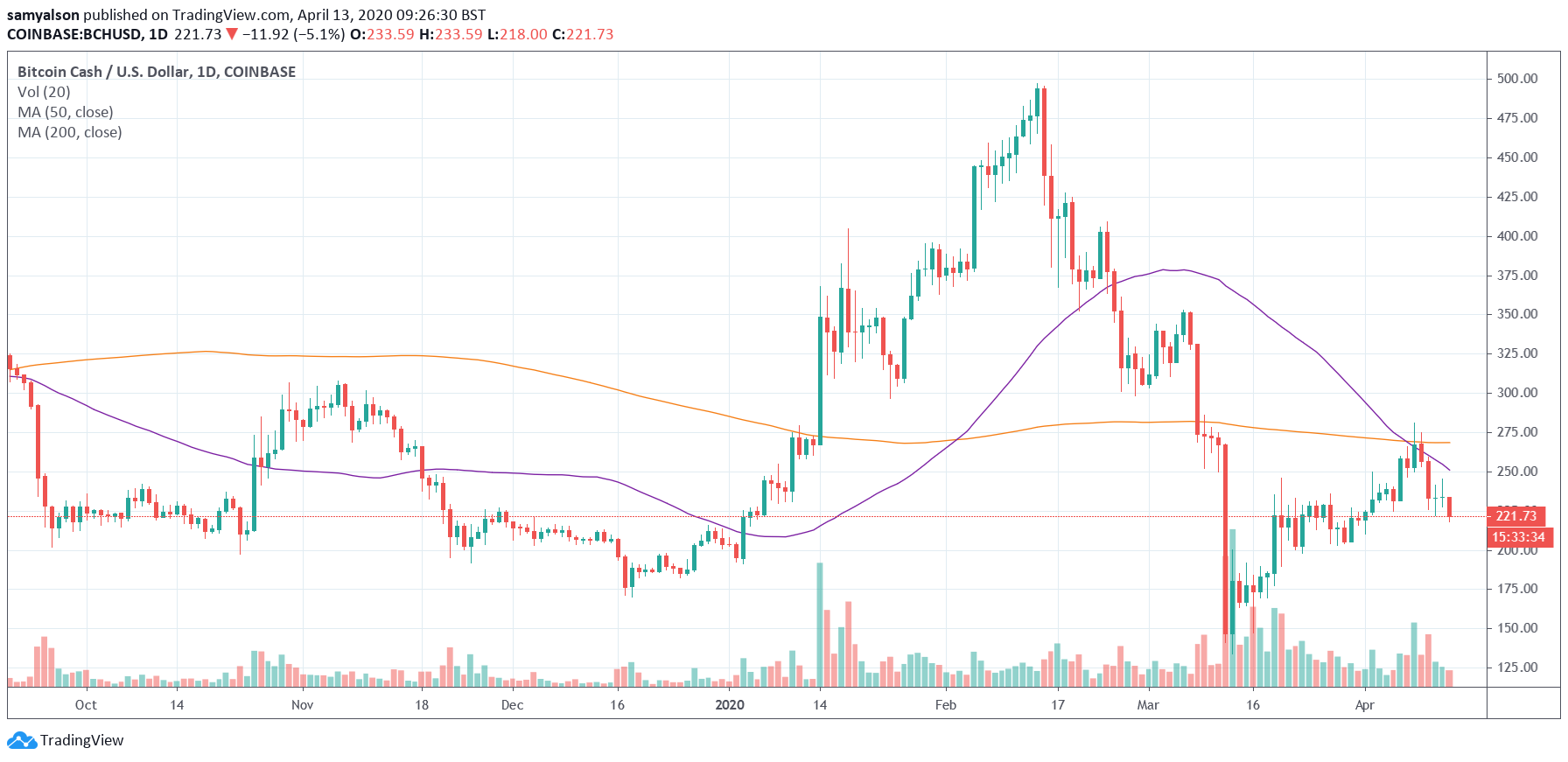 Unprofitable Miners Pull Out on Falling Revenue
Since the halving, the hash rate on the BCH network has plummeted to new lows not seen since March 2019. Hash rate refers to mining power participating in the network. The higher the figure, the greater the network security.
Data from bitinfocharts.com shows that just before the event, the BCH hash rate was 3.6 EH/s (exahashes per second.) However, following the halving, this sunk as low as 1.2 EH/s, a decrease of 67%.


1 EH/s is 1,000,000,000,000,000,000 (one quintillion) hashes per second. For comparison purposes, Bitcoin's hash rate is currently around 118 EH/s.

As expected, unprofitable miners have switched off their equipment. But, much like Bitcoin, Bitcoin Cash operates a similar, but more dynamic mining difficulty algorithm, which will automatically decrease mining difficulty to account for the loss in miners. Therefore "normalizing" profits for those who remain over time.
With that, the founder of CasaHODL, Jameson Lopp tweeted his observations of current block production activity on the BCH network. He noted that since the halving, block production has been oscillating between 1 block per hour to as much as 30 blocks per hour.
The BCH halving has not been kind to its block production; it appears that its custom difficulty adjustment algorithm is being gamed more than ever. Now the network is ping ponging between producing 1 block an hour and producing 1 block every 2 minutes. https://t.co/zPw5udRhQz pic.twitter.com/n11Qyir4Qk

— Jameson Lopp (@lopp) April 12, 2020
Pre-halving, the Bitcoin Cash network usually produced 1 block every 10 minutes or 6 blocks per hour. But the erratic pattern of block production post-halving has led Lopp to believe that some miners have broken ranks to game the difficulty adjustment algorithm.
In short, because BCH uses a more dynamic mining difficulty adjustment than Bitcoin, miners of the former network can game the system by pausing activity when difficulty increases, then resume once difficulty drops.
Photo by Markus Spiske on Unsplash