Bitcoin price this week shocked the crypto world with an over $2,000 collapse from over $12,000 to under $10,000 in just two days flat. Although there's certainly blood in the streets, and a sharp turn in sentiment toward fear and panic, the cryptocurrency is currently holding an important level.
The fall retraced to a key level that during the last major bull market was never lost. The alternative – potentially losing the line – last led to the Black Thursday plummet. The cryptocurrency is clearly at a crossroads and whatever happens next is especially critical.
Bollinger Bands Weekly Mid-BB Held Strong The Entire Last Bull Market
Crypto analysts rely on several tools as part of technical analysis to predict future price movements, find areas that may act as support or resistance and more.
Some of the best analysts the finance industry has to offer have even created indicators to assist themselves and others with this practice.
Related Reading | Time To Pay Attention: Famed Bollinger Band Creator Comments On Bitcoin
The Bollinger Bands are just one type of technical analysis indicator commonly used throughout crypto and other markets. It helps plot various levels of potential support and resistance and is among the best tools for measuring volatility.
And according to the last Bitcoin bull market, the middle-BB – a 20-session simple moving average – supported the cryptocurrency's powerful parabolic ascent the entire way up.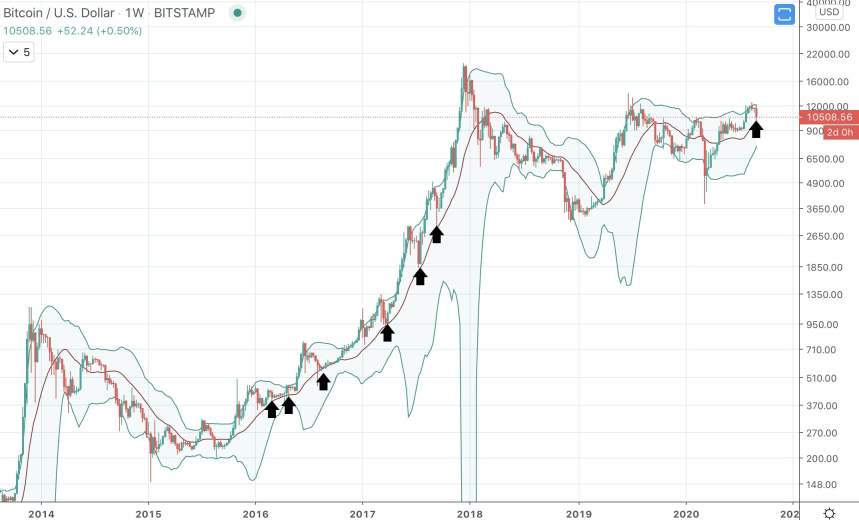 BTCUSD Weekly Bollinger Bands 2016 & 2017 Bull Run Comparison | Source: TradingView
Is Bitcoin Holding Strong Here After Such a Collapse An Early Sign Of A Bull Run?
Now, that same key level is holding once again for Bitcoin. Zooming in on BTCUSD weekly charts shows how the middle-BB kept Bitcoin in a bear market all throughout 2018.
Rising through the mid-BB can be a powerful buy or sell signal. The April 2019 rally is a perfect example of this. The rally grew so strong, and was supported by such a surge in buying volume lit ed to Bitcoin "riding the bands" all the way to $14,000.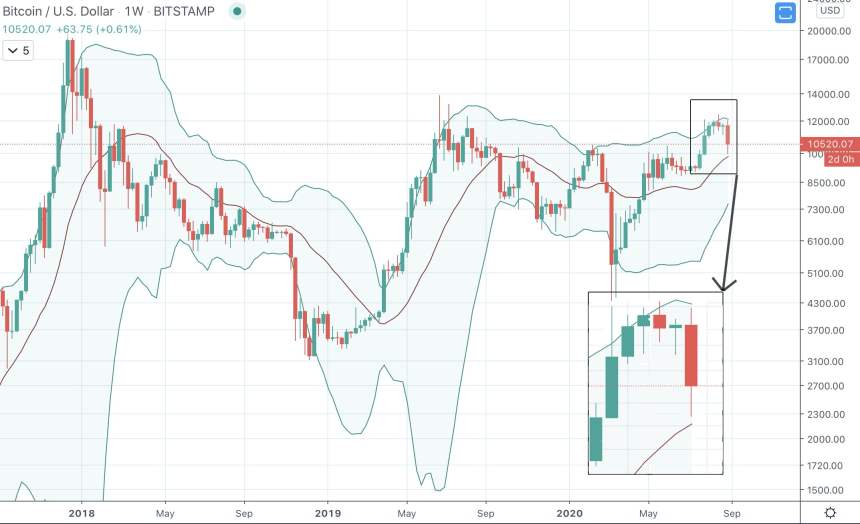 BTCUSD Weekly Bollinger Bands 2020 Mid-BB Holding Support | Source: TradingView
After that top, Bitcoin has since struggled to hold above the mid-BB, even after repeated trips to the lower Bollinger Band. Black Thursday marked the last touch of the bottom band, taking the crypto asset all the way back to the top band at over $12,000.
Related Reading | Why Bitcoin Risks a 40% Correction After its Retest of Bollinger Band Mid-Line
From there, the cryptocurrency is now once again testing the weekly mid-BB and thus far holding. The last time, it didn't, and Bitcoin fell over 50% more. As the April 2019 rally shows a strong close below the mid-BB can lead to an aggressive trend on the other side, so Bitcoin is not out of danger.
Bulls do not want to see any close below the critical line. If it can hold, as the last bull market has shown, it was off to the races and new all-time highs around every turn.
Is that's what is about to happen if Bitcoin can hold weekly support after such a massive crash?