For the first time since mid-March, Bitcoin price dropped below $25,000 as trade volumes decreased and the U.S. Federal Reserve left interest rates untouched based on projections but warned of additional hikes this year to combat inflation.
At the time of writing, Bitcoin was trading at $24,995, down 3.8% in the last 24 hours, data from crypto market tracker CoinMarketCap shows. BTC has now lost 5.26% of its value in the last seven days. Crypto assets may be particularly vulnerable to the central bank's projection of a higher terminal rate later this year.

Source: CoinMarketCap
Bitcoin price had been stable around $26,000 for the past few days as the market processed the SEC's lawsuit against Binance and Coinbase and rising macroeconomic anxiety about interest rate signals from the Fed.
SEC Lawsuits, Hawkish Fed Message Hammer Bitcoin Price
According to Benjamin Stani, head of business development and sales at cryptocurrency trading platform Matrixport, the SEC's lawsuit against the two largest cryptocurrency exchanges is a major factor in the market's recent losses. The majority of altcoins also took a beating in value as a result.
CoinMarketCap data shows that in the past 24 hours, the entire cryptocurrency market cap has dropped 2.7%, to $1.02 trillion, while daily crypto trading volume has decreased 5.3% to $31.89 billion.
BTCUSD drops to the $24K level. Chart: TradingView.com
Despite widespread expectations for a rate suspension, the Federal Open Markets Committee signaled future rate hikes in its statement, which normally dampens investor enthusiasm for risk assets like cryptocurrencies.
Since early 2022, the US central bank has been gradually increasing interest rates, with the most severe effects seen by the riskiest assets. When interest rates rise, it becomes more expensive to borrow money, which leads to lower levels of investment and consumer spending.
And because of the prolonged crypto winter, Bitcoin has been plunging since the beginning of the year. Analysts say it may take awhile for the alpha coin to muster a strong rebound and break past the key $27K or $28K level given the cryptocurrency's sluggish performance of late.
Sluggish XRP Creates Negative Ripples Across Bitcoin Market
Add to the ongoing misery for Bitcoin is the disappointment emanating from the XRP community following the release of the Hinman documents, that many expected would be a savior of sorts to the price of the token and its creator Ripple, whose legal tussle with the SEC has yet to see closure.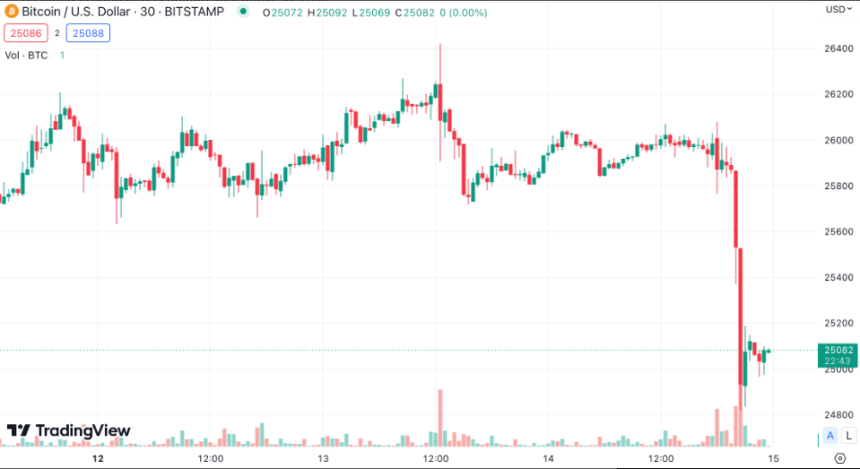 BTC price on a downward trajectory. Source: TradingView.
These Hinman emails are critical in the ongoing case between Ripple and SEC. Whatever negative news comes out of it affects Bitcoin price – and crypto in general – in many ways.
Meanwhile, as technical factors play out, IntoTheBlock reports that Bitcoin-related negativity on Twitter has reached an all-time high. It emphasizes the relevance of this fact, which is that large peaks have typically occurred just before or after price lows in the past.
Santiment, an on-chain analytics company, also reports that the number of Bitcoins available for trading has hit a new low not seen since February 2018. Even while lawsuits continue against Binance and Coinbase, it has been reported that traders have continued to move BTC into self-custody.
Featured image from Pixels