Bitcoin has made an attempt at recovering the losses it incurred late last week. On Sunday, the cryptocurrency rallied as high as $9,200 as buyers stepped in and shorts were squeezed.
Yet order book data indicates that BTC may have a tough time rallying any further.
Over $10 Million Worth of Asks at $9,500 on Binance Alone
According to a crypto trader, traders on Binance have made a stand at $9,500-9,550. According to order book data from the exchange's Bitcoin/U.S. equivalent market, there is over 1,300 BTC worth of orders at that level.
That's to say, there is $10 million worth of sell orders at that region waiting to slow any rally. That is one of the biggest Bitcoin walls Binance traders have collectively formed in a few days, according to the charts.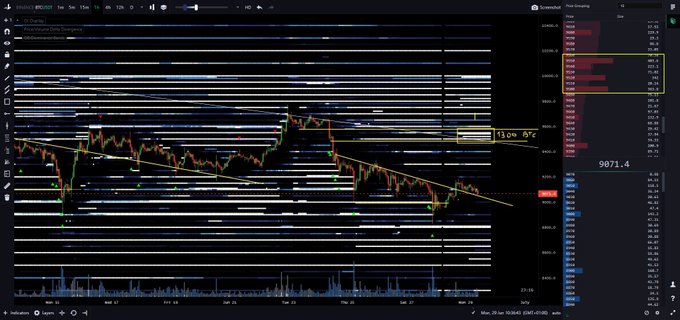 BTC chart over the past few days with order book dominance indicator from trader "Coiner-Yadox" (@yodaskk on Twitter)
Buyers on the Downside
Large sellers may be putting asks at the topside of Bitcoin's price, but there are buyers to the downside.
As reported by NewsBTC previously, a trader observed that a "Bitfinex" whale has begun to stack long orders between $8,600-8,900.
This is pertinent as Bitfinex's order book has been one of the most accurate directional indicators for BTC over the past few months. The book registered a series of strong buy orders in the $5,000s when Bitcoin traded there in April, then called the $10,400 top at the start of June.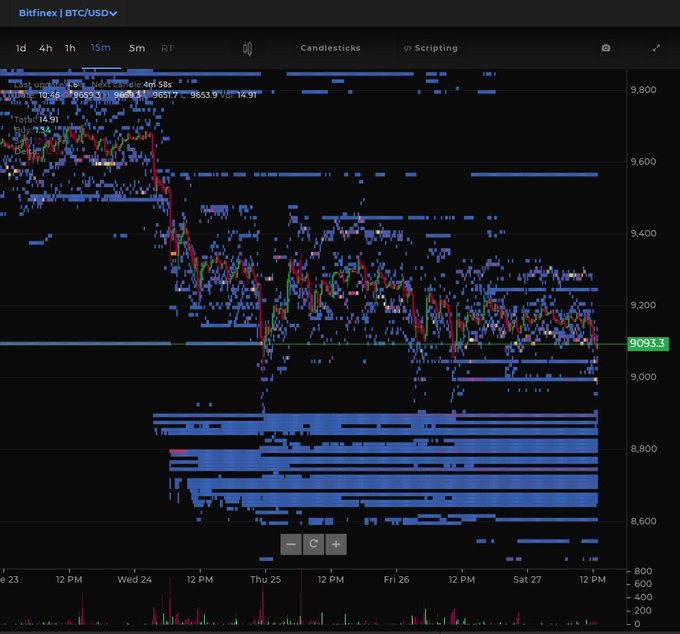 BTC price chart with order book dominance bands indicator shared by day trader "Jonny Moe" (@Jonnymoetrades on Twitter)
In a similar vein of news, Grayscale Investments has continued to add Bitcoin to its trust.
Technology analyst Kevin Rooke has made the observation over recent weeks that the company is adding more BTC its trust than BTC mined.
There is some that debate the validity of this figure.  Yet most agree that this fact alone suggests a growing institutional bid supporting the crypto market.
Bitcoin Bears Likely to Win
It might be bears that win this tug-of-war, though.
On-chain analyst Cole Garner said the following on June 24th about the details of Bitfinex's order book data:
"More importantly, Bitfinex orderbook delta has been skewed massively to the sell side for almost six weeks.The birds-eye-view of BFX's orderbook has been an accurate leading indicator of #Bitcoin's next move nearly every swing for the past nine months."
The "skewed" order book delta adds to a confluence of other bearish fundamentals he identified. These include an influx of withdrawals from miner wallets to exchanges, institutions building a net short position via the CME, and correlation with the S&P 500.
Featured Image from Shutterstock
Price tags: xbtusd, btcusd, btcusdt
There's Over $10M Preventing Bitcoin From Breaking Past $9,500