Bitcoin has been stuck within a consolidation phase for the past several days, which was first seen when the crypto was ranging around $8,600. This was followed by a range expansion when BTC dipped to lows of $8,200 overnight before bouncing back to the mid-$8,000 region earlier today.
This bout of sideways trading may not last long, however, as the cryptocurrency could be on the cusp of a major upwards movement that leads it to break into the coveted five figure price region.
The major movement that leads BTC to this price level, however, may not occur until it taps roughly $7,300, meaning it could see some near-term downside.
Bitcoin to Target $11,500 in the Short Term Because Of These Simple Factors 
At the time of writing, Bitcoin is trading up just under 2% at its current price of $8,500, which marks a notable climb from its daily lows of $8,200 that were set at the bottom of the overnight selloff.
TradingShot – a well-respected technical analyst on TradingView – explained in a recent post that he is closely watching a recently formed inverse head and shoulders pattern for insight into where BTC will go next.
Based on this pattern, which he outlines on the chart seen below, he believes that Bitcoin will retrace towards $7,300 before rallying up to $11,500.
"I expect Bitcoin to retrace now back to roughly 7300 and price the top (inversed) of the Right Shoulder. Assuming the pattern is to a good degree symmetrical, I then expect a peak (before the May Halving) within $11000 – 11500," he noted.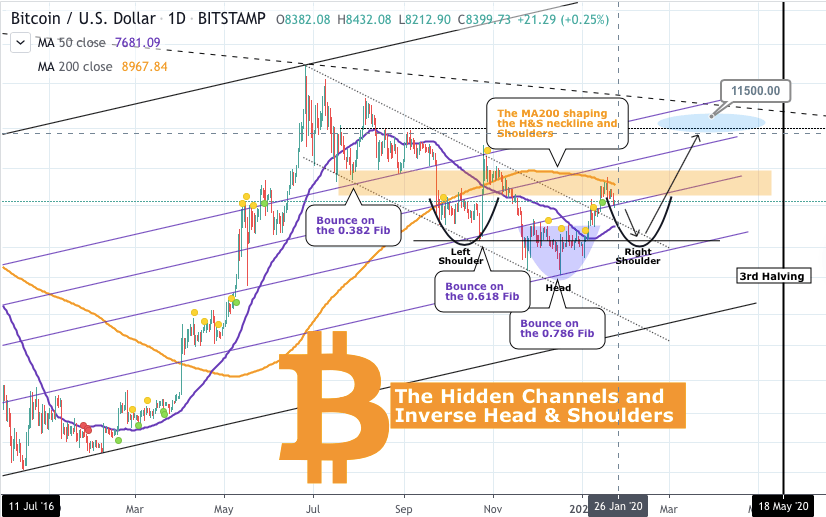 Analyst: Post-Halving Momentum Likely to Lead BTC to $20,000
TradingShot doesn't believe that $11,500 is where Bitcoin's 2020 rally will end, however, as he further goes on to note that post-halving momentum could lead the crypto to its previously established all-time highs around $20,000.
"The Halving will then take effect and after an initial consolidation I expect the 20k ATH to be tested before the end of the year," he bullishly explained.
In addition to leaning on the inverse head and shoulders pattern and the upcoming mining rewards halving as bullish catalysts, he also references BTC's position within another macro parabolic channel seen below as a reason to be bullish.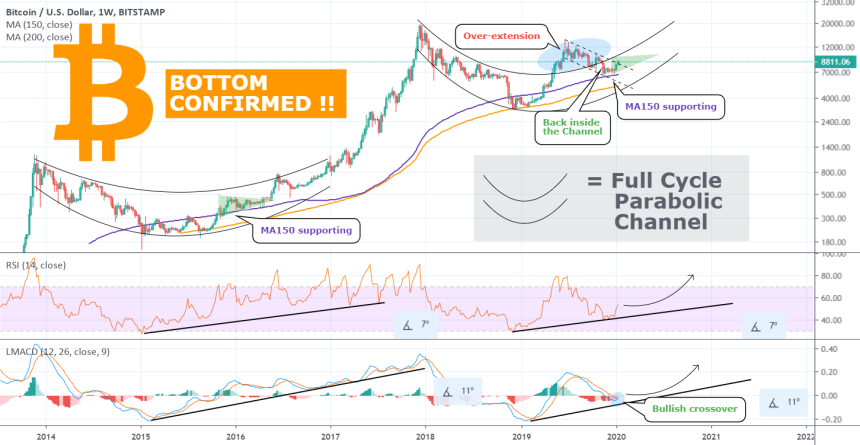 The culmination of all these factors does seem to suggest that the crypto will soon see a significant extension of the uptrend it has been caught within over the past several weeks.
Featured image from Shutterstock.