Bitcoin crashed within minutes to erase all the gains it made heading into the year 2020.
The benchmark cryptocurrency plunged to $5,578 on Coinbase for the first time since May 2019. The move downhill led its market cap down by about 30 percent to $117 billion, logging one of the biggest declines ever recorded since its inception in 2009. At BTC's intraday high, the valuation was $134.7 billion.
The latest data revealed that the plunge came shortly after the derivatives platform BitMEX liquidated $680 million worth of XBT/USD long positions. The spillover led traders on all the crypto exchanges to panic-sell their spot positions, with data portal CryptoCompare showing the average execution of 11,000 trades every second.
https://twitter.com/CryptoCompare/status/1238058339860451328
The panic was the same elsewhere in the cryptocurrency market. BTC's 30-minute meltdown led its rival altcoins to erase up to $23 billion off the overall market, with the second-largest Ethereum tanking 30 percent. Follow up tokens, including Ripple's XRP, Bitcoin Cash's BCH, and Bitcoin SV's BSV too fell in the range of 29 to 32 percent.
Bitcoin No Longer "Digital Gold"
Peter Schiff, the CEO of Euro Pacific Capital, said the air is coming out of the bitcoin bubble, iterating that the cryptocurrency didn't behave as a safe-haven asset as promised against the rising Coronavirus pandemic.
"As Bitcoin crashes below 7K hodlers going down with the ship can no longer take comfort in Bitcoin still being up for the year," Schiff noted. "Gold is still up about 8% YTD, while BTC is down by about 10%, and falling fast. Bitcoin is not living up to the hype that its digital gold."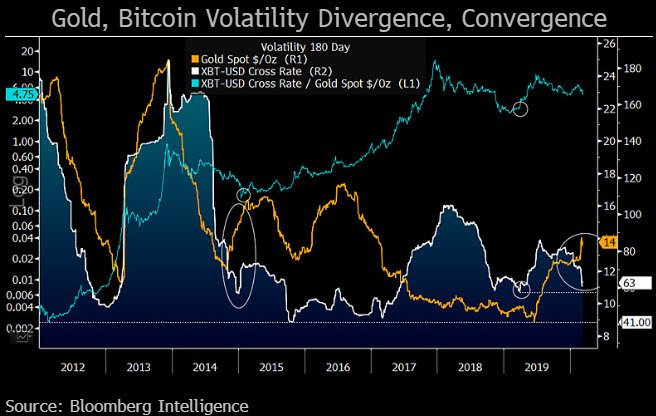 On the other hand, senior commodity strategist at Bloomberg Intelligence, noted that both bitcoin and gold were victims of a global sell-0ff trend that saw the US stock markets decline to record lows. He called the cryptocurrency's downtrend a temporary move.
"Bitcoin and gold-price pressure caused by a rapidly declining stock market will prove temporary, as the quasi-currency companions should regain momentum once one of the swiftest declines in S&P 500 history subsides. The Bitcoin trend is toward gold-like price action," the analyst wrote.
He further added that the stock market's volatility would serve as a headwind for the rest of the commodity markets.