Bitcoin has already seen a strong reversal from the highs seen earlier this week.
As of the time of this article's writing, the flagship cryptocurrency trades at $9,200. This comes after it fell as low as $8,950 during a flash sell-off on Wednesday, with the price being depressed by a leveraged-long liquidation event.
Unfortunately for bulls, it could be just the start of a larger move lower.
Bitcoin Could See a Strong Correction
Analyst Cole Garner is long-term bullish on Bitcoin, but he sees a number of reasons why BTC's next "big" move is likely down. They are as follows:
Glassnode reports that BTC miners have withdrawn the largest number of coins from their wallets to exchanges in over a year.
Institutions are still bearish on cryptocurrencies, at least according to CME data.
The Bitfinex "buy wall" around $8,500-9,000 is being eroded. That means there is a lower likelihood of BTC bouncing when it reaches that level.
Bitcoin's order book delta has been "skewed massively to the sell side for almost six weeks."
Garner isn't the only analyst currently expecting a correction.
As reported by NewsBTC previously, a trader noted that the entire crypto market is primed to see a 25% drop. Bitcoin dropping 25% would imply a price of ~$7,000 and Ethereum doing the same would result in a move to approximately $175.
He shared the chart below to illustrate this sentiment. It shows that the crypto market failed to break out of an RSI downtrend and is struggling to maintain support levels.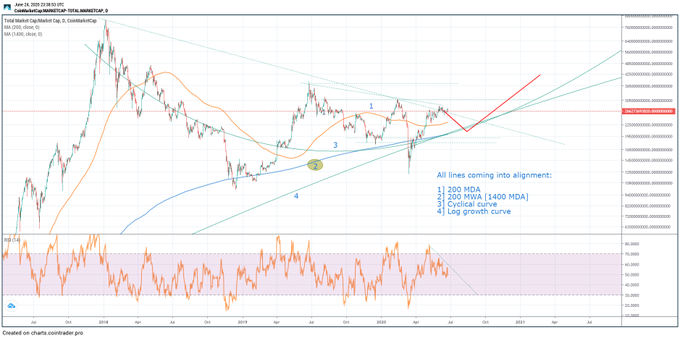 Bitcoin price chart shared by pseudonymous crypto trader Dave the Wave (@Davthewave on Twitter). Charts from TradingView.com
The S&P 500 Will Decide BTC's Fate
While there are these signs, arguably what decides Bitcoin's fate moving forward is the directionality of the S&P 500. After all, analysts at JP Morgan, Goldman Sachs, and in the cryptocurrency space have all observed correlations between the two over recent months.
Bears will be pleased to hear that analysts are starting to expect a retracement in stocks. (Notably, the retail audience is anything but bearish, buying everything they can. Retail investors are even going big into bankrupt companies like Hertz.)
Jeremy Grantham is a stock trader that predicted some of the biggest macro declines in this asset class over the past few decades.
Grantham now says that the ongoing rally in American equities is one without "precedence" and one that is "crazy." He even went as far as to say that a "bubble" is forming.
"This is really the real McCoy," says legendary investor Jeremy Grantham on whether the recent rally is a sign of a bubble to come. "This is crazy stuff." pic.twitter.com/XetUBqqPBk

— CNBC's Closing Bell (@CNBCClosingBell) June 17, 2020
Should the bubble of American equities collapse, so too should Bitcoin.
Featured Image from Shutterstock
Price tags: xbtusd, btcusd, btcusdt
Charts from TradingView.com
These 4 Signs Show BTC Is Likely to See a "Big" Move Down