Hello, volatility! While it has been only two hours since our last Bitcoin price market update, the cryptocurrency market has taken a further beating. A beating that likely caught bulls with their pants down.
For those that haven't been perusing Crypto Twitter over the past few days, ever since Bakkt launched, the Bitcoin price has been trending bearish.
Since the much-awaited product came to market, the leading cryptocurrency has shed some 20%, falling from $10,150 to $8,300 where it sits right now. It briefly touched $8,000 earlier Tuesday.
Of course, this dramatic crash wasn't expected by bulls. In fact, over the past three hours, over $550 million worth of Bitcoin long positions on BitMEX were decimated — likely marking one of the largest liquidation events of all-time.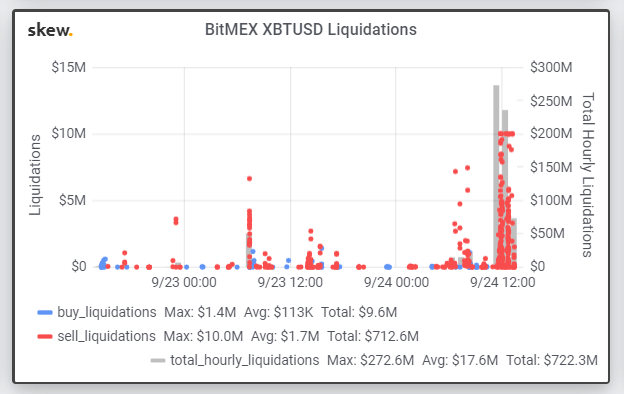 It still isn't clear what triggered this gap.
But, it is important to point out that over the past few days, Bitcoin's hash rate has plunged from the 100 exahashes/second to closer to 60 exahashes/second — potentially implying that developments in the mining ecosystem have some effect on the spot value of BTC.
Also, there have been analysts saying that the lackluster launch of Bakkt may have led countless investors to pull the trigger, selling due to the lack of fresh buying pressure.
$8,000 Bitcoin Futures Gap Filled
While this move may seem like your garden variety flash crash, analyst Walter Wyckoff noted that this crash has allowed the CME Bitcoin market to fill a weekend gap at $8,000.
https://twitter.com/walter_wyckoff/status/1176597213386084355
Featured Image from Shutterstock