Ten years ago yesterday, programmer Laszlo Hanyecz paid 10,000 Bitcoin for two Papa John's pizzas in a trade that took place publicly on the Bitcoin Talk forum.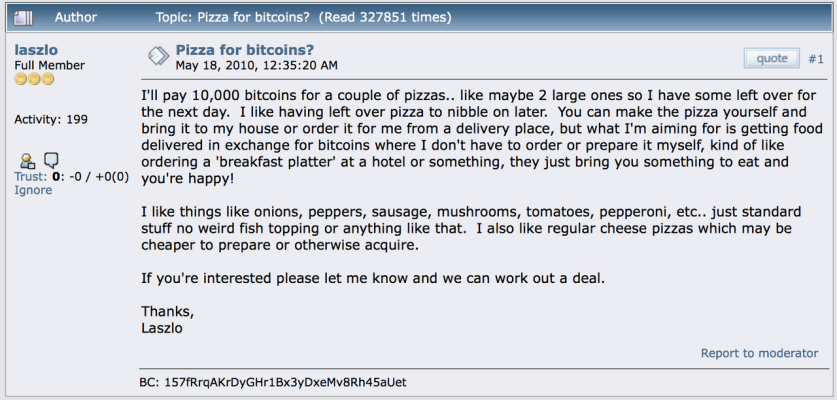 At the time, the transaction was largely laughed at — who would want some worthless internet coins for two steaming hot pies worth $30-40 in aggregate? But, as we now know, that was the first Bitcoin transaction for a real-world item ever.
Since then, May 22nd has been deemed "Bitcoin Pizza Day," which cryptocurrency investors celebrate every year by buying pizza — with cryptocurrency if possible.
Laszlo's transaction has been deemed so fundamentally important that popular crypto analyst Mati Greenspan opined that without that one transaction, BTC wouldn't be where it is today.
Though there's an unfortunate part of this transaction: the 10,000 Bitcoin once owned by the programmer and what could have been with that wealth.
Today, 10,000 BTC is worth just shy of $100 million at $92 million, meaning that those two pizzas "cost" $46 million a pop.
Many have joked about this — about the wealth that Laszlo could have made if he "HODLed," but there might be an odd silver lining to this part of the story.
The Silver Lining to the 10,000 Bitcoin Pizza Transaction
According to Nic Carter — partner at Castle Island Ventures and a co-founder of Coin Metrics — explained in a recent Twitter thread that there's a possibility Laszlo decided to spend his BTC fortune out of guilt.
Out of guilt for what? For using his GPU to mine Bitcoin in the first instance of non-CPU BTC mining, which was largely looked down upon by Satoshi Nakamoto in a private email exchange eventually shared by Laszlo. Carter wrote:
"I'm speculating, but it's entirely possible that a guilt-ridden Laszlo decided to disgorge some of his GPU-mined BTC by making a series of pizza transactions."
The Coin Metrics founder backed this data by looking at blockchain data, which indicates that the pizza transaction is in line with the movement of the Bitcoin network difficulty and the emails with Satoshi. That's to say, Laszlo made these transactions to distribute BTC to the community, rather than holding his 'ill-gotten' gains for himself.
This is your annual reminder that Bitcoin pizza day may well have been a consequence of Satoshi admonishing Laszlo over accumulating so many BTC from his experiments with GPU mining

— nic carter (@nic__carter) May 22, 2020
Carter's speculation has been backed up by comments from the "Bitcoin Pizza Guy" himself.
Colin Harper reported in 2019 that when he spoke to Laszlo, he was told by the programmer that there was guilt running through Laszlo's mind when the topic of GPU mining was brought up by Satoshi Nakamoto:
"That's when I was like, 'Man, I feel like I crapped up your project. Sorry, dude. He was concerned that some people might be discouraged because they can't mine a block with a CPU. So, I stopped advertising it after that."
Laszlo also purportedly added that he sees the transaction as a win for Bitcoin, not a loss for himself, further corroborating the narrative that the 10,000 Bitcoin transaction was anything but a mistake.
$90 Million Is Just the Start
Laszlo has largely abstracted himself from the economic implications of his transaction, yet many think that those two pizzas might be even more valuable than $90 million — and much more than $90 million at that  — in the years to come.
Robert "Rich Dad" Kiyosaki, for instance, said recently that he thinks Bitcoin will be worth $75,000 in the coming three years. That would mean that the pizzas would be worth well over $500 million.
But even then, considering what Laszlo said, he wouldn't feel bad about spending those BTC.
Featured Image from Shutterstock