It isn't a secret that Bitcoin (BTC) has absolutely surged over the past six weeks. In that time period, the crypto asset rallied from a key resistance at $4,200 to $8,100, where it resides now. While such a move was covered incessantly by mainstream media outlets, little evidence indicated that consumers, who were likely still reeling in shock from Bitcoin's $20,000 to $3,150 plunge, were taking notice.
As Chris Burniske, a partner at Placeholder, suggested in an extensive Twitter thread earlier this year, the mainstream "has almost entirely forgotten about crypto again." Gone are the days that "Bitcoin" was a popular word at the dinner table, as mainstream media outlets, the CNBC "Fast Money" segment, in particular, have slowed their coverage to a near-halt. Burniske touched on this, noting that via "conversations with people from home," the crypto boom is still tangible in their minds, but the subsequent bust wasn't observed.
This had led some to ask — who drove the recent rally? And more importantly, when will common Joes and Jills finally dive into cryptocurrency and blockchain once again, if at all?
Institutions Drove Bitcoin To $8,000
Well, according to prominent researcher Alex Krüger, institutions, insiders, and what we call "whales" were behind this recent move, which brought BTC higher by $1,500 in the past week alone.
In a recent thread posted on Twitter, the analyst remarked that "large players" participating in "systematic buying" was what drove the cryptocurrency market. He looked to "volume, price action, funding, and futures basis and term structure" to come to his conclusion: the move was "not retail driven."
What drove $BTC up this week?

A handful of large players, that started buying in waves. Systematic buying.

Clues to reach that conclusion can be found in volume, price action, funding, and futures basis and term structure. May expand on this later.

Not retail driven.

— Alex Krüger (@krugermacro) May 12, 2019
Data from the institutional-heavy Chicago Mercantile Exchange (CME) would confirm this. As reported by NewsBTC previously, the exchange's Bitcoin futures vehicle saw 33,677 contracts traded on Monday, amounting to 168,385 paper BTC. This is absolutely staggering, especially considering that the last record, set in February, was a relatively mere 91,690 BTC.
In a similar fashion, the Digital Currency Group's subsidiary Grayscale was revealed Monday to have seen its flagship product, its Bitcoin Trust, post $141 million in volume today on markets. This is a level not seen since early-2018, when the cryptocurrency market was filled to the brim with speculative interest and FOMO/hype. As Larry Cermak notes, much of this volume was likely sourced from institutional players, as only "qualified accredited investors can directly invest in GBTC with a minimum investment of $50,000."
According to Krüger, this move was likely largely driven by those trying to "front run" a series of positive news events. These include but are not limited to Fidelity's Bitcoin trade execution service, Bakkt's crypto futures, TD Ameritrade and E*Trade getting into the cryptocurrency game, and retail chains across the U.S. indirectly accepting cryptocurrency payments.
Retail Begins To FOMO Into Crypto
So yes, last week's move was likely caused by non-retail players. But, data suggests that this subset of the market is finally joining the fray after sidelining themselves for upwards of one year. Spotted Tuesday by CryptoRae, the terms "Coinbase" and "Blockchain", likely in reference to the two popular Bitcoin wallets, have begun to trend on Apple's App Store.
Although it isn't clear what determines what is "trending" on the App Store, this is likely a sign that many casual investors are looking to store digital assets they already have or are looking to get.
Trending now: "Coinbase" and "Blockchain". Not sure I'm ready for this. pic.twitter.com/mRGgcr8RWO

— cryptorae (@cryptorae) May 14, 2019
Not only is FOMO materializing in downloads for key cryptocurrency applications but clicks to crypto-related sites too. According to Google Trends' latest data, searches for "Bitcoin" in the U.S. have tripled over the past three weeks. Of course, volume for inquiries regarding the asset is still dramatically lower than during 2017's peak, but the move is at least notable (seen below). A similar trend can be seen in data for other nations.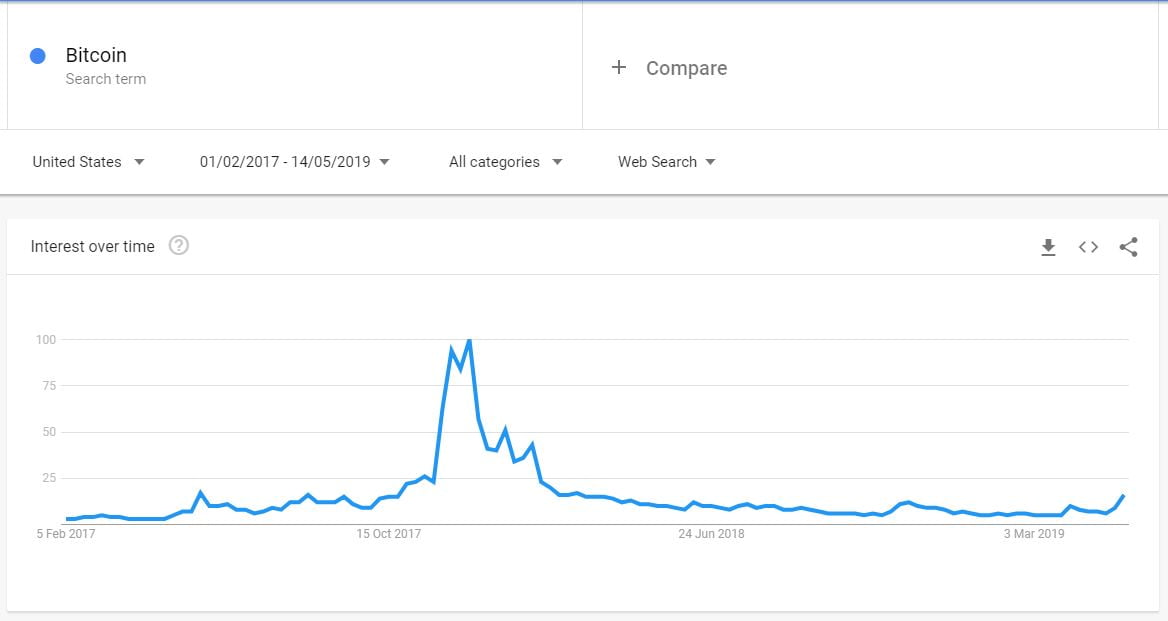 Now that retail investors are confirmed to be finally be showing interest in cryptocurrency again, the market could theoretically see a secondary rally, whereas normal investors late to the party continue to throw money at Bitcoin. But until TD Ameritrade and E*Trade launch their spot Bitcoin platforms, it is unlikely that massive retail flows are going to enter.
Featured Image from Shutterstock