Last week the altcoin market exploded, bursting through local downtrend resistance and going on a rally that added over $30 billion in value to the overall crypto market cap sans Bitcoin.
The breakout was accompanied by the highest level of buy volume on the total altcoin market cap weekly price chart, which could indicate that the bottom is finally in for altcoins, and the market may soon reenter a bull phase.
Altcoins Everywhere Breakthrough Local Downtrend Resistance
On December 18, 2019, the alt market may have put in its final bottom, when altcoins across the crypto market began wildly surging, with many driving gains of a few hundred percents or higher.
The majority of alts, including Ethereum and XRP, rallied as much as 40% or higher over the last 30 days, causing many altcoins to break out of downtrend resistance.
Related Reading | Ready for Liftoff: Altcoin Market Cap Breaks Out of Downtrend 
Even the total altcoin market cap – an aggregate of the total cryptocurrency market cap minus Bitcoin – has surged over 60% in the last 30 days.
Is the Alt Market Bottom In? Spike in Crypto Volume Suggests So
The breakout in the total altcoin market cap price chart was also accompanied by a record-breaking surge in trading volume on weekly timeframes.
New weekly for #TOTAL2 opened just over an hour ago now.

That said, last week alone showed the highest buy volume for the alt markets ever recorded on @tradingview.

As many may know, this is significant in market dynamics and suggests a true bottom established. Take note. pic.twitter.com/9wFjxAXqVy

— Parabolic Thies ♔ (@KingThies) January 20, 2020
Volume typically precedes price, according to many top analysts, suggesting that altcoins are soon set to surge even higher, potentially recouping much of the gains lost following the crypto hype bubble deflating.
The alt market has spent two full years in a bear market, which has led to extremely oversold levels and very low liquidity – the perfect environment for whales to load up for cheap, and pump prices up.
After a strong breakout of resistance, price typically comes back down to confirm the former resistance as support. When altcoins do return to the support to confirm it, it may be the best financial opportunity for crypto investors since the early Bitcoin days, or at least since before the crypto bubble.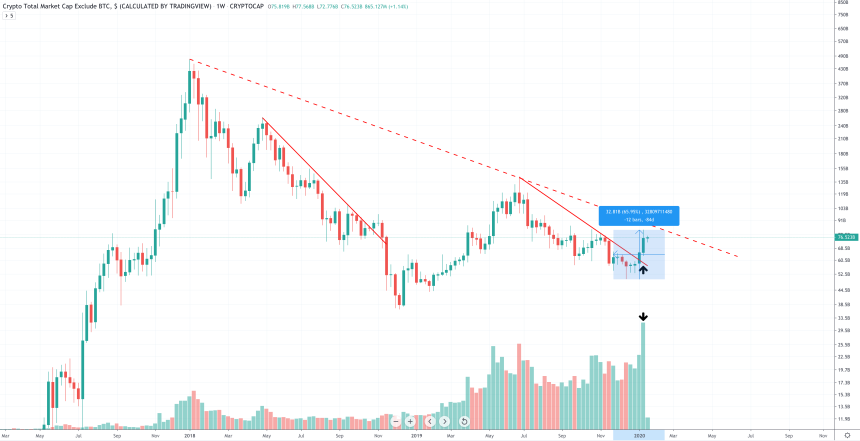 Despite the breakout being confirmed with massive volume, the last major breakout of local downtrend resistance resulted in a failed confirmation of support, causing the altcoin market to fall to its bear market low.
Related Reading | Altcoin Market Explodes By Over 50% In 30 Days, Is Crypto Due for A Pullback?
If history repeats, the alt market could fall to set a new local low, or perhaps a new bear market low. The risk is still very much present until the altcoin market cap breaks out of its longer, downtrend resistance line dating back to the crypto market's all-time high in January 2018.